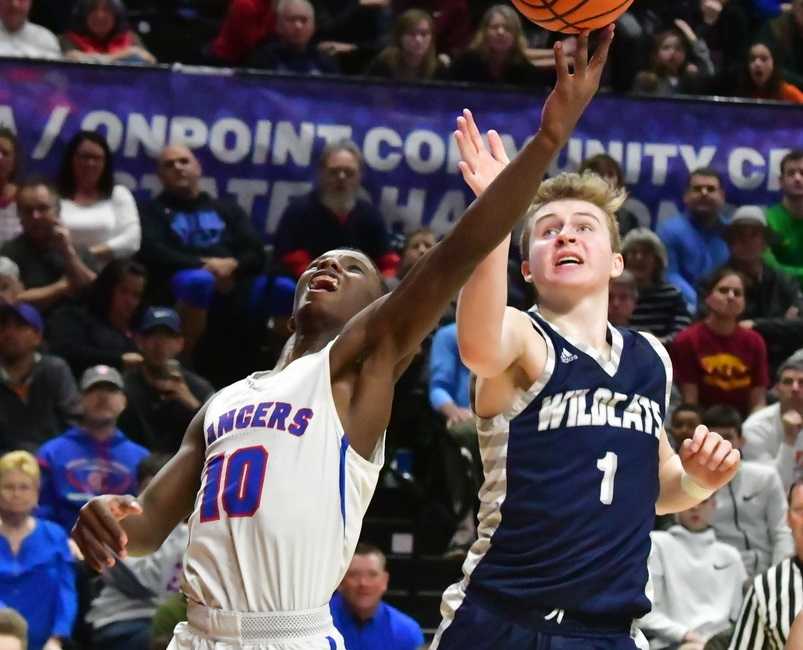 CORVALLIS -- For the third time in five seasons, the Wilsonville Wildcats are the Class 5A boys basketball champions.
The Wildcats held Churchill to its lowest offensive output of the tournament, and posts Dakota Reber and Keegan Shivers had huge games for a 67-58 win in the final of the OSAA / OnPoint Community Credit Union Class 5A basketball tournament at Gill Coliseum.
Even after Churchill took a 46-44 lead into the fourth quarter, Wilsonville coach Chris Roche knew his team wouldn't be discouraged.
"Churchill is a fantastic team with all kinds of firepower … but this group has been resilient, and what they've done all year is respond. I'm really proud about how tough they were."
Reber and Shivers combined for 33 points and 20 rebounds, and point guard Jack Roche set the 5A tournament record for assists in a game with 13.
Perhaps most impressive, however, was Wilsonville's defense against Churchill junior forward Brian Goracke. Goracke came into the game averaging 20.5 points per game, and the Wildcats limited him to 10 points on 4-of-10 shooting. Goracke fouled out with 1:44 left in the game.
How'd the Wildcats hold one of the tournament's most prolific scorers to half his average?
"Team defense," Roche said. "He's a talented player, but we've got some guys that can match his length, and that's probably unique. We don't have to help as much, and if you have to help off other guys and leave Goracke, you're dead. We caught him on the right night for us, probably. He could come out tomorrow and get 30."
Two minutes into the fourth quarter, Reber hit a layup to give the Wildcats a 48-46 lead they never gave up. Reber finished with a game-high 21 points and nine rebounds, working against a Churchill interior that, while good, wasn't quite strong enough to handle the physical nature of Wilsonville's.
"Those guys were money," Jack Roche said. "We really put a focus on screening and rebounding, those were our two keys. They are great dudes and they finish so well."
Roche made it in the record book at the 4:06 mark of the fourth quarter with his 12th assist when he slipped a pass to Sam Westig for a bucket. He added another for good measure later in the quarter, and broke the mark of 11 assists set in 2014 by Churchill's Malik Morgan.
When told postgame he set the assist record, Roche squinted and said, "I did? Wow, that's awesome."
"That record belongs to my teammates," he continued. "My shot was kind of off this whole tournament, but making shots doesn't win games like this. Being tough and together does, and that's what he talked about from Day 1."
Churchill charged into the lead behind a 20-13 third quarter, capped by a Silas Bennion three-pointer after two defenders flew toward Goracke at the top of the key. Goracke calmly shoveled it to Bennion, wide open on the left wing with 1:16 left to give the Lancers a 46-44 advantage.
Bennion's longball was the third in a row for the Lancers in the quarter, with Goracke and Isaiah Wallace cashing in before him.
Thirty seconds into the fourth, Shivers tied the game with a bucket inside from a Roche pass.
"We finished the deal this year," Shivers said. "In the huddle, we said to each other that we've got one more quarter to be tough and together. That's what we did."
The Wildcats jumped out to a 10-2 lead to start the game, thanks to back-to-back three-pointers by Reber and Zachary Rivers, and it forced an early Churchill timeout. Rivers was on his way to a monster game, starting 3 for 3 from the field with seven points, but an ankle injury kept him on the sideline after just nine minutes of play. Westig filled in and played 25 minutes to score 11 points with a pair of three-pointers.
Churchill rallied and cut Wilsonville's lead to 16-15 30 seconds into the second quarter, but the Wildcats went on a 6-0 run and kept the Lancers off the scoreboard for three minutes to regain control.
Unlike Friday's semifinal game against Silverton, WIlsonville actually hit foul shots. They were 21 for 26 from the foul line (they were 11 for 23 against the Foxes), and made their freebies inside the final two minutes to pull away.
For Churchill, Wallace led the way with 17 points on 6-of-12 shooting, including a 4-for-6 performance from three-point range. Samaje Morgan came off the bench to score 13 points with four assists, when Bennion and Kaelan O'Neil each scored nine points.
Chris Roche started his coaching career with the freshman team at Churchill under his father John (who won the 4A state title in 1995 with the Lancers), so for him personally, this one was pretty sweet out of respect for the Lancers program, he said.
"I'm getting older now and you never know how many more of these you'll have," Roche said. "My dad is real sick, my son is playing in this, so on a personal, not coach, level it's very meaningful to me."
In other trophy game action ...
No. 3 Silverton 60, No. 4 Willamette 41: Silverton guard David Gonzales torched the net for five three-pointers and 23 points as the Foxes took third place. Gonzales finished 9 of 15 from the field with six rebounds, and teammate Josiah Roth scored 11 points with seven boards.
Silverton led wire-to-wire, and put the game completely out of reach with a 16-7 fourth quarter. Silverton scored 34 points in the paint to Willamette's 16.
For the Wolverines, Owen Cross scored 14 points on 4 of 10 shooting and Alex Puckett chipped in 11 points.
No. 6 Crater 60, No. 5 Thurston 54: Crater 6-10 sophomore Nate Bittle put an exclamation point on his unanimous first-team all-tournament selection with 28 points, 14 rebounds and three blocked shots to lead the Comets to a fourth-place win.
Bittle broke the 5A tournament blocks record in his second game, but added three for insurance to end with 21 swats over three games to snag the all-time, all-classification record as well. He also tied the 5A tournament record with 43 rebounds, previously held by another Comet, Kiefer Edwards, who set the mark last season.
Bittle was one point shy of tying the 5A tournament record for points with 85. Parkrose's Isaac Bonton set the record with 86 in 2017.
Jayden Vranes chipped in 13 points for the Comets, and Nathan Horton had eight.
For the Colts, Isaac Lange scored 16 points, while Cade Crist and Mason Miller each scored 12.