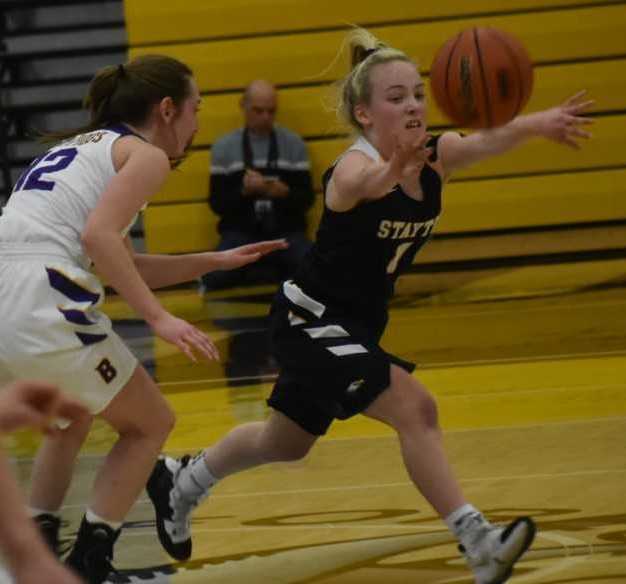 Thursday's quarterfinal games in the OSAA / OnPoint Community Credit Union 4A girls basketball tournament at Forest Grove High School:
No. 9 Marist Catholic 45 vs. No. 1 Marshfield 40: Marist Catholic headlined a day of upsets by beating the reigning champion and top-seeded Pirates.
The Spartans, who won the 5A title last year, won behind 17 points and 10 rebounds from 6-foot sophomore Ruby Vlahov. Marshfield senior Tess Garrett scored a game-high 20 points.
Marshfield couldn't capture the same fortune that led them to a 56-39 win and a 48-38 win over Marist Catholic in two Sky-Em League games this season. The Pirates finished just 9 of 43 from the field in their loss and snapped a 15-game winning streak.
No. 12 Newport 50, No. 4 North Marion 33: It took a total team effort for Newport to upset North Marion.
Three Cubs starters -- seniors Madison Hargett, Kaitlyn Mitchell and Megan Wagner -- all scored in double digits to lead the way. Hargett added 11 rebounds and four assists to pad an impressive stat line.
A decisive second quarter, where Newport outscored North Marion 16-4, proved to be the catalyst that pushed the Cubs to victory and spoiled a 12-game winning streak for North Marion.
Newport made sure to make their first tournament appearance in 11 years a memorable one. The Cubs lost head coach Steve Sain just three weeks ago for undisclosed reasons, and advanced to the state tournament with a 37-31 overtime win at Hidden Valley.
No. 6 Philomath 45, No. 3 Banks 43: Banks has become a familiar sight in the semifinals at the 4A tournament, but Philomath eliminated the Braves in dramatic fashion.
Philomath freshman guard Sage Kramer got her first chance to shine on the state tournament stage and didn't disappoint, pouring in a game-high 18 points for the Warriors. The defending 4A player of the year, Banks senior Aspen Slifka, led her team with 16 points, six steals and four assists.
Philomath had an 18-9 edge over Banks in points off turnovers.
It was the second meeting between the two teams on the season, with both games decided by a total of three points. Banks defeated Philomath 52-51 on Dec. 5.
No. 2 Baker 42, No. 7 Stayton 36: Baker was the only higher seed to defend its ground Thursday. And it took a monumental fourth-quarter effort to earn the comeback win.
Baker entered the game as 4A's top-scoring team and controlled the paint with a 20-6 scoring edge inside, led by senior forward Rose Gwillim with 14 points and 12 rebounds. Not only did Baker control the paint, it shot 5 of 7 from beyond the arc to help put the game out of reach.
But the outcome wasn't always so clear, as a woeful offensive third quarter left Baker trailing by 11 points. It took a 21-5 run in the fourth quarter for the Bulldogs to take the lead and hold on for the win.
Stayton junior guard KJ Nyquist led all scorers with 18 points. Baker has now won 17 straight games.