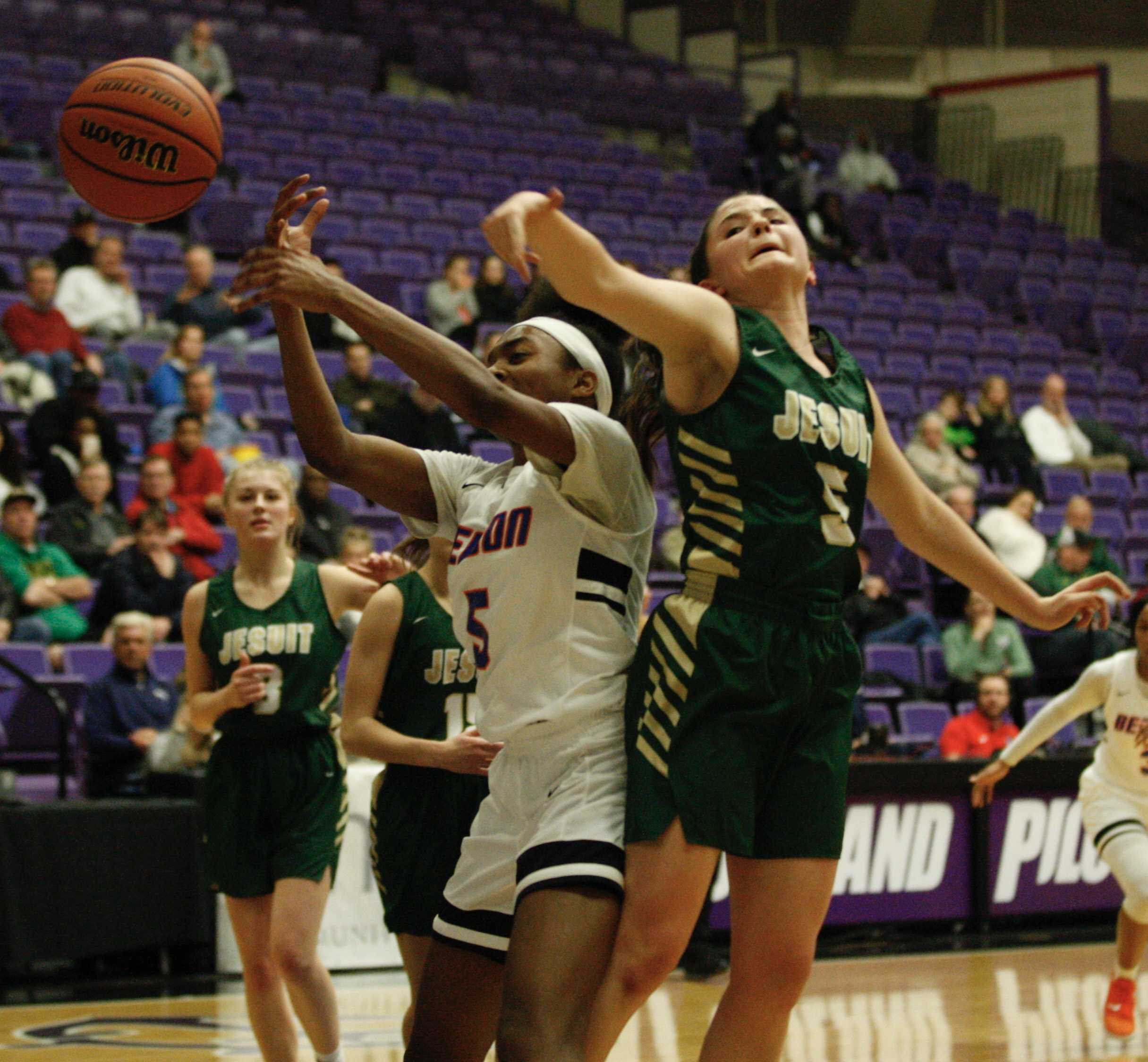 PORTLAND — Benson built a mountain of a lead in the first half of its opening game in the OSAA / OnPoint Community Credit Union 6A girls championship quarterfinals Thursday night, then needed all of its considerable resources and experience to defend it against a monster Jesuit comeback.
In the end, Tech got what it came to the Chiles Center for: a 53-38 victory over the scrappy Crusaders and a spot in Friday's semifinals.
But it was like three games in one. The third-seeded Techsters were solid gold in the first 14 minutes and erected a 20-point lead. Then the Crusaders got behind the Benson press and the three-point line and hacked the margin all the way down to six by the end of the third quarter.
"Then," Tech senior guard Ciera Ellington said, "we just went back to being who we are."
That meant turning the screws on Jesuit's game by tiring guards with full court pressure in the last eight minutes. It meant taking defensive chances when the presses didn't work.
Tech scored the first seven points of the fourth quarter, righted the ship and finished the Crusaders off.
Over on the Benson bench, coach Eric Knox was antsy during Jesuit's comeback because he's always a little antsy during a game. He was wary because he's always wary.
But he wasn't scared.
"(Jesuit coach) Jason Lowery is a good friend of mine and a phenomenal coach," Knox said. "That team was too good to quit and too good not to come back.
"I knew he would figure out something. They got behind our presses and got to the three-point line. Those girls can shoot the lights out."
Last year's Benson team, with the same players making their debut under the hot lights of the finals, might have reacted differently.
"They've been here before," Knox said. "They're a resilient bunch that knows how to take punches. The experience of last year paid off. Last year, we were the hunters. Now we're the hunted."
At the beginning it all looked, well, boring. Benson landed on the Crusaders from the jump with a press, card-dealer hands, precision ball movement — and above all, speed. Tech is loaded with it.
They scored 13 of the first 15 points of the game and led 16-5. They scored the first 10 points of the second quarter before Jesuit's Savannah Corradini stopped the hemmorhaging with three-pointer from the left corner.
It felt great to the Techsters.
"When we play that well," Ellington said, "you don't get tired. You think you can do anything. It's just a crazy feeling."
It was also true, but Corradini's three-pointer was an omen. Tech's defensive pressure left the corners open, so that's where Jesuit shooters went.
And they started hitting. Elsa Hookland, then Anna Fanelli each got a three-ball before halftime to slice Benson's lead down to manageable 30-14.
The Crusaders came out shooting as well in the third quarter as they had at the end of the second. Ellington gave Tech a bit of a pillow with a three-ball of her own, then Corradini hit two straight from the corners.
Suddenly the Crusaders started driving right at Tech and making short shots that weren't at all available in the first half. Little by little, the Tech lead started dissolving.
"We came out pretty flat in the third quarter," Knox said.
OSAA record understatement, that. Jesuit got the last five points of the third quarter, and when Bella Mori muscled a layup in with 42 seconds left in the period, the Crusaders were down only 39-33.
Doable? Sure. Likely? Not if Tech kept being Tech.
"We know what it takes to get here there," Ellington said. "We just need to stay true to ourselves and just play our game. It's all about intensity. Last year we would have to tell ourselves to calm down.
"This year, we know how to regroup. We definitely got a little too excited tonight, and forgot that they're a very good shooting team."
But not good enough, it turns out. Tech cranked up the defensive heat and attacked the basket once more. All 15 of Benson's fourth-quarter points came down low.
So Benson (23-4) survived to get to the semifinals once again. Ellington hit 8 of 12 shots and led everybody with 23 points. Aujae Yoakum added 12 and Taylor Lyday 11.
Corradini hit five three-pointers and finished with 17 points to lead the Crusaders (21-5)