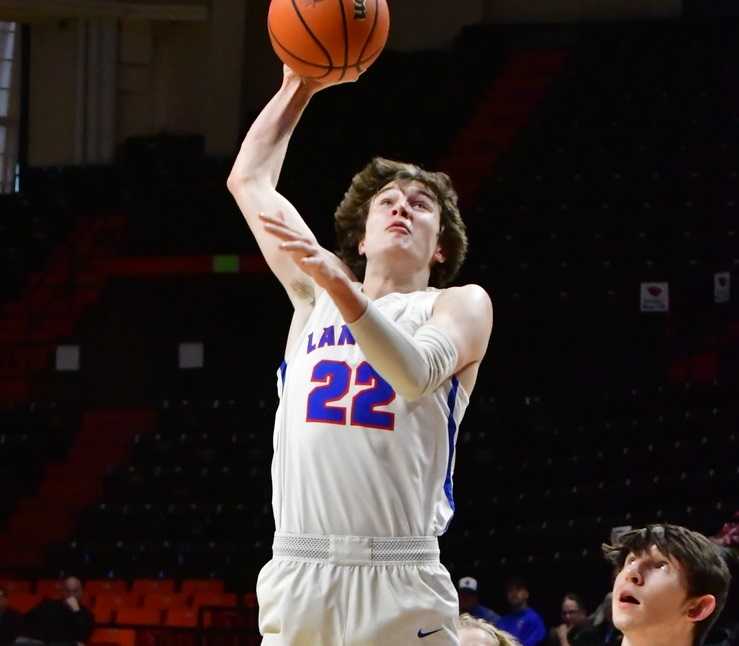 A rundown of Wednesday's quarterfinal games in the OSAA / OnPoint Community Credit Union 5A boys basketball tournament at Gill Coliseum:
No. 1 Churchill 82, No. 9 La Salle Prep 55: Five Lancers scored in double figures and Churchill blew out La Salle Prep 82-55 to open quarterfinal action.
Churchill shot 57 percent from the field (33-for-58) and junior forward Brian Goracke led the way with a game-high 24 points on 10-for-12 shooting. Goracke scored 14 points in the third quarter as the Lancers turned a 41-21 halftime lead into a 68-37 advantage after three quarters.
The Lancers took control with a 14-0 run in the second quarter, sparked by a three-pointer by Isaiah Wallace after a Dylan Carson offensive rebound. La Salle Prep's Justin North, who led the Falcons with 16 points, broke the run with a putback at the 4:08 mark, but the Lancers just kept pouring it on with their skill and depth.
Wallace and Kaelan O'Neill each finished with 15 points for Churchill, while Samaje Morgan and Ejim Akuma III each scored 11. Goracke chipped in six rebounds and Silas Bennion had four assists.
For La Salle Prep, North was 6-for-10 from the field and collected eight rebounds, a game-high. Jace Norton overcame a rough start to finish with 13 points, including a pair of three-pointers to open the third quarter and give the Falcons a momentary offensive boost. Jake Owens scored 12 points on 5-for-7 shooting off the bench and Nolan Grogan pulled down seven rebounds.
No. 4 Willamette 64, No. 5 Thurston 59: Full game story is here.
No. 3 Silverton 57, No. 6 Crater 39: Crater's Nate Bittle put up a big statsheet, but the Silverton Foxes kept every other Comet in check and rolled to a 57-39 win to advance to Friday's semifinals.
Bittle, a 6-foot-10 sophomore, fouled out with 4:10 left in the game, but while he was in, he scored 17 points, grabbed 13 rebounds and blocked eight shots for the Comets. It was one block from tying to all-time, all-classifications tournament game record of nine, held by five players and most recently done by Banks' Blake Gobel in 2017 at the 4A level.
It is, however, a Class 5A record. North Eugene's Brian Conklin blocked six shots in 2008, while Mountain View's Ryan Fisher matched it in 2010.
The Foxes opened the game blazing from three-point range. In the first half, Silverton canned 7 of 10 long-range attempts, and although they cooled off in the second half, it was more than enough to propel them to the win.
David Gonzales led the Foxes with 16 points on 6-of-14 shooting, and Grant Dunn hit three three-pointers and ended with 12 points off the bench. Levi Nielsen chipped in 10 points with nine rebounds, while Josiah Roth had eight points and nine rebounds.
Silverton forced 16 turnovers and committed six, and also held a huge advantage at the foul line. Silverton went 15-for-19 at the line while Crater was 3-for-8.
After Bittle, it was slim pickings offensively for Crater. Nathan Horton, Jayden Vranes and Hunter Chubb each had five points.
Silverton will play Wilsonville in Friday's semifinals. Crater takes on Pendleton in the consolation round Thursday morning.
No. 2 Wilsonville 70, No. 10 Pendleton 40: The Wilsonville Wildcats jumped out to a 23-4 lead after the first quarter and cruised to a 70-40 win over the Buckaroos in Wednesday's final quarterfinal game.
Four Wildcats scored in double figures, and Keegan Shivers led the charge with 14 points on 4-of-8 shooting. Jack Roche scored 13 points and dished out seven assists, Gabe Reichle chipped in 11 points and Dakota Reber notched a double-double with 10 points and 12 rebounds.
For Pendleton, Tyler Newsom scored a game-high 21 points on 6-of-14 shooting and Tanner Sweek pulled down seven rebounds.
Wilsonville's stifling man-to-man defense held Pendleton to 3-of-19 shooting in the first half.
Wilsonville will take on No. 3 Silverton in the semifinals Friday, and Pendleton drops into the consolation bracket to play No. 6 Crater on Thursday morning.