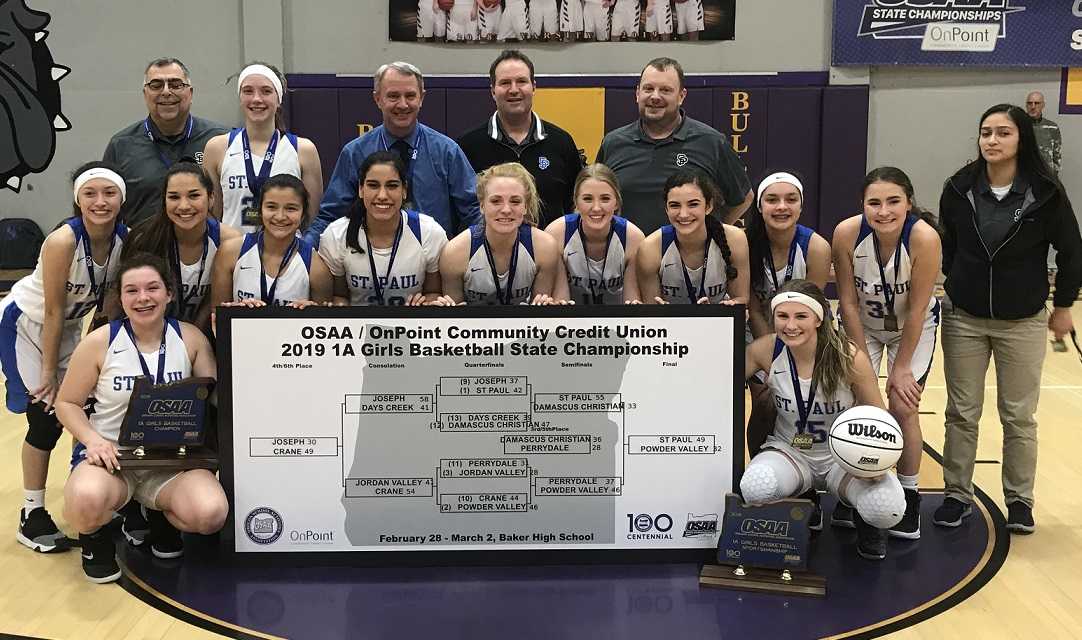 BAKER CITY – St. Paul's girls completed one of the most impressive doubles in state history Saturday night.
Four months after the volleyball team went 30-0 and won the state championship, the basketball team followed suit behind many of the same athletes, capping a 30-0 season in the final of the OSAA / OnPoint Community Credit Union 1A tournament at Baker High School.
The top-seeded Buckaroos took control in the second quarter and brushed aside No. 2 seed Powder Valley 49-32 for their fifth state championship and first since 2007. They outscored their opponents by 30.2 points per game this season after moving down from 2A, where they made the semifinals last year.
St. Paul coach Dave Matlock said the unbeaten runs in volleyball and basketball "just shows how incredibly physically and mentally tough these kids are. They just do not back down. And this team we played tonight was a powerhouse. They really took it at us early. But every time they tried, we responded and we just did not back down."
Junior guard Erin Counts had 14 points, seven rebounds and four assists, junior post Isabelle Wyss had 13 points and 10 rebounds and senior guard Emma Connor added 10 points and eight rebounds for St. Paul.
"We played really well," Counts said. "The last game we played is the best we've ever played, I think. Everyone contributed and we made our shots."
Senior guard Megan Bingham and sophomore forward Belle Blair had 10 points each for Powder Valley (26-4), which was bidding for its first title since 2006.
The Badgers and their fans were fired up to take on the Buckaroos, and when St. Paul led 9-8 after one quarter, it appeared as if the game would be a tight battle.
But Counts and junior forward Karlee Southerland hit three-pointers as the Buckaroos surged ahead 17-9. When Counts added two free throws late in the second quarter, it was 25-11.
"Our kids just took them right out of it. I've never seen that many people that quiet," Matlock said of the Powder Valley section.
Bingham made a three-pointer to draw the Badgers within 32-22 midway through the third quarter, but Counts and Wyss answered with three-pointers to spark a 9-0 run, giving St. Paul a 41-22 lead after three quarters.
Powder Valley struggled against St. Paul's 1A-leading defense, which allows 23.2 points per game. The Badgers shot 26.4 percent (14 for 53) in scoring their second-fewest points this season.
"They got very frustrated not being able to get stuff off our press," Matlock said. "They could not get to the basket. We kept denying everybody. Every entrance pass, every drop-step move. It was just a great team effort on defense, and it really frustrated them."
Despite giving up size to the Badgers, St. Paul finished with a 43-27 edge in rebounds.
"Our girls just battled so hard on the boards. They didn't give anything," Matlock said. "I really believe, and a lot of people have told me, that this is the best game our girls have played all year."
Counts, the granddaughter of former Marshfield and Oregon State legend Mel Counts, said the Badgers are "very good."
"They deserve to get second place," Counts said. "Them and Joseph are the best teams we've seen. Our coach worked really hard to get us good preseason games to prepare us."