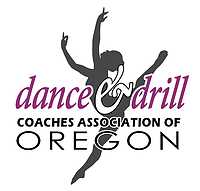 Each year, the Dance and Drill Coaches Association hosts auditions for eligible seniors on high school teams to earn a place on the All-State team.
Each dancer learns a routine, with three different genres represented, and auditions in front of a panel of judges. Among the dancers, 17 earned a spot in 6A, 14 in 5A and four in 1A-4A.
These winners will be dancing their routines at the conclusion of the evening in the OSAA / OnPoint Community Credit Union Dance/Drill Championships, set for March 15-16 at Veterans Memorial Coliseum.
The day after the auditions, the DDCA hosted the Dance Scholarship Auditions for eligible students to try out with three expert dance teachers. Each teacher taught a snippet from their particular expertise, then each instructor evaluated every dancer as to the criteria provided by the DDCA. Winners will be announced at the state competition.
The traditional season for Oregon high school dance/drill began Jan. 26 at Philomath High School. The big winners of the day were Stayton, taking first and grand champion with a score of 80.67, followed by Valley Catholic (78.72). Clackamas debuted its state show, earning first place with a 77.78, followed by West Linn (72.55). Benson won 6A with 70.58.
The next competitions were Feb. 2 at Stayton and Canby high schools. The 1A-4A competition was won by Valley Catholic with an impressive 86.40, followed by Gladstone (78.40). Lebanon won 5A with 76.53, ahead of West Albany (74.90) and cross-town rival South Albany (74.17).
The 5A division promises to be exciting to watch. Sprague, the newest team to the Show division, debuted its state program with an exciting 75.47. We are so excited to see this show develop over the next few weeks. Congrats Sprague, we are proud of you.
Canby hosted a number of different divisions and the competition was fierce. Banks took first in the 1A-4A division with a 57.90. Pendleton made the long trip over the mountain and didn't disappoint as they won their 5A division with a 78.53.
The 6A competition is promising to be a battle this year. It started off strong with Lake Oswego taking first with a 78.23, ahead of Sheldon (74.63), Lincoln (74.10) and Gresham (73.47).
The Show division hosted five teams. Glencoe started strong by earning first with a 75.23. Grant (74.43) and Clackamas (73.57) were next.
The weekend of Feb. 16 had three competitions.
Sheldon hosted three divisions: Valley Catholic won 1A-4A again with 82.57, followed by Marshfield (78.48); Lebanon was on top in 5A with 75.32, ahead of North Eugene and Crook County; Sheldon finished first in 6A.
Parkrose hosted two divisions. The Dance/Drill division winner was Sunset with a 74.50, followed by Barlow (74.90) and Scappoose (67.53). In the Show division, Clackamas won and took grand champion for the day with an 82.68, ahead of Glencoe (77.45), Sprague (76.92) and West Linn (73.72).
At Sherwood, Stayton won the 1A-4A division with an exciting 85.43; Milwaukie won 5A with a 77.11; Canby won the Show division with a 78.37; and Tigard took 6A with an 83.27, ahead of Lincoln (81.41), Westview (81.07), Gresham (80.53) and Tualatin (78.40).
Tickets for the state championships went on sale Feb. 26 through Ticketmaster. We hope you will support your favorite team and dancer!