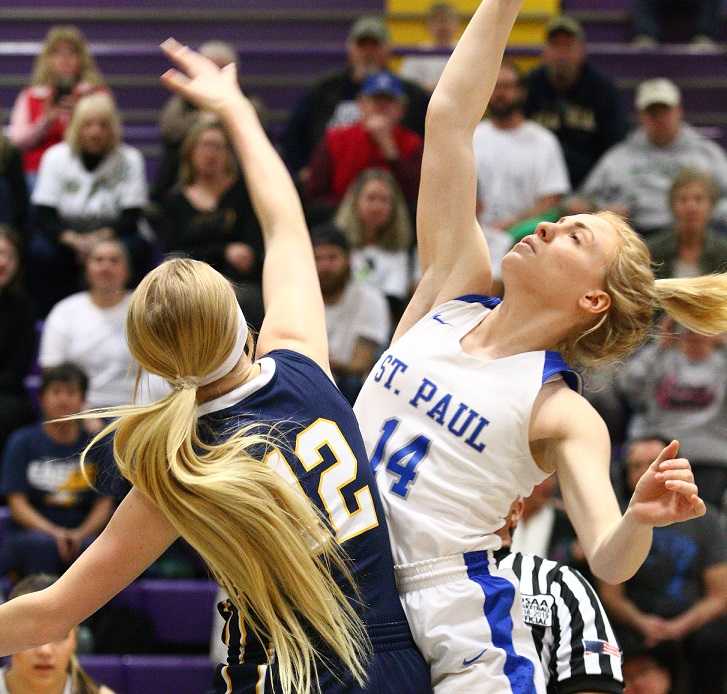 BAKER CITY -- Top-seeded St. Paul survived a late flurry by No. 9 seed Joseph to win 42-37 in the quarterfinals of the OSAA / OnPoint Community Credit Union 1A girls basketball tournament Thursday at Baker High School.
Isabelle Wyss had 13 points and six rebounds and Emma Connor added nine points and 10 rebounds for the unbeaten Buckaroos (28-0). St. Paul, a 2A semifinalist last year, will meet Damascus Christian in a semifinal Friday.
Wyss, a junior post, scored seven points in a 9-0 run as the Buckaroos opened a 19-12 lead in the middle of the second quarter. St. Paul scored nine consecutive points, getting five from Connor, to lead extend the lead to 30-18 in the third quarter.
"We were able to get into our offense and execute very well," St. Paul coach Dave Matlock said. "We ran a 1-4 high, and we kept getting it in there and going high-low, or attack one-on-one. Because of the way they stretch their defense, they don't like to be attacked in the middle."
But Joseph (25-4), which lost to St. Paul 40-32 in a nonleague game Jan. 4, went on its own 9-0 surge in the fourth quarter, pulling within 37-35 on a free throw by Madelyn Nelson with 3:27 left.
"We tightened up a little bit, and they really came on the offensive attack," Matlock said.
The Buckaroos quickly responded with a three-pointer by Karlee Southerland to lead 40-35 with 3:11 to go, and relied on their defense down the stretch to secure the win.
St. Paul won despite committing 24 turnovers, compared to 13 for Joseph, and making 5 of 17 free throws.
Emma Hite scored 17 points to lead Joseph. Sophomore guard Sabrina Albee, the Old Oregon League player of the year who is averaging 19.0 points, finished with eight points on 2-for-13 shooting.
"To give her less than 10 points, I think you're doing a pretty good job," Matlock said.
Due to seeding rules that require home playoff games for each league's top seed, Joseph, which finished second in the OSAA power rankings, was bumped to the No. 9 seed. It forced the quarterfinal matchup with St. Paul, No. 1 in the power rankings.
"I feel really bad for either one of these teams having to lose this game," Matlock said. "I said before this, whether it be us or them, it's not really right. But that's the way it's set up in this silly way in this classification. I think it's got to be changed and revisited. I really feel bad for them because they don't deserve to be on that side."
Damascus Christian 47, Days Creek 39: Trailing 37-35, the 12th-seeded Eagles went on a 12-0 run in the fourth quarter to knock out the 13th-seeded Wolves.
Damascus Christian's Noelle Wakefield made four three-pointers and finished with 14 points, six rebounds and three assists. She made a three-pointer with 3:48 left to put the Eagles ahead to stay 38-37, and added another jumper to make it 42-37 with 1:12 remaining.
Tory Webb had 14 points and 17 rebounds and McKenna Patrick added 11 points for Damascus Christian (26-3), which advances to the semifinals for the first time since winning the 2015 title.
Days Creek (18-10) got 10 points and 12 rebounds from Moriah Michaels and 10 points from Joleen Crume. The Wolves shot 20.3 percent from the field (13 for 64) and were 8 of 26 on free throws.
Perrydale 31, Jordan Valley 28: The No. 11 seed Pirates rallied from down 11 points late in the third quarter to overtake the No. 3 seed Mustangs.
Perrydale trailed 21-10 before scoring 10 consecutive points to pull within 21-20 on a three-pointer by Sydney Lawrence with 6:41 left. The Pirates took their first lead at 27-26 on a three-pointer by Sydney Perkins with 1:55 to go.
After Jordan Valley's Emilee Burch made two free throws for a 28-27 lead, Perrydale's Amity Deters hit a jumper to put her team back up 29-28 with 51seconds remaining.
Burch missed a jumper and Lawrence made a layup for a 31-28 edge with 17 seconds left. Jordan Valley had three chances to tie on its last possession, but Taylor Warn, Kiana Quintero and Regann Skinner missed on three-point attempts.
Lawrence scored 13 points for Perrydale (23-7), which advances to play Powder Valley in Friday's semifinals. Jordan Valley (23-3) got 14 points, seven rebounds and four steals from Skinner.
Powder Valley 46, Crane 44: No. 2 seed Powder Valley outlasted No. 10 seed Crane in a tight battle to advance to the semifinals for the second consecutive year.
Powder Valley's Belle Blair made a layup for a 44-42 lead with 1:53 left, and Autumn Davis and Megan Bingham added single free throws to make it 46-42 with 36 seconds to go.
Crane's Riley Davis hit a jumper with 17 seconds remaining to pull within 46-44. The Mustangs' Taelor Hammock made a steal, but Elizabeth Perkins missed a jumper and Shelie Doman's putback attempt went awry.
Blair had 19 points, 10 rebounds, three steals and two blocks and Bingham added 12 points and five steals for Powder Valley (25-3), which avenged a 44-35 loss to Crane on Dec. 21. Davis had 13 points, 21 rebounds and three blocks to lead the Mustangs (24-5).
Photos from state championship events are available from Northwest Sports Photography at 4nsp.com