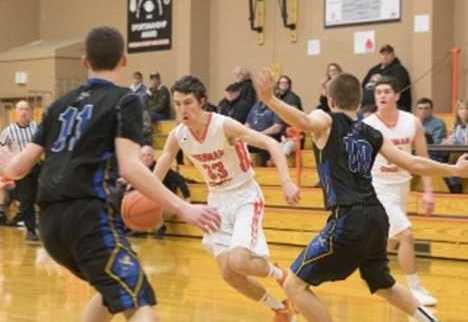 As coach of Sherman's title teams in 2016 and 2017, Gary Lewis knows a potential champion when he sees it.
And when Lewis looks at the field for this week's OSAA / OnPoint Community Credit Union 1A boys basketball tournament, he sees them all around.
"This year is unique," Lewis said. "In the last three or four years, there was only two or three teams each year that really had a legit shot. I think any of these eight, if they get on a roll, could win it. There are some teams that really scare me."
Top-seeded Sherman (24-3) won't be backing down from anyone, though. The Huskies lost four starters from last year's quarterfinal team – including two who started on the 2017 champion – but have reinvented themselves to remain serious contenders.
"It's really a different team," Lewis said. "We had some outstanding individual players the last two or three years. This year has been a fun group because they aren't as talented top to bottom as those other teams, but they have a good, strong work ethic. These guys have surprised me along the way. They've achieved more than even a lot of our fans thought they would."
Sherman graduated about 80 percent of its scoring but has found other ways to produce. It starts with 6-foot-2 senior Luke Martin, who moved from wing to point guard and is averaging 15.0 points, 7.3 assists and 6.0 rebounds.
"He's kind of been our quarterback," Lewis said. "He's had to play point guard even though he's probably more suited to be an off-guard."
Keenan Coles, a 6-3 senior forward, is averaging 14.0 points and 7.0 rebounds and shooting 58 percent from the field. Sophomore guard Wade Fields, senior post Caleb Fritts and senior wing Tyler Jones also have been steady contributors.
Sherman's losses have come against three tournament teams in Trinity Lutheran, Prairie City and Horizon Christian. The Huskies beat Horizon Christian in two Big Sky Conference games but lost to the Hawks 45-35 in the district playoffs.
"That night they were the better team and they handled us," Lewis said. "We didn't shoot the ball well that entire weekend. During our two state playoff games, we finally got things turned around."
Sherman plays Prairie City in a quarterfinal Wednesday. The Huskies lost to Prairie City 68-53 in last year's quarterfinals and fell to the Panthers 54-52 on Dec. 27 this season. In the latter game, two of Sherman's regular starters did not start because they had been away on vacation.
"What I remember most about that game is their athleticism of their front line," Lewis said of the Panthers. "They're big, and they can all dunk it. It's going to come down to who controls the boards."
1A boys quarterfinals, Wednesday, Baker HS
No. 1 Sherman (24-3) vs. No. 8 Prairie City (25-2): The Panthers – who ended a two-decade absence from the tournament last year, when they took second -- feature 6-4 senior Levi Burke. He scored 16 points in last year's quarterfinal win over Sherman and burned the Huskies for 27 points when the teams met in December, hitting a go-ahead three-pointer down the stretch. "We've got to be able to control Levi Burke," Lewis said. "He's just an extremely talented young man." Prairie City is back in the tournament despite graduating the 1A co-player of the year in 5-8 guard Dorran Wilson.
No. 4 Horizon Christian, Hood River (19-6) vs. No. 5 Nixyaawii (25-2): Horizon Christian, the 2012 champion, is playing in its first tournament since making the 2015 semifinals. In the round of 16, the Hawks slowed down explosive Crosshill Christian in a 49-43 win. Next up is Nixyaawii, which leads 1A in scoring with a 70.9 average. Nixyaawii, the 2015 runner-up, is in the tournament for the fourth time in five years. The Golden Eagles got 18 points from sophomore Moses Moses to beat St. Paul 73-54 in the round of 16.
No. 3 Triad (21-2) vs. No. 6 Trinity Lutheran (22-5): Two Mountain Valley League teams meet for the third time this season; Triad won at home 54-42 on Dec. 22 and Trinity Lutheran won at home 35-31 on Jan. 26. Trinity Lutheran, 0-21 in 2015-16, is playing in its first state tournament. The Saints have the MVL player of the year in 6-5 junior Matt Eidler (19.5 points), who had a 45-point game this season. Triad, a semifinalist last year, has two first-team MVL players in junior post Ethan Moritz and junior guard Ethan Roe.
No. 2 Damascus Christian (25-2) vs. No. 7 Days Creek (21-5): Damascus Christian, which won its only title in 2006, made the semifinals in 2016. In the round of 16, the Eagles trailed by seven points with 1:37 left but rallied to beat North Douglas 44-41. Damascus Christian has lost only to Sherman and Barlow's JV. Days Creek has won 15 in a row. The Wolves are led by senior guard Blake Ellis (12.9 points, 4.2 assists) and 6-2 sophomore post Zane Degroot (10.3 points, 5.3 rebounds).
1A girls quarterfinals, Thursday, Baker HS
No. 1 St. Paul (27-0) vs. No. 9 Joseph (25-3): When the teams met for a nonleague game Jan. 4 in Dufur, St. Paul finished with a 14-1 run to win 40-32. The Buckaroos, 2A semifinalists last year, are holding teams to 23.7 points per game and collecting 15.3 steals per game. Junior post Isabelle Wyss (16.2 points, 6.8 rebounds) and junior guard Erin Counts (16.0 points, 7.0 rebounds) lead St. Paul. Joseph, which lost in the quarterfinals last year, has the Old Oregon League player of the year in sophomore guard Sabrina Albee (19.0 points, 7.0 rebounds, 4.0 assists, 4.0 steals) and two other first-team picks in junior Madelyn Nelson and senior Emma Hite.
No. 12 Damascus Christian (25-3) vs. No. 13 Days Creek (18-9): Damascus Christian, the champion in 2013 and 2015, has coach Dave Wakefield, who has won 582 games, second only to Oregon City's Brad Smith (628) in state history. Two of the Eagles' losses came against Valley 10 League rival Country Christian, last year's 1A champion. Days Creek, a semifinalist last year, reached the final eight with a 68-61 win at Country Christian as Joleen Crume and Megan Kruzic each scored 19 points.
No. 3 Jordan Valley (23-2) vs. No. 11 Perrydale (22-7): Jordan Valley, averaging a 1A-high 62.1 points, carries a 16-game winning streak into the tournament. The Mustangs beat Elkton 48-38 in the round of 16 behind 24 points from Kiana Quintero. Jordan Valley hasn't won a title since going back-to-back in 1991 and 1992. Three of Perrydale's losses came against unbeaten St. Paul. The Pirates beat Mountain Valley League champion Rogue Valley Adventist 30-29 in the round of 16, wearing down the Red Tail Hawks will full-court pressure.
No. 2 Powder Valley (24-3) vs. No. 10 Crane (24-4): Crane beat the Badgers 44-35 when the teams met Dec. 21 in a tournament at Union. Powder Valley, which made the semifinals last year, has won 10 in a row. The Badgers defeated Joseph 43-37 for the Old Oregon's top seed. Crane earned its place in the field with a 48-45 overtime win over South Wasco County as Elizabeth Jenkins scored 18 points, including a three-pointer to force overtime.