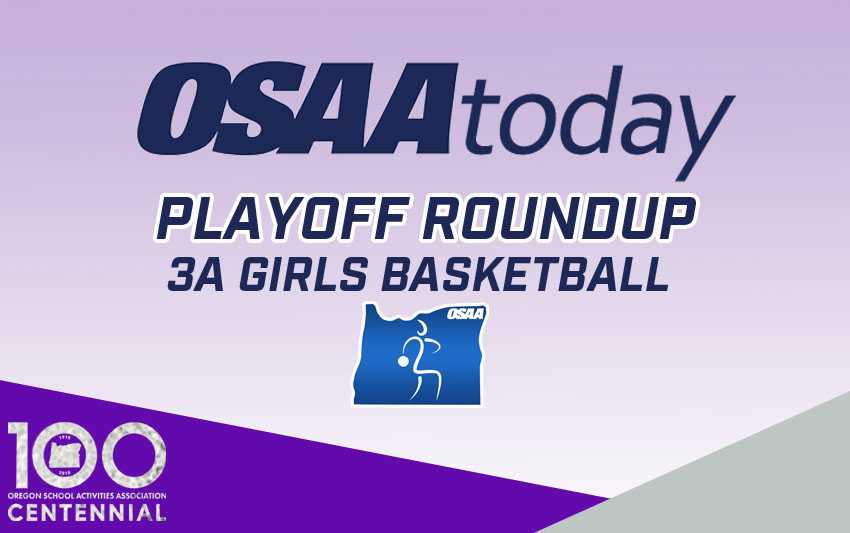 A look at Saturday''s games in the OSAA / OnPoint Community Credit Union 3A girls basketball playoffs:
Warrenton 60, Amity 52 – Fernanda Alvarez scored 30 points and hit four free throws in a row in crunch time to seal Warrenton's home win. Kenzie Ramsey added 14 points, including four triples to extend her school single-season record to 95.Claire Bussert chipped in 11 assists and controlled the game from the point guard position. "I am so proud of this group of seniors," said coach Robert Hoepfl. "They came into the program and we were 2-22 the year before. They have worked so hard the past four years to reach this moment and they deserve to go to Coos Bay. I also want to acknowledge how well coached Amity is and how hard they played. Great season for them." Keeley Graham led Amity with 19 points. Jenna Lopezand Alyssa Plummer added 14 and 13, respectively.
Burns 53, La Pine 31 -- Burns jumped out to an early lead against La Pine behind hot outside shooting from McKenzie Hoyt and Aundraya Ceja. Both hit two triples apiece in the first quarter. Ceja added three more three pointers in the second quarter to send the Hilanders to the half up 36-22. After not much scoring by either team in the third quarter, Burns found its rhythm in the final quarter and won comfortably. Ceja led all scorers with 19 points. Shai Skinner tossed in 11. Sophomore Kara Hinkle had nine points to pace La Pine.
Salem Academy 41, Sutherlin 22 – Grace Brown had 18 points and nine rebounds to lead Salem Academy, the top-ranked team in the OSAAtoday 3A coaches poll. A stifling Crusader defense held Sutherlin to just five points at halftime and 22 for the game.
Blanchet Catholic 67, Harrisburg 45 – Blanchet Catholic grabbed the momentum with a 26-point first quarter and withstood a second-quarter Harrisburg rally to win at home. Ana Coronado had 23 points and Trinity Phipps and Hailey Ostbycombined for 28 more for the victorious Cavaliers. Hailee Johnson had 15 and Mya Langley contributed 10 in the loss for Harrisburg.
Brookings-Harbor 49, Yamhill-Carlton 36 – Visiting Yamhill-Carlton led 13-7 after one in a battle of teams ranked among the top 10 in the OSAAtoday 3A coaches poll. Host Brookings-Harbor, used a relentless press to take the lead in the second quarter and never lost it. Lexi Schofield and Lexee Murray combined for 25 points in the win for Brookings. Aliya Seibel had 12 and Sadie Horne 10 in the loss for Yamhill.
Clatskanie 73, Nyssa 45 – Full court pressure led to easy scores from the opening tap for Clatskanie, which led 19-0 after one and cruised to the state tournament. Shelby Blodgett had a big day, scoring 23 points while adding 22 rebounds, four assists, seven steals and two blocks. Olivia Sprague also had a massive game, scoring 34 points while adding seven rebounds, three assists and five steals.
Oregon Episcopal School 40, Pleasant Hill 36 – Defensive pressure and offensive patience proved the winning formula for OES on the road, as the Aardvarks held Pleasant Hill, the No. 5 team in the OSAAtoday coaches poll, to just five field goals for the entire game. Lauren Han had 15 points and Rachel Lowell added 11 for the victors. Hannah Way scored 14 and Kaylee Martin contributed 10 in the loss for Pleasant Hill, which was 26-for-31 from the free throw line for the game.
Vale 62, Riverdale 49 – The Vikings (15-10) won on the road versus seventh-ranked Riverdale thanks to 20 points from Gracee Jacobs, 16 more from Matyson Siddoway and 13 from Emmy Johnson.