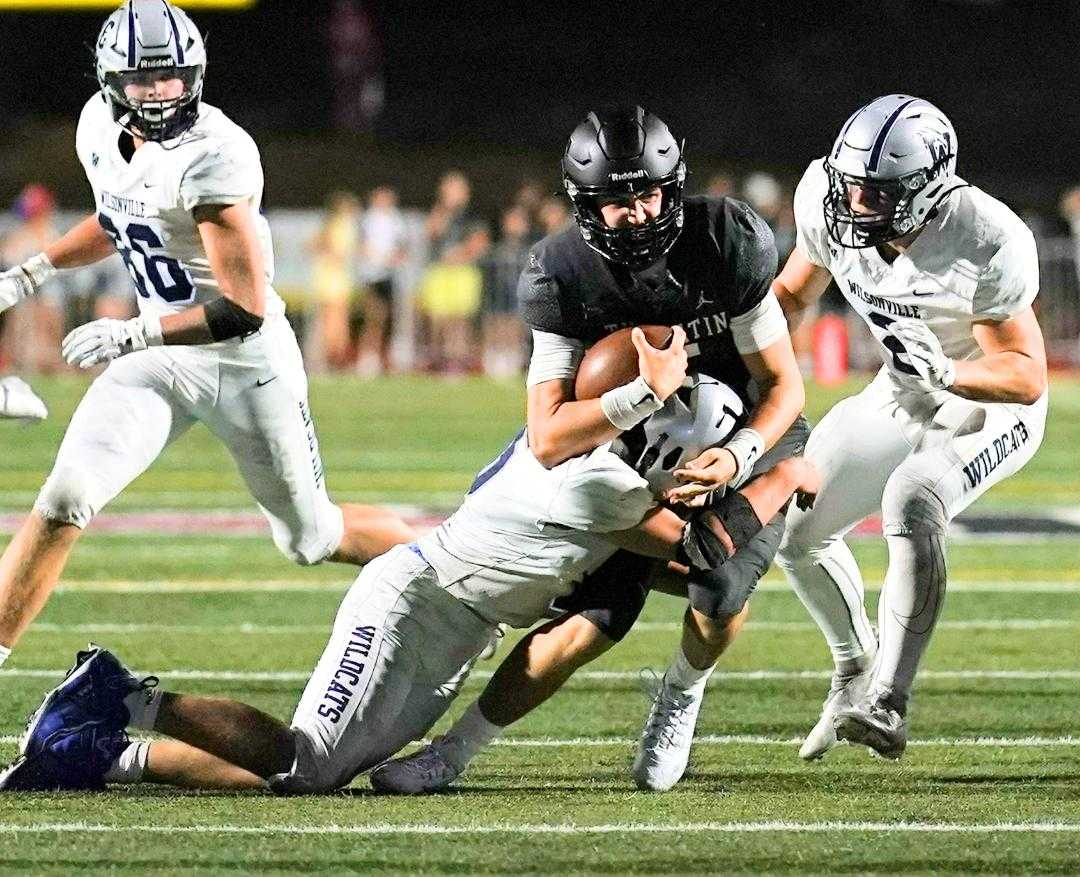 TUALATIN -- In his first two games as Tualatin's quarterback, Nolan Keeney showed what he could do with his arm.
Friday night against 5A No. 1 Wilsonville, it was all about his legs.
With the visiting Wildcats dropping everyone into coverage, the 6-foot-4 Keeney burned them with his scrambling ability, rushing for 116 yards and one touchdown on 18 carries as 6A No. 3 Tualatin pulled out a gritty 22-13 win.
"They were dropping a lot of dudes back, so it's all about making reads, and seeing what we can do with the ball," said Keeney, a junior transfer from Westview. "I was able to make some plays out there."
Keeney, who threw four touchdown passes in the first two games, was a modest 6 of 11 for 61 yards with one interception against Wilsonville. But he led the way for the running game, which piled up 263 yards, including 67 yards from senior Carson Mullins and 66 yards from senior Tino Russo.
"He's a dual threat," Timberwolves senior receiver Jayden Fortier said. "He's been trying to tell me, but I didn't believe him. He's really a threat. His legs are just as good as his arm."
Senior receiver Kenen Elder gave his stamp of approval for Keeney's running ability.
"I knew he could do this," Elder said. "He's big, athletic, physical. I knew he was going to run with the rock a little bit. I didn't think he was going to run this much. But he did what he had to do. He kind of had to."
Still, Wilsonville (2-1) pushed Tualatin (3-0) to the limit. The Timberwolves, who defeated the eventual 5A champion in hard-fought battles in 2021 (Silverton) and 2022 (Summit), believe they just beat this year's title team.
"We see them winning 5A," Keeney said. "They've got a lot of talent over there. They've got a lot of potential players of the year over there."
Said Fortier: "There's no doubt in my mind that they'll be the 5A state champion when it's all said and done. They've got some dudes over there."
Elder said he has "the utmost respect" for Wilsonville.
"I think they're the best 5A program in the state," Elder said. "They came out and played us very well, a lot better than I bet everyone else was thinking, and we thought for ourselves."
Wilsonville coach Adam Guenther told his players that they had no reason to hang their heads in defeat.
"If anything, it proves that these guys can play," Guenther said. "Tonight was about us. This was the third step of a process. And our process hopefully has us playing deep into November. This just proves how good we have the potential of being."
Elder had two interceptions, and Fortier had one, against Wilsonville senior quarterback Kallen Gutridge. But they came away impressed with Gutridge, who completed 23 of 46 passes for 320 yards and one touchdown (32 yards to senior Maverick Summers). Gutridge also rushed for 54 yards and one score on nine carries.
"I have to give it up to their quarterback. Unreal," Elder said. "One of my guys. He played a hell of a game. … Props to them. I hope they win the 5A state championship."
Tualatin led 12-7 at half on touchdown runs of five yards from Fortier and four yards from Keeney. The Timberwolves made it 19-7 on a two-yard run by Mullins.
But Wilsonville wouldn't fold. Gutridge finished a 71-yard drive with a one-yard run to make it 19-13 late in the third quarter, and the Wildcats threatened to take the lead early in the fourth quarter when Gutridge busted loose for a 40-yard run to the Tualatin 15-yard line.
But on second down from the 15, Gutridge's pass over the middle went off the hands of senior Nick Colyer and into the mitts of Fortier for an interception, foiling the threat.
"I saw the dig, saw the in-breaking route, and I knew I just had to go get it," Fortier said.
From there, Tualatin took more than seven minutes off the clock, driving 78 yards to take a 22-13 lead on a 22-yard field goal by junior Calvin Evans with 2:15 left. It was the kind of drive that helped the Timberwolves salt away a 17-14 win at Lincoln of Tacoma last week.
"Our O-line, they know how to get yards, especially when it comes down to it," Keeney said. "The past two weeks, they've shown that."
Wilsonville quickly moved to the Tualatin 13-yard line, but the Timberwolves came up big on defense once again, forcing four consecutive imcomplete passes to clinch the game.
Wildcats junior Nick Crowley had nine catches for 156 yards and junior Mark Wiepert added five catches for 96 yards, but Wilsonville had nothing to show for trips to Tualatin's 35, 26, 15 and 13-yard lines.
"We couldn't quite finish it off," Guenther said. "We gave ourselves opportunities, and against a good team like that, that's all you can ask for. You've got to finish, and we didn't."
Elder said the Timberwolves "did what we had to do."
"It was kind of ugly at times," Elder said. "We didn't have many passing yards. People know us for the receivers we've got, our passing ability. But we still made it happen."
Tualatin plays at No. 9 Jesuit (0-3) next week before opening Three Rivers League play Sept. 29 at home against No. 6 Lakeridge (3-0). The Timberwolves believe they can learn something from Friday's win.
"We didn't prepare well enough for this team," Fortier said. "All week in practice we were going half-speed, weren't really 100 percent, kind of taking them lightly. I'll take it on myself, and the other seniors will take it on them. We've got to be ready for Jesuit. They're a good team, physical team."