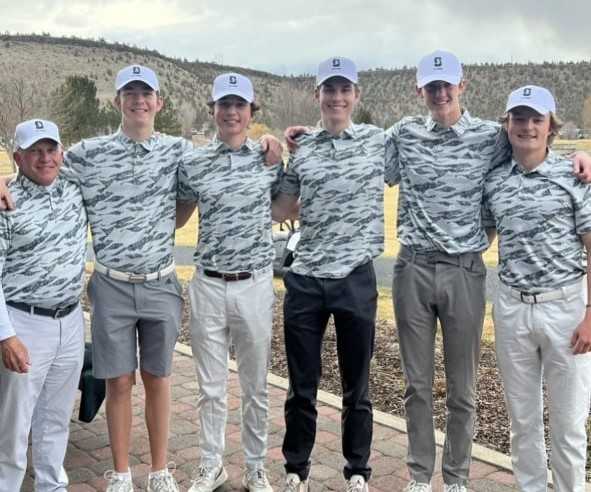 Just how good was Summit's boys golf team last season?
So good that the Storm set a state tournament record by shooting 16-under par, winning the 6A title by 39 strokes. So good that the team's No. 5 player, Brody Grieb, won the state championship at 8-under.
Summit hovered around par all season, led by three players who have moved on to college programs in Sam Renner (Washington State), Lucas Hughes (Grand Canyon) and Ethan Jaehn (Central Michigan). Renner, Hughes and Jaehn also shot under par at state.
"That was pretty historic," coach Andy Heinly said in retrospect. "That whole group was good. But those three seniors were pretty extraordinary."
On the surface, it would appear that the graduation losses decimated Summit. But the Storm believes it has another championship-contending team in returning to 5A, where it won titles in 2015, 2016 and 2017.
The team has three of the state's top players in Grieb, senior Nick Huffman and junior Jakob Hansen. Huffman (committed to Cal Lutheran) and Hansen were No. 4 and No. 6 in the lineup, respectively, last season.
"We have those three to build around," Heinly said. "We need that fourth guy to step up. We've got three guys that are kind of vying for that 4-5 spot. But those three guys are going to be solid.
"We're just going to continue to get better. I'm pretty confident as far as our ability to take the 5A state. I told them so. I think they've got the ability, between those three guys, to really put up some good numbers."
In the season-opening Canby Invitational at Willamette Valley Golf Club on March 13, Summit shot 318 to finish second to 6A power Jesuit by 16 strokes in the 16-team tournament. Grieb shot a team-best 73, followed by Hansen (79), senior Blake Cordes (81) and Huffman (85).
Considering the circumstances, it was a respectable outing.
"Nobody played well," Heinly said. "That was our first time on a course. And that course was just a swamp. But like I told them, 'The four guys from Jesuit figured it out.'"
The Storm came back March 22 to win the 13-team Crook County Invitational at Meadow Lakes Golf Course, shooting 290 to beat second-place Bend by 25 strokes. Huffman (1-under 70), Hansen (71), Grieb (72) and senior Ryan Mitchell (77) showed the way.
Grieb has taken his game to a new level after a fortuitous turn of events at the end of last season.
Heading into the state tournament, Grieb was not in a good space. He finished 11th in the Mountain Valley Conference district tournament, firing an 87 in the second round. And the day before the practice round at state, the threw out his back and was unsure if he could play.
As it turned out, the back injury kept him from overswinging, unlocking his game.
"During the practice round, he birdied like three in a row," Heinly said. "I looked at Sam (Renner) and I said, 'The very thing I've been trying to get him to do, he's done on his own. He couldn't do it any other way.'"
Grieb shot rounds of 65 and 69 in the state tournament at Trysting Tree Golf Club in Corvallis, holding off a late charge from Mountainside's Collin Hodgkinson (now playing for Oregon State) to win by one stroke. Renner took third, two strokes back.
The title gave Grieb a shot of confidence.
"The thing I've seen mostly with him is he's really matured," Heinly said. "He admitted it, too. He says, 'When I feel like I'm not playing well, I'm still not playing bad.' I said, 'That's the next step, that's the maturity step.' Instead of shooting 85, he's shooting 73 or 74. And that's where he is right now."
Grieb's growth was apparent at Meadow Lakes. He stood at 4-over through five holes, but instead of going into the tank, he recovered and finished at 1-over.
"He knows he can do it. He's not going to panic," Heinly said.
Summit's biggest challenge early in the season is the weather in central Oregon, where cold and snow have kept many of the courses closed. Many of the players are taking advantage of spring break to play in Hawaii and Mexico.
The Storm hopes to get some good competition April 3 in the Grant Generals Invitational at Columbia Edgewater Country Club in Portland. Summit also will compete in the 6A/5A State Preview Tournament on April 20 at Emerald Valley Golf Club in Creswell.