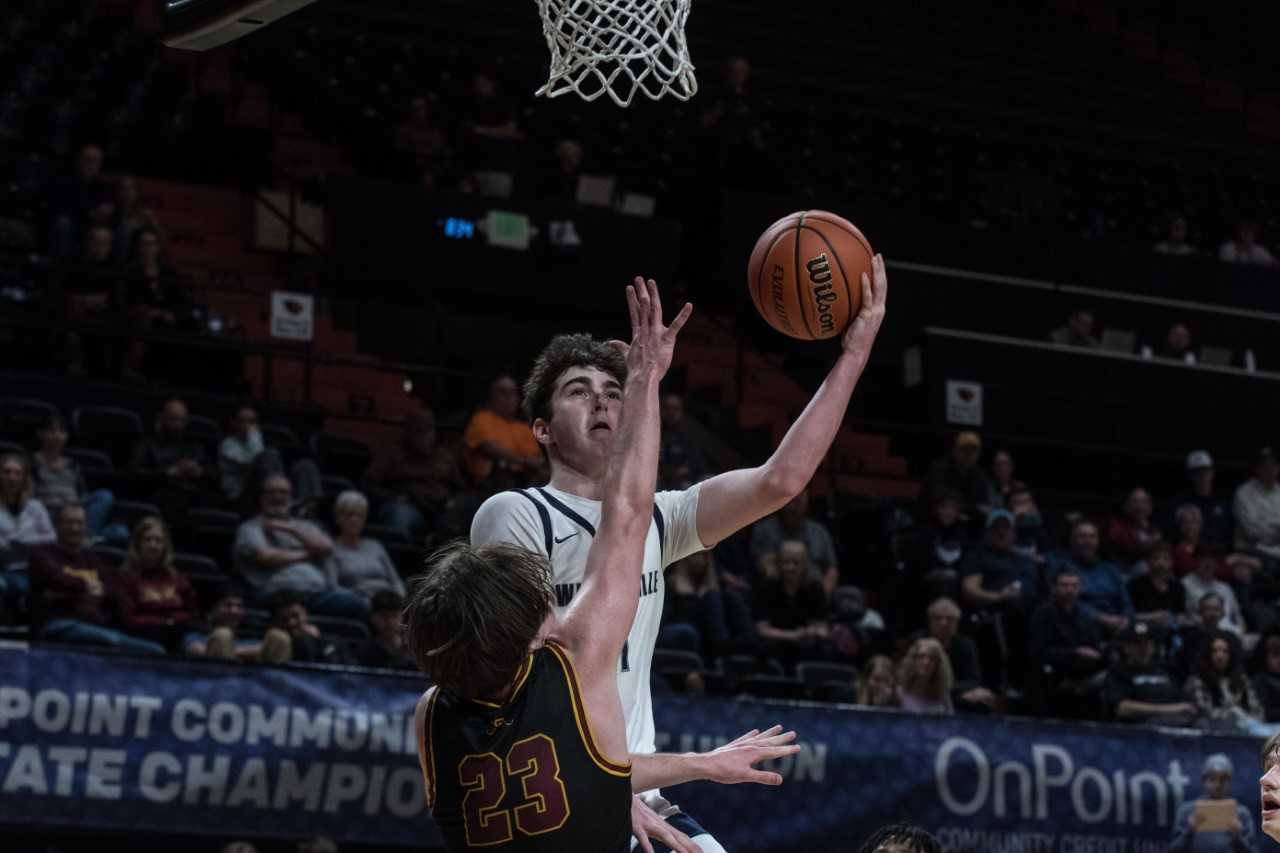 Wilsonville scored the final 10 points of a low-scoring game to defeat upstart Crescent Valley, 34-24, in a 5A boys semifinal at the OSAA / OnPoint Community Credit Union State Championships Thursday night at Gill Coliseum in Corvallis. With the win, the Wildcats earned the right to defend their 2022 title against top-seeded Summit, which defeated Redmond, 79-66, earlier in the evening.
Leading scorer Kallen Guttridge, in the midst of a 4-for-15 shooting night against a Raider team that defended relentlessly, hit a wing jumper to break a 24-all tie with three minutes remaining, then went six-for-six from the free throw line, Wilsonville's first free throws of the entire game, to salt away the win.
"We dug in and left it all on the floor," Guttridge said.
Wilsonville coach Chris Roche said that he suspected that the semifinal against the No. 16 seed might not yield a lot of points from either team.
"We figured it could be that way today," he said. "They're really good on defense. They're athletic and quick. I thought today we'd have to play great defense."
"You have to embrace the challenge," he added. "Otherwise, you're not going to end up on top. I thought our kids did a great job of finishing this game strong."
The tone of the game was set in the first quarter, when the teams each scored eight points. Crescent Valley did most of its damage on back door cuts and layups against Wilsonville's man to man defense, for the most part eschewing long-range shooting, which has become a staple of the modern game. Wilsonville countered with 3-balls from Maxim Wu and Nick Colyer for six of its eight points.
The second quarter and third quarters were more of the same, with both teams working hard for good looks that were hard to find. Senior point guard Adam Temesgen was a bright spot for Crescent Valley. He used his athleticism and handle to penetrate, and caused problems for Wilsonville, especially late in the third quarter, when he scored back to back to help slice a seven-point Wildcat lead to just two, 22-20, heading to the fourth quarter.
Kyle Counts, quiet most of the game, came alive for a stretch in the third quarter and helped Wilsonville turn a 14-12 halftime lead into a 22-15 advantage midway through the period. The Wildcats also got terrific play from sophomore Emmitt Fee, whose rebounding and screen setting proved pivotal in a game where one basket could mean everything.
Indeed, early in the fourth quarter, after Temesgen had split the defense for a layup to tie the contest at 22-all, Wu used a Fee screen to free up for an elbow jumper that put Wilsonville on top once more.
Temesgen responded with a strong inside move to score a deuce – he finished with 15 of Crescent Valley's 24 points – only to see Guttridge rise to the challenge with a pure lefty stroke from 18 feet that tickled the twine.
Guttridge was at his absolute best in the end game despite playing all 32 minutes, as did every Wilsonville starter. He got the big rebounds and made the big free throws when they mattered most.
"I trust the process, what coach has us prepared to do," he said.
Aside from Temesgen, no other Crescent Valley player scored more than four points. Rocco McClave, who had 21 points in Wednesday's win over La Salle Prep, made his first shot to put Crescent Valley on top, 2-0, but went 0-for-6 thereafter and was held to just two points. Collectively, the Raiders, who also played their starters for almost the entire game, shot 27 percent for the game. They attempted six shots from long range and were not successful on any of them.
"Hats off to Crescent Valley," Guttridge said. "That was an amazing run as a 15-seed making it all the way to the semifinals."
Guttridge, who averages almost 22 points per game, finished with 16 points to lead Wilsonville. He had two assists, two blocks, four steals and six crucial rebounds, many coming in crunch time. Wu finished with seven points and three assists.
"This team has struggled a bit with immaturity and competitive consistency," Roche said. "They've hung in there and gotten better. They competed and here we are. I'm super proud of them."
Roche acknowledged that Wilsonville will be considered the underdog tomorrow night against tall, deep Summit. He intimated that he is looking forward to the challenge.
"We have to come out and let it rip," the coach said. "I know they're talented and big and great and everyone picked them to win it. Everybody might be right. We'll find out tomorrow."
In the other boys' semifinal…
No. 1 Summit d. No. 4 Redmond, 79-66
Top-seeded Summit got 30 points, 10 rebounds and three assists from junior standout Pearson Carmichael in essentially a wire-to-wire win against Intermountain Conference foe Redmond.
Evan Otten, a 6-10 senior post, was outstanding in defeat for the Panthers, scoring 22 points with 18 rebounds.
Though Summit won comfortably, the play was high-level from both sides, the type of low-error, end-to-end basketball that makes the sport highly entertaining to watch. At the end of the day, Summit, with its stable of 6-5 to 6-7 athletes and a tremendous lead guard in Collin Moore, was just too tough and defeated Redmond for the fourth time in as many efforts this season.
Redmond scored the first two points of the game, on a stick back from Otten. Summit answered on a 3-ball from Hogan Carmichael and never trailed again. The Storm extended their advantage by shooting over 70 percent from the floor midway through the first.
Summit maintained its seven-point lead after one quarter to get to the locker room up 39-32 at halftime. Redmond, which struggled from distance in the first, found its range in the quarter and was able to make things interesting, down only three. Summit, however, was very effective on the counter attack and was able to grow its lead to 10 points three times before a late Redmond surge made the margin seven at the break. Otten was a monster for Redmond, scoring 10 with 10 rebounds in the first 16 minutes. Moore's half for Summit included eight points, five assists and three boards.
The second half was played in the same entertaining style – there were just 13 turnovers between the teams for the game – until the fouling and free throws happened late in the fourth as Redmond tried to figure its way back into the contest. Summit made enough free throws and took advantage of Redmond having to take chances to keep the game at double digits for the entire final period.
Moore finished with 13 points and six assists, and Hogan Carmichael chipped in with 12 points in support of Pearson Carmichael's huge night. Shout out to 6-6 Charlie Crowell, who contributed energy, rebounding and a layup in a spirited nine minutes of action.
Three Redmond teammates besides Otten scored in double figures. Jack Snyder and Colton Horner had 12 apiece. Nathan Wachs scored 10, with six assists. Tanner Jones, Redmond's heady point guard, contributed eight points and three assists.
In girls' semifinal action…
No. 1 Springfield d. No. 5 Crater, 70-55
Top-seeded Springfield, playing composed, near-flawless basketball for nearly five minutes, went on a 21-0 second-quarter run, turning around a 12-8 deficit after the first eight minutes, and overwhelmed Midwestern League foe Crater, 70-55, to make the state championship game for the second consecutive year.
Crater, which plays the length of the floor to create chaos, turnovers and easy buckets, was a victim of its own aggression in that pivotal second quarter. The Comets turned the ball over more than the Millers and their fouling put Springfield in the bonus very early in the period.
Springfield got a massive boost off the bench from Kayla Morris during that fateful stretch. The junior guard scored nine of the Millers' 22 points during the run, including a corner three, followed by a steal and coast-to-coast drive for two. Springfield took a 34-18 lead to the break.
As good as Springfield was in the second quarter, the Millers struggled to open the second half, committing nine turnovers in the first two minutes, and let Crater creep within seven. But the aggression that helped Crater claw back into the game also proved to be its biggest nemesis. As the fouls piled up, so did the free points for Springfield, which was in the bonus with 3:43 left in the third. Soon, the Millers had regained and extended their halftime lead, and Crater had its five best players on the bench saddled with four fouls apiece.
All the fouls called – there were 33 whistled on Crater to 20 for Springfield – also slowed the game to a crawl. The 6A boys' quarterfinal at Chiles Center started at the same time and ended 12 minutes before the start of the fourth quarter here!
JB Robinson led Springfield (23-5) with 25 points. The sophomore shot 20 free throws, making 13, and hit the deck more than Sonny Liston versus Muhammad Ali. Robinson also produced the highlight of the game, when she pulled the ball out of the key in the closing seconds of the third and, realizing that the clock was running down to zero, drained a 27-foot three pointer as time expired.
Abigail Winslow scored 14 and 6-4 Lydia Traore added 10, all from the lane, to pace Crater (20-7), which lost to Springfield for the third time this season.
No. 6 Crescent Valley d. No. 7 La Salle Prep, 45-33
Crescent Valley trailed, 31-29, in the opening seconds of the fourth quarter, only to score 16 points in a row, propelling the defending champions back to the final, where it will face a rematch with Springfield.
Gabby Bland scored 10 of those 16 points for Crescent Valley, two on midrange jumpers, the only time she was able to break free from the tenacious defense of Emma Buchanan. Bland also was 6-for-6 from the free throw line and finished 10-for-10 from the charity stripe for the game.
The game started slowly for both teams, as the game was played beyond the arc over the first eight minutes. At one point, 14 total shots had been attempted, 11 from long range. It seemed like the only Raider not shooting deep threes was Gabby Bland, whose triples were the reason CV won state a year ago. Indeed, Gabby Bland did not attempt a triple the entire game, a testament to Buchanan's on-ball defense. Gabby Bland nonetheless led Crescent Valley in scoring with 14 points.
La Salle Prep, which led 8-6 after the first quarter, extended its lead by one, thanks to the high-scoring duo of Ella Wedin and Ava Bergeson. Wedin showed off unlimited range with three bombs, while Bergeson, a 6-0 freshman, scored at will on jumpers in the key and on the wing.
The third quarter featured lead changes – Crescent Valley took its first lead since 3-0 on a layup by Nicole Huang only to see Wedin answer right back on an inbounds stick back -- but was largely uneventful except for this: with 1:45 remaining, Wedin was charged with two fouls over a 90-second span and had to go to the bench with four. When she returned to the floor, the Falcons were down by four and seemingly down and out. Crescent Valley scored its final 10 points from the free throw line, where it was 15-for-16 for the game. Buchanan, who scored the first points of the quarter 25 seconds in, also scored the last with 17 seconds remaining to create the final 12-point margin.
Huang had 13 points and 10 rebounds to complement Gabby Bland's 14 for Crescent Valley (22-6). Huang started the scoring for the Raiders with a three-ball, made two other and two driving layups. She was the only starter not to attempt a free throw. Not only did all five starters score five or more points for Crescent Valley, each had a moment or two that was crucial to the game's outcome. It truly was a team win for the Raiders.
Bergeson had a game-high 16 points and 10 rebounds, two blocks and two steals for La Salle Prep (21-6). Her future is bright. Wedin finished with 11 and Buchanan had six. The rest of the team attempted seven shots and scored zero points.