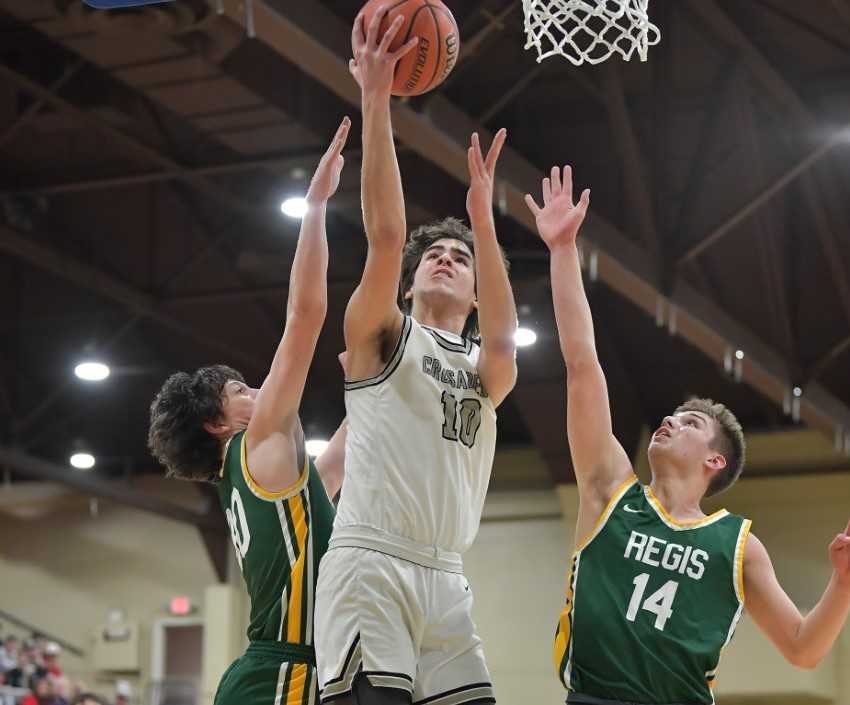 By SCOTT SEPICH/for OSAAtoday
PENDLETON — After coming up short in double overtime in last year's championship game, the Salem Academy Crusaders have unfinished business in this year's OSAA/OnPoint Community Credit Union 2A boys basketball tournament.
The third-seeded Crusaders went back-and-forth with No. 11 Regis for three quarters in Thursday's quarterfinals, but outscored the Rams 20-9 in the fourth quarter to claim a 54-44 victory at the Pendleton Convention Center.
Jackson Oglesby, a 6-foot-8 senior for Salem Academy (20-6), imposed his presence in the paint on both ends of the floor to overcome the up-tempo Rams.
"We were getting the guys to focus on having the patience to work it to Jackson in the paint," said Crusaders coach Ben Brown. "As soon as help comes, he'll be able to find a guy and it happened a couple times there late. If we had hit our free throws we would've been a little more at peace at the end of the game."
Oglesby finished with 12 points, 18 rebounds, six assists and six blocks in playing all 32 minutes.
"This has been a big chip on our shoulder all year," Oglesby said about having to cope with last year's title loss. "We just want to win tomorrow and hopefully get a chance at revenge if (defending champion) Western Christian gets to the final. But we have to take it slow and go one game at a time."
Luke Molan scored 11 points on 5-of-6 shooting, including a key 3-pointer that gave the Crusaders some breathing room midway through the fourth quarter. Landen Mitchell scored 12.
Regis led 26-22 at halftime and 35-34 through three quarters. Salem Academy shot 62% from the field in the second half and 46 percent for the game, while Regis faded to 26 percent in the second half and made 32% overall.
Sophomore Isaiah Koehnke led Regis (20-10) with 20 points, while Diego Augilar added 11 points and seven rebounds. The pair, who averaged 38 points per game during the season, shot a combined 12-for-40 from the field Thursday.
"Those two guards (Koehnke and Augilar) can score points at will almost, but we did a good job talking on defense and we were able to keep Jackson in the key to be a rim protector," said Brown.
"I started willingly going into the paint because that's where I can dominate," Oglesby added.
Brown said that his team has battled hard all year to overcome injury issues including to senior starter Jaren Oglesby, who missed 11 games.
"We had to fight to stay relevant in the state and in our conference and the boys did a good job of that," Brown explained. "Thankfully three of our captains are three of our top six guys from last year. I've told these guys that the state tournament is all about who's going to fight the hardest that night."
Salem Academy previously defeated Regis 59-47 in Tri-River Conference play on Jan. 19.
No. 9 Heppner 41, No. 1 Mannahouse Academy 34: Heppner (21-5) outscored the top-seeded Lions 13-3 in the fourth quarter to pull the major upset. Trailing 31-26 late in the third quarter, the Mustangs scored nine straight points to take a 35-31 lead. Caden George scored 11 of his 14 points in the second half, including three free throws that put the game away. Tucker Ashbeck chipped in 11 points and 12 rebounds. Joshua Louka had 11 points and six rebounds for Mannahouse (25-3), which had 15-game winning streak snapped. The Lions' top offensive threat, Jadon Bjornsgard, was held scoreless on 0-for-10 shooting.
No. 5 Western Christian 40, No. 4 East Linn Christian 37: Western Christian (21-7) trailed by 16 points early in the second quarter, but outscored the Eagles 31-12 over the final 22 minutes to earn the victory and keep hope alive for a second straight state championship despite graduating eight players from last year's team. Gavin Hall (12 points) and Caleb Halgren (14 points) hit consecutive layups to break a 34-34 tie and put the Pioneers up for good. East Linn Christian (24-5) led 25-9 at one point, but went cold from there. Eliot Nofziger scored 14 points, but just two came in the second half. Cole King also scored 14 for the Eagles, who had two opportunities in the final seconds to tie the game with 3-pointers but came up short.
No. 2 Kennedy 56, No. 10 Santiam 46: Kennedy (23-5) started fast and led from wire-to-wire to earn the victory over Santiam (20-7) in the teams' fourth meeting of the season. The Trojans evened the season series with the Wolverines after losing twice to Santiam in Tri-River Conference play. Kennedy collected their first win over Santiam in the conference championship game on Feb. 18, 55-53. Luke Beyer scored 17 points and went 3-for-6 from 3-point range to lead Kennedy on Thursday. Brett Boen added 13 points and seven rebounds while Ethan Kleinschmidt scored 10 points and dished six assists. The Trojans shot 51 percent from the field. Gage Twede scored 26 points — the highest individual total of any player thus far at the tournament — and made 6-of-11 3-pointers for Santiam, while Ezra Downey chipped in with 14.