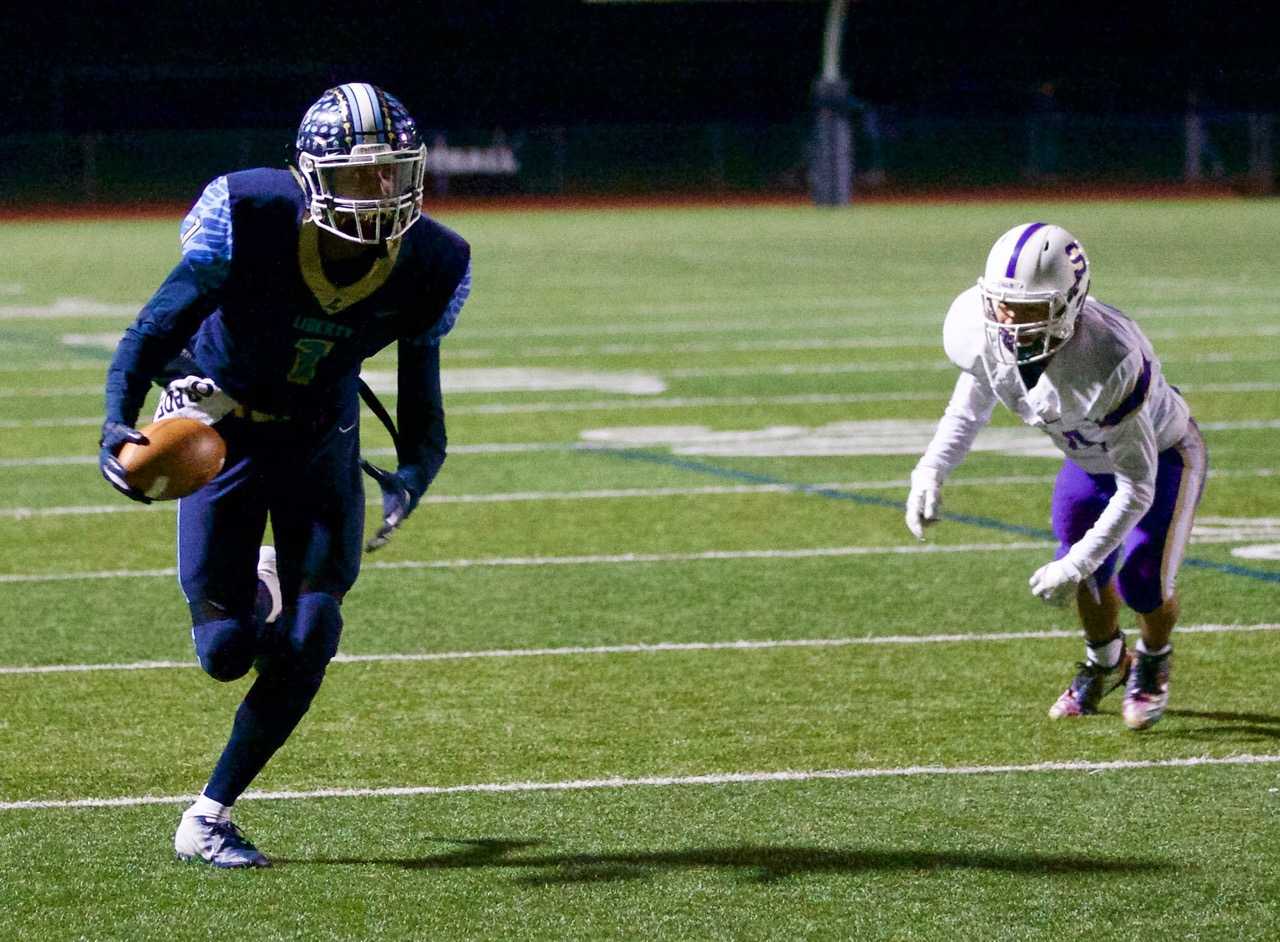 HILLSBORO — In the greater scheme of things with Liberty's football offense, there is almost no time on the clock that is too little to score a touchdown.
The No. 7-seeded Falcons can generate yardage and points in a matter of seconds. They've proven it by averaging more than 51 points in their last six games.
So the 3:53 remaining in the fourth quarter and the 80 yards they had to move to get rid of No. 10 Sunset in the second round of the 6A playoffs looked more like a lifetime and an inch.
Sure enough. It only took 2:28 and seven plays for the Falcons (9-2) to chew up the 80 yards and score the touchdown that beat the visiting Apollos 51-44.
Now they play face defending champion Clackamas in the quarterfinals next Friday night. The Cavaliers eliminated West Salem 24-14.
Cole Smith got to apply the dagger with a four-yard run on a counter with 1:25 left that gave his team the final lead.
"We love playing (in situations like that)," Falcons quarterback Bradley Norman said. "Our offense is pretty fast. We go fast, we play fast."
The Falcons are so fast, actually, that they didn't even start flipping through the playbook for some trickeration to get the job done. They ran the ball on six of the seven downs on the winning drive; five different Falcons skill players touched the ball.
"We just stuck with what we do," Norman said. "We stayed true to that. We spread the ball all over the field."
Actually, if the Falcons were going to panic, they would have done it in the second quarter, when Sunset's Kylie Sagon intercepted a Norman pass and went 53 yards to give his team a 28-8 lead.
But Liberty cut into that lead with two quick touchdowns before halftime, then took a 37-31 lead late in the third quarter on Bryan Bafaro's 41-yard run on a simple pitch around the right side.
When Norman scrambled 10 yards in the first minute of the fourth quarter for a 43-31 Liberty lead, the Apollos looked finished. Even with junior gunner Callum Craig at quarterback, their offense was sputtering.
But Craig engineered drives of 75 and 67 yards, both ending in touchdown runs by Kadin Williams, and the Apollos got a rare defensive stop in between. Now they were up 44-43 and needed another stop to save the game.
They didn't get it, but Craig doesn't need much time, either, and he nearly brought the Apollos back. On second and 18 at his own 25, he scrambled around until he saw Nick Halvorsen open downfield, then hit him for a 47-yard gain that put Sunset on the Liberty 28.
The Apollos sent everybody downfield, and Halvorsen got open in the end zone again, but Liberty safety Aidan Maloney intercepted the ball and secured the win.
"We were in Cover 4," said Maloney, who also had a 42-yard touchdown run on an option pitch in the second quarter. "It was just a straight zone. They sent all their guys deep.
"I was just backpedaling looking for work, and he came across my face. It was a .500 ball and I got it."
Liberty now is in the quarterfinals for the first time in school history, and hasn't lost a game since Sept. 28. If the Falcons have been sneaking in through the back door, they've blown their cover by scoring just about any time they've had to.
"We've scored every last drive when we've had to this year," Falcon coach Eric Mahlum said. "We have speed, maturity and intelligence. We have a bunch of seniors who have great heart and great football intelligence."
But, apparently, no sense if panic and no plan to alter what they do.
"We are what we are and we do what we do," Mahlum said.
And it doesn't take them very long, either.