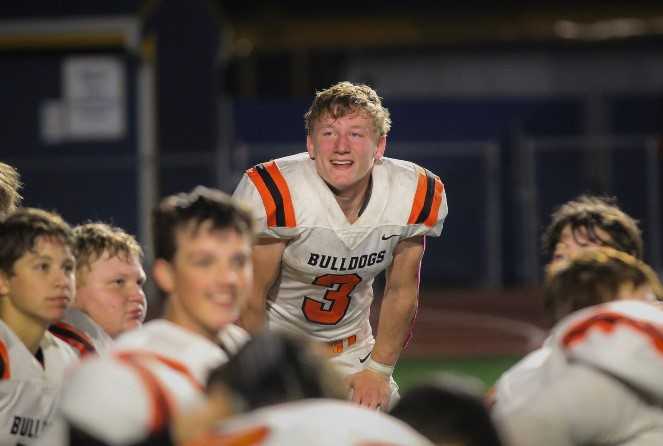 When Dan Oswald returned from coaching football in Florida to begin his second stint as Willamina's head coach last year, he faced a difficult task.
Not only were the Bulldogs a combined 2-12 in the previous two seasons, but of the 35 players in the program, 25 were freshmen and sophomores. Predictably, the team struggled in 2021, finishing 2-6.
"There were so many growing pains," Oswald said. "It was a little rough for them at times last year."
But after a year of growth, and a move from 3A to the 2A nine-man game, Willamina is starting to find solid footing. The seventh-ranked Bulldogs (4-0, 2-0) are unbeaten, and with a win Friday at home against No. 5 Colton (4-0, 1-0), they can take the inside track in the highly competitive Tri-River Conference.
"I felt going into it that we've got some talent here, it was just a matter of if we could put it together right away," said Oswald, who went 16-13 as the team's coach from 2016 to 2018. "We played hard last year, it's just we were physically overmatched. There's more maturity this year."
Willamina has an emerging star at running back in sophomore Jacob Hadley, who has rushed for 994 yards and 16 touchdowns, averaging 10.4 yards per carry. In last week's wild 54-53 conference win over Culver (2-2, 1-1), the 5-foot-9, 160-pound Hadley ran for 437 yards and seven touchdowns on 31 carries.
"He's got incredible balance and outstanding vision," Oswald said. "In the zone schemes, he gets the concepts. He's just hard to tackle. He's explosive, he's got great speed. And his balance is such a big part of it. He's making a crazy cut, putting his foot in the ground and maybe a little off balance, but a step later he's back to balance and full speed."
The Bulldogs have a freshman at quarterback in Orrin Reid, whose brother, Kaleb, was the quarterback on Willamina's last playoff team in 2018. Reid has passed for four touchdowns and run for three scores, including the winning score in the final minutes against Culver.
"I was worried about throwing him on the big stage right away, but we got into camp and he just did a really good job," Oswald said. "He's not chasing butterflies at practice. He's all in. He's a sponge for it."
The offensive line has returning starters in junior center Rhyne Nelson (6-1, 230), sophomore guard Hondo Arenas (6-1, 250) and junior guard Michael Nolen (5-11, 225), who "has been burying guys," according to Oswald.
On defense, Austin Johnson, one of only two seniors on the roster, has been a force in the secondary. Junior defensive end Kaleb Cruickshank, second-team all-league last year, leads the way up front.
The Bulldogs face another big challenge against Colton, which is coming off its own dramatic victory, a 50-48, four-overtime win over previously undefeated Regis (3-1, 1-1). The Vikings run out of a double-tight end formation, featuring senior running back Rickie Hendrickson.
"They're going to run it right at you," Oswald said.
The Tri-River seems to be a good fit for Willamina this season, but Oswald said that having to drop down to 2A was "a kick in the teeth" at first.
"I was in opposition to it," he said. "A couple guys on our staff thought it could be great for us. You miss 11-man football. But for me, I want the kids to feel pride. If it's 11-man or nine-man, I just want us to play like talent. That game with Culver was amazing."
Oswald spent two seasons assisting at J.W. Mitchell High School in Trinity, Fla., before returning to Willamina last year when Shane Hedrick left to take the job at Oregon City. He has brought a no-nonsense approach, saying that the Bulldogs "need a firm hand as much as they need a hug."
"It's just a matter of trying to get them to dream big, to see more than just this place, and also wanting to make this place great," he said. "It's easy to take shots at Willamina, a little town in the middle of nowhere, that has success every once in a while. I want to have success all the time."
Other notable matchups for Week 5:
Thursday
6A No. 6 Tigard (4-0) at Oregon City (3-1), 7 p.m.: Tigard's defense has been dominant, allowing only 6.8 points per game, No. 1 in 6A. In their Three Rivers League opener, the Tigers draw the task of slowing down Oregon City senior Marcus Jordan, who ran for two touchdowns and caught four scoring passes from Ben Schneider in last week's 57-20 rout of Beaverton.
6A No. 4 Tualatin (4-0) at 6A No. 10 Lakeridge (2-2), 7 p.m.: Rebuilt Tualatin was impressive in rolling to four nonleague wins, and now comes the hard part, consecutive Three Rivers games against Lakeridge, West Linn and Lake Oswego, all ranked in the top 10 of the OSAAtoday 6A coaches poll.
Friday
Clackamas (2-2, 1-1) at Nelson (2-1, 1-1), 7 p.m.: The Happy Valley neighborhood rivalry was a mismatch last year, when Clackamas thrashed the fledgling Hawks 52-0. But Nelson is much improved in its second season and will be looking to claim bragging rights over the Cavaliers.
6A No. 9 Lake Oswego (3-1) at 6A No. 2 West Linn (3-1), 7 p.m.: West Linn has won the last two meetings in the classic rivalry between Three Rivers powers. The Lions made a bold statement last week when they took a 42-0 halftime lead over Lake Stevens, Washington's top-ranked big-school team, and won 45-6.
5A No. 8 Canby (3-1, 0-0) at 5A No. 6 Southridge (4-0, 2-0), 7 p.m.: A pivotal game in the 5A Northwest Oregon Conference. Canby standout running back Tyler Konold, who sat out last week's 35-0 loss to Bend with an ankle injury, is questionable to return for the game. Southridge has won its last two games on its final possession, getting a 20-yard field goal from Rowen Miner with 15 seconds left to beat Mountain View 24-21 last week.
Putnam (4-0, 0-0) vs. Hillsboro (3-1, 1-0) at Hare Field, 7 p.m.: Putnam is 4-0 for the first time since 1986, but the Kingsmen's last two wins came against winless teams in La Salle Prep and Parkrose. Now they must go on the road to play an explosive Hillsboro team that has scored 103 points in the last two weeks.
4A No. 7 Baker (3-1) at 4A No. 8 La Grande (2-2), 7 p.m.: The Bulldogs and Tigers collide in the Special District 5 opener. Last week, La Grande bounced back from a 32-28 loss at No. 2 Estacada to beat Molalla 47-0. Baker is coming off a 41-40 win over Ontario in which Paul Hobson passed for 276 yards and three touchdowns.
3A No. 4 South Umpqua (4-0, 4-0) vs. St. Mary's (4-0, 4-0) at Lithia and Driveway Fields, 7 p.m.: It's been a terrific start for unranked St. Mary's, which is tied for first place in Special District 3 with South Umpqua and No. 1 Cascade Christian. But the Crusaders know they have much to prove against the Lancers, who beat them 55-6 last year.
2A No. 1 Weston-McEwen/Griswold (3-0, 1-0) at 2A No. 8 Umatilla (3-1, 2-0), 7 p.m.: With perennial power Heppner looking vulnerable this season, the game between the Vikings and TigerScots could have a bearing in the Special District 4 title. Umatilla has outscored its opponents 154-6 during a three-game winning streak, including back-to-back shutouts of Grant Union and Riverside. Weston-McEwen beat Umatilla 36-0 last year.
1A-8 No. 4 Crane (4-0, 2-0) at 1A-8 No. 5 Adrian (3-1, 2-0), 7 p.m. (MT): The Mustangs and reigning state champion Antelopes are tied for first place in the High Desert League with No. 9 Elgin. Adrian has won the last four meetings between the teams. The Antelopes play at Elgin next week.