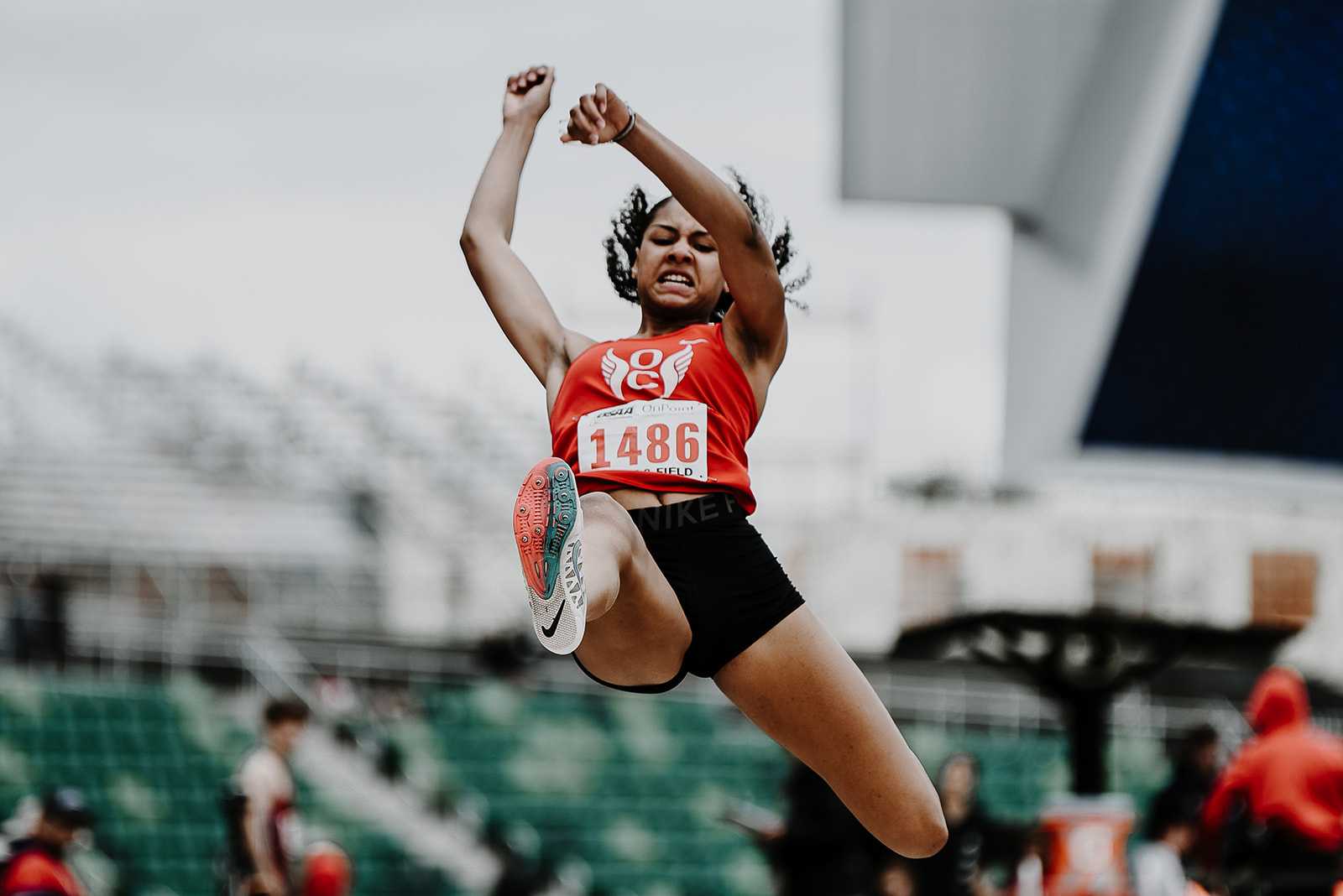 Oregon City's Sophia Beckmon extended her state record in winning the long jump at the Nike Outdoor Nationals on Friday at Hayward Field.
Beckmon, who is heading into her senior year, defended her national title with a leap of 20 feet, 8 inches. Entering the meet, her best was 20-1 ½ at the 6A championships at Hayward Field, but she hit 20-3 on her third jump and 20-7 on her fifth attempt before going 20-8 on her sixth and final try.
"I am very proud. I got my goal," Beckmon said. "My goal was to jump 20 feet, 6 inches and up because I know that I'm capable of that."
Beckmon still has the summer to improve, starting with the AAU U20 championships at Hayward Field next weekend.
"I just want to keep seeing how far I can improve," Beckmon said. "I think 21 is probably going to be the new goal."
Oregon City coach Kristin Mull said that Beckmon had "an amazing series."
"We talked earlier this week and she said she's been feeling good in her workouts," Mull said. "It was just really cool to see it. She was definitely ready to go. And I think she's very fond of Hayward now. I think she likes it there, so that's pretty cool.
"She's got a lot of summer left. She's definitely more consistent. I don't know what the limit is right now."
Beckmon said the crowd helped propel her.
"Honestly, I feel like the claps kind of got me there," she said. "I was pretty tired for the first round of long jump. I started to get the claps going, and everyone's energy – I looked at all my friends, sitting in a row – and I was like, 'OK, yeah, I'm feeling good, let's jump.' It was all the energy the crowd gave me."
Beckmon said she was so tired that her muted reaction to the 20-8 could be misinterpreted.
"A bunch of people probably thought I wasn't that excited, but I'm very happy and very excited," she said.