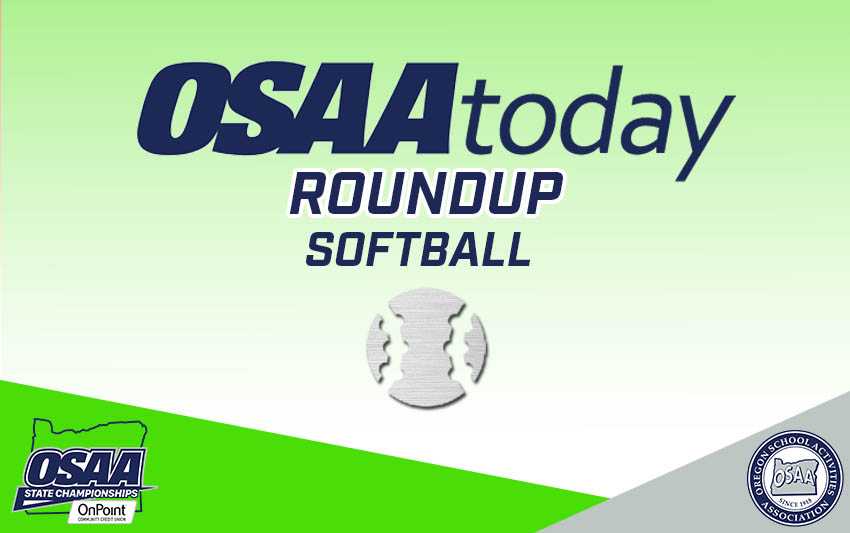 Host Oregon City rallied from a three-run deficit to beat Three Rivers League rival West Linn 4-3 in eight innings in a 6A softball quarterfinal Friday night.
The third-seeded Pioneers (21-7) scored the winning run in the bottom of the eighth inning against the No. 27 Lions. Gina Allen led off with a walk, moved to third when Phoebe Borkus hit a double to deep left-center field and scored on Chloe Stromme's sacrifice fly into foul territory.
West Linn (9-19), which upset No. 6 South Medford and No. 11 Tualatin on the road in the first two rounds, scored one run in the third inning and two runs in the fourth to lead 3-0 before Oregon City came back.
The Pioneers put up two runs in the fourth. Allyson Nordling doubled and scored on a single by Preslie Ritz. Ellie Joseph hit a sacrifice fly to score Ritz and make it 3-2.
Oregon City tied it 3-3 in the sixth inning when Allen's bunt to the pitcher scored Chloe Grimmer, who had reached with a walk.
Borkus went 3 for 5 with two doubles to lead Oregon City, which outhit West Linn 9-7. Lily Riley earned the complete-game victory and West Linn's Addison Sobotta took the loss.
The Pioneers advance to play at No. 2 Bend in a semifinal Tuesday.
A look at Friday's other quarterfinal games:
6A
Bend shook off an early 3-0 deficit to defeat McMinnville 13-3 in six innings. The Lava Bears belted five home runs, getting two each from Addisen Fisher and Violet Loftus and a three-run shot from Gracie Goewey. Sophia Weathers went 4 for 4, giving her 16 hits in her last seven games. Every player had at least one hit for Bend, which scored five runs in the third inning and five more in the fourth to take control. Maddie Powell homered for McMinnville. … Makenna Reid pitched a three-hitter with 17 strikeouts and Kani Korok had a two-run single and two-run double for No. 1 Tigard, which blanked Newberg 8-0. Tigard had seven hits off Newberg's Serayah Neiss. … Lacey Vasas pitched a five-hit shutout to lead McNary past Sheldon 2-0. The Celtics scored the game's only runs in the first inning. Vasas singled and scored on an error and Brookelynn Jackson singled to drive in Heather Ebner. Sheldon stranded 14 runners.
5A
Pendleton, the top seed, handled Intermountain Conference rival The Dalles 10-0 in six innings as Sauren Garton pitched a one-hitter with 16 strikeouts. Melanie Boatman and Daisy Jenness hit RBI triples to give Pendleton a 2-0 lead after two innings. Brie Youncs hit a two-run single to make it 4-0 in the third inning and Jenness added a two-run single in a four-run fifth inning. The Buckaroos outscored The Dalles 32-2 in winning all four meetings this season. … Lebanon brushed off Ridgeview 10-0 in five innings. Alivia Holden pitched a one-hitter with six strikeouts and no walks and had a two-run single. Makayla Padilla went 2 for 3 for the Warriors. … Taylor Hadden went 3 for 3 with a home run and Gracie Wilson also went deep for Wilsonville in a 9-1 win over Eagle Point. Hadden, Maddie Erickson and Maddie Holly had multiple hits for the Wildcats. Erickson pitched a complete game, recording 10 strikeouts. … Dallas' Kadence Morrison hit an RBI double and pitched a complete game, striking out six, in a 3-1 win over Silverton. Grace Walls and Chloe Zajac had RBI singles for Dallas, which led 2-0 in the third inning. Silverton cut the lead to 2-1 in the fifth, but Morrison's run-scoring double in the bottom of the inning provided insurance.
4A
Stayton eliminated Astoria 3-0 as Jessica Rule pitched a no-hitter with 11 strikeouts and one walk. Abigail Archuleta went 3 for 3 for the Eagles, who had five hits and struck out only twice against Astoria's Maddie Wilkin. … Cascade rapped 14 hits to defeat Estacada 7-4, getting multiple hits from Crystal Campbell, Sadie Ambrosek, Hannah Walliman, Abby Jeppsen and Caylen Metcalf. The Rangers scored four runs in the fourth inning to tie 4-4, but the Cougars scored three runs in the fifth inning to retake control. Walliman pitched a complete game, striking out 11. … Grace Neer and Kinzy Bowen each had two hits and two RBIs – joining Marti Anderson to hit back-to-back-to-back home runs in the sixth inning -- to lift La Grande over Ontario 9-3. Neer allowed six hits in six innings, striking out eight, to earn the win. … Marist Catholic's Malia Williams pitched a no-hitter with 17 strikeouts in an 8-0 win over Henley. It is the 13th no-hitter this season for Williams (six perfect games), who has broken the previous single-season state record of 11, set by Hood River Valley's Crystal Draper in 1997. Paige Doerr had a home run, double and three RBIs and Kellie Schroffner went 3 for 3 for the Spartans.
3A
Kati Slater pitched a two-hitter with 10 strikeouts and no walks to lead Yamhill-Carlton past Enterprise/Wallowa/Joseph 10-0 in five innings. Maddy Tuning hit an RBI triple in the third inning to start the scoring for the Tigers, who got a home run from Cecelia Petraitis. … Myleigh Cooper hit two home runs and Meagan Trissel added a solo blast for Scio, which outscored Harrisburg 11-6. Cooper has 19 home runs this season, two off the state record of 21, set by Marist Catholic's Lauren Burke in 2016. … Lacie Tiller hit a two-run triple in the fourth inning and Merissa Medley added a three-run triple in the fifth inning to lead Burns past Blanchet Catholic 7-0. Ayla Davies pitched a one-hitter with 17 strikeouts, three walks and one hit batter. … South Umpqua had 13 hits in rolling past Taft 10-3. Ashlyn Vey went 3 for 4 with a double, home run and two RBIs, Mady Pratt had a double, home run and two RBIs and Tatum Kelley blasted a 250-foot, three-run homer in the first inning for the Lancers. Violet Richardson held Taft to three hits, fanning six and walking five.
2A/1A
Grant Union/Prairie City hit four home runs in a 15-0, four-inning win over Toledo. Savannah Watterson, Drew Williams, Riley Robertson and Sivanna Hodge all went deep for the Prospectors, who had 15 hits. Watterson, Williams and Robertson each drove in three runs. Williams gave up two hits, struck out seven and walked two in four innings. … Kennedy scored four runs in the top of the seventh inning to beat Union/Cove 6-2, getting RBIs from Morgan Kyle, Sailor Hill and Tia Allen. Allen went 4 for 4 to lead a 13-hit attack against Cabella Gregory. Jenna Hopkins pitched a three-hitter with 16 strikeouts and had an RBI single for Kennedy. … Nestucca rallied with four runs in the top of the seventh inning to take a two-run lead and held on to beat Glide 13-12. Lyndie Hurliman hit two home runs for Nestucca, including a three-run shot to complete the seventh-inning comeback. … Tyler McNeley pitched a six-hitter with 14 strikeouts and hit a two-run homer to lead Lakeview past North Douglas 7-1. The Honkers also got a two-run shot from Annikah Tacchini and a solo blast from Jaila Jackson.