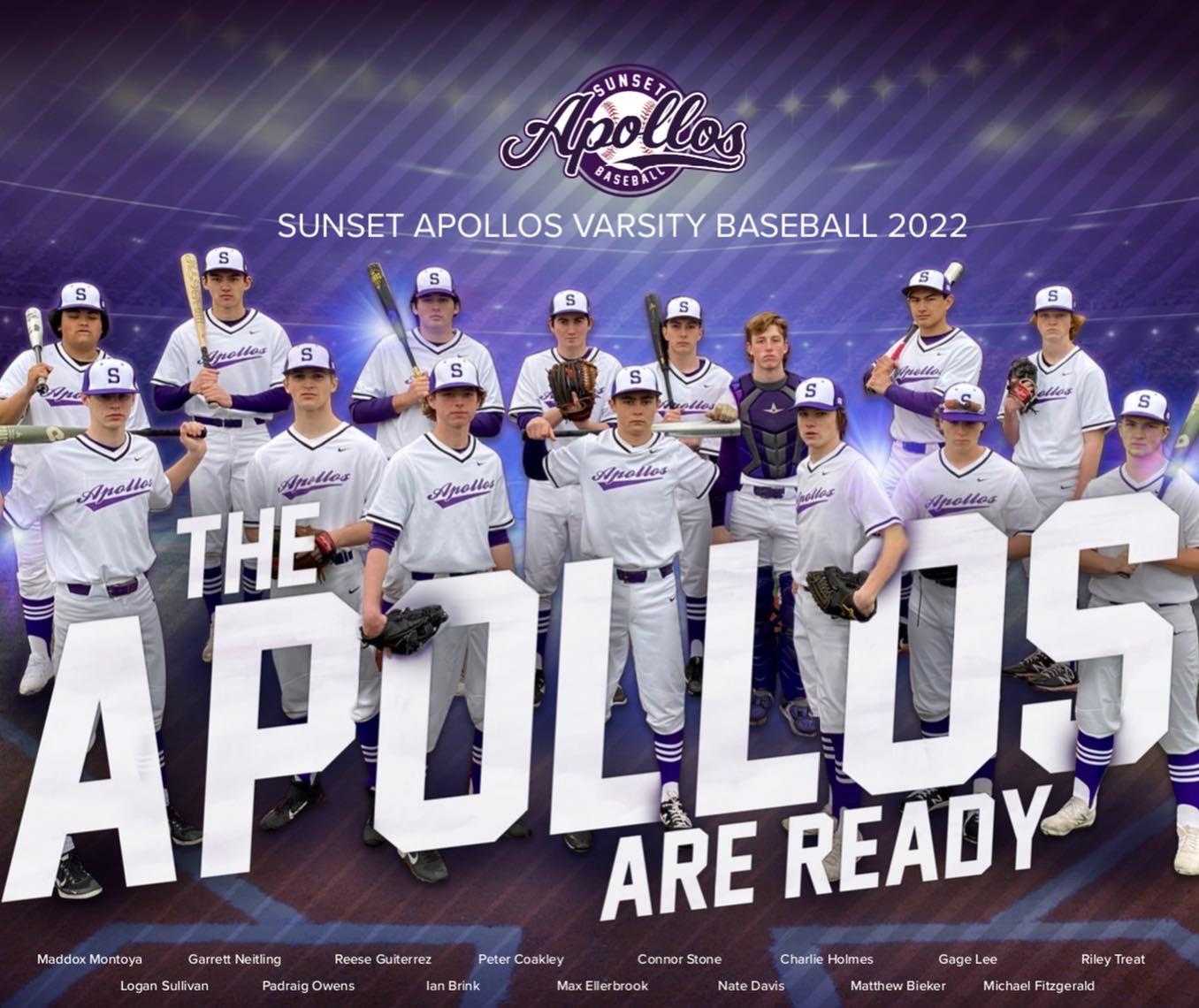 And then there were nin…er…seven!
There are 197 teams playing baseball this spring and, as of today, only seven are undefeated just a little over three weeks after the season began. That number was nine before Wednesday, but McMinnville (8-1) fell by a run at home to Sherwood and Kennedy (7-1) lost by one at Western Christian.
South Medford (6A; 8-0), Hidden Valley (4A; 9-0), Dufur / South Wasco County (2A/1A; 7-0), St. Paul (2A/1A; 7-0), Neah-Kah-Nie (2A/1A; 5-0), Weston-McEwen (2A/1A; 3-0) and Siletz Valley /Eddyville Charter (2A/1A; 1-0) are the fortunate few with unblemished resumes.
Siletz Valley / Eddyville Charter won its opener just two days ago. The Warriors (1-0) could have been playing games since the middle of March, but the school's Athletic Director scheduled only league games for them, something that must be frustrating for players and coaches alike.
McMinnville, coming off of a 12-6 Covid season, started the year 8-0,including four wins in Arizona over spring break. Grizzly coach Todd Peterson said before Wednesday's game with Sherwood that he was surprised to be undefeated one-third of the way through the regular season.
"Baseball is a game where on a given day any team can get beat," he explained. "So I guess I'm a little surprised, but I also feel that the culture and mentality of our team has led to our strong start to the season. We hold each other to high standards and expect to win each time we set foot on the field. This group has also played a lot of baseball together over the years, so I really like the chemistry within our unit."
McMinnville's success largely has been a byproduct of terrific pitching.
"Ky Hoskinson and Parker Guinn have been a great duo and both give us a chance to compete against the top teams in the state," Peterson remarked. "We've had several other guys who have shown promise as well. Defensively we haven't made a whole lot of mistakes, which always leads to success. Offensively we've had a balanced approach throughout our lineup and have some depth within our roster. This makes practices more competitive and guys know they have to compete day in and day out."
Sherwood (7-2) snapped McMinnville's winning streak with a 7-6 win yesterday. The teams play the rubber game of the series tomorrow at Sherwood.
"We know there is a lot of baseball to still be played and things won't always go as planned," Peterson said. "Our guys need to stay grounded and take a game by game approach."
Western Christian snapped Kennedy's long, long league winning streak yesterday to drop the Trojans from the unbeaten ranks this year. (See game story: https://www.osaa.org/today/article/2681/view?title=Baseball%3A+Western+Christian+ends+Kennedy+streak+at+37)
Hidden Valley chases history
4A Hidden Valley went 18-0 last year and has started 2022 with nine consecutive wins. The Mustangs' 27-game winning streak is the ninth-best all-time in Oregon. Knappa, a 2A/1A school, twice won 42 games in a row between 2015 and 2018 to top the list.
Hidden Valley's unbeaten streak almost came to an end last Friday versus Marist Catholic. The Mustangs had won 25 in a row at that time and were one win away from tying North Marion for the top winning streak among 4A schools when they found themselves behind to the Spartans, 7-1, in the fifth inning.
Hidden Valley rallied, scoring six runs in the bottom of the fifth to knot the score. Nolan Kennedy had a three-run double and Daniel Iwamizu slammed a two-run homer to spark the rally.
The game went into extra innings tied at 7-7, before Marist Catholic went ahead again on a sacrifice fly.
Hidden Valley again rallied to save the streak. With the Mustangs one out from defeat, Nate Vidlak hit a solo homer to right center field to tie it again! Hidden Valley won the game in the ninth inning, thanks to doubles from Caleb Richter and Kennedy.
Noah Stone pitched great in relief to earn the win.
"We played as poorly as we have in three years and they still found a way," said coach Mark Vidlak about his team.
Hidden Valley extended its streak to 27 straight with an 8-2 win over Siuslaw. The Mustangs are chasing the large-school streak of 29 in a row set by North Medford over the 2007-2008 seasons. The team has Gladstone on Friday and starts a series with Henley next Wednesday. Vidlak knows, given the nature of baseball, that his team's streak could end at any time, but is relishing it while still intact.
"Winning that many games in a row is so difficult," he said.
Siuslaw seasons…
One year ago, Siuslaw found itself suffering through a 1-14 campaign. The Vikings started 2022 5-1 before losing three in a row -- including to the aforementioned Hidden Valley – but the five wins represent a remarkable turnaround for Tom Shinn's team.
"What has accounted for our turnaround is a group of six seniors who have helped to build a solid foundation in our program," Shinn explained. The seniors have taken a leadership role and have contributed heavily to our success not just through their talents as baseball players, but also with their dedication to the game."
Ethan Halpin, Beau Erickson, Isaac Garza and Jason Garcia have all had success on the mound and at the plate for Siuslaw. They also have been very versatile, allowing the coach to experiment with different lineups. Garcia, for instance, has started at four different positions.
Siuslaw also has benefited by having Henry Rankin as a stabilizing factor and leader behind the plate. And the Vikings have leaned on younger talent, especially freshman Joel Sissel, who has contributed on the mound and is hitting .400 at the dish.
"I believe that we will continue to see success as the season goes on," Shinn said. "We are in a quality league, so every opportunity is there for us to keep progressing and building from one week to the next. We are always talking about what's next and not allowing the last game to affect our perspectives. We start each game 0-0 looking to improve to 1-0."
Ravens clawing for wins
Ridgeview was 3-14 last spring. As of today, the Ravens are 7-2.
Head coach Shane Nakamura, who coached softball a year ago, said that the team has scheduled favorably to start the year, but the biggest difference between last year and this is a change in culture.
"These boys have bought in 100 percent," Nakamura said. "They have been great at working hard and engaging in taking ownership and accountability of this team."
With no seniors on the roster, Ridgeview has rallied behind the bats and leadership of juniors like 1B Colten Chastain, SS Jace Nagler and utility player Ryder Parazoo. The Ravens have a pair of mature freshmen, catcher Olen Nofziger and 2B Logan Nakamura, who have given the team a jolt. And pitchers Eli Felton, Mason Scott and freshman Brady Muilenburg have sparked the Ravens' current seven-game winning streak, which includes three shutouts and two one-run performances.
Upsetting situations
The start of league play raised some eyebrows across 6A, as Canby edged Lakeridge and its ace, Paul Wilson, 2-0. Meanwhile, Jesuit, with its ace, Nelson Keljo, on the mound, lost for the second straight time, 5-1, at home versus Sunset.
The Canby/Lakeridge game was scoreless after five innings. Lakeridge southpaw Wilson, a junior who will be a first round pick in the 2023 MLB draft, was mowing down the Cougars both with his 95 mph+ fastball and with his nasty off-speed stuff. In the sixth, however, he yielded a leadoff walk to Joe Brauckmiller. Brauckmiller was sacrificed to second and scored on a single from Kellan Oakes, Canby's only hit of the game. Oakes later scored an insurance run on a wild pitch.
Lakeridge, which could not solve Brauckmiller for five innings, threatened in the seventh against Alex Evans. The Pacers loaded the bases with no outs but could not score, as Evans got a strike out and double play ball to end it.
At Jesuit, Sunset (7-2) prevailed, as senior Peter Coakley kept Crusaders batters off balance and the defense made plays behind him.
"Our pitching and defense have been solid all year and that kept us in the ball game," coach John Barnes noted.
Junior Connor Stone led the Apollo attack with an RBI double and two-run homer. Max Ellerbrook and Maddox Montoya combined for three more hits and two runs batted in.
Barnes said that Sunset had success against Keljo, a 6-4 lefty who has signed with Oregon State, because of the work its players have put in.
"We have been preparing for velocity since day one, knowing that Jesuit has 3+ arms that can touch 90," Barnes said. "We tried to instill in our guys that our timing is based on the velocity of the fastball and the kids did a super job of getting their foot down on time and giving themselves a chance to be successful."
The league win over the overwhelming state favorite was big for Sunset.
"Beating Jesuit is really important for our growth as a program," Barnes said. "As I have told the players all year, this one game cannot define our season; however, it does give us a gauge of where we're at as a team early in the Metro League."
Both Lakeridge and Jesuit evened the series with Wednesday wins. Lakeridge won 12-2 at home and Jesuit blanked the Apollos, 10-0, on the road.
Best unknown players
We asked coaches this week to nominate the best players "you've never heard of." We received only this submission by the deadline. It's a good one:
Aidan Howard, senior OF, Tualatin – Howard is batting leadoff for the Timberwolves and has a pure lefty swings that has produced a .500 batting average through six games, with eight runs scored, 6 RBIs and three steals. "He is a late developer physically who has put a ton of time in to get bigger and stronger," noted head coach Jake Austin.
Hop to it!
For those who don't know (how do you not know? I talk about him A LOT), my eldest son is Tim Tawa, the former West Linn multisport star and Stanford University baseball player, who led the Cardinal to the College World Series last year. He was drafted by the Arizona Diamondbacks in July and played 38 games for Visalia last year in low Class A, batting .269 with six homers and 14 steals (without being caught). He also made just one error, playing 2B, 3B and all outfield positions.
I'm sharing this because Tim will start 2022 with the Hillsboro Hops, the DBacks' high Class A affiliate. If you head out to Ron Tonkin Field, be sure to say "hi." He loves getting to know people, especially those who are passionate baseball fans.
Odds and ends…
Westview's Metro League opener on Tuesday with Southridge was a barn burner. Senior Silas Jolicoeur drove in Gunnar Pedersen to walk off with a 7-6, nine-inning win…West Linn sophomore catcher Ryan VandenBrink hit two three-run homers in a 12-0win over Grant on March 30…
Rex Putnam improved to 5-3 on Tuesday when it defeated St. Helens, 5-0, in its league opener. Jackson Fera led the Kingsmen offense with three hits, including two home runs, and four RBIs. Terrence Cheyne and Leo Renzema combined for a one-hit shutout with nine Ks…Putnam beat St. Helens again yesterday. Fera threw six innings without yielding an earned run. He struck out eight, gave up one hit and helped himself at the plate with two doubles…
Amity won just one game last year, but the Warriors already have three this spring, including a 6-3 win March 28 over Nestucca. Hunter Barber pitched a complete and struck out 15 Bobcats. He also went 2-for-3 with two singles and an RBI…Amity won its next game, 12-9, in extra innings over Sheridan. Carter Northrop continued his hot start to the season, going 2-for-4 with a single and a double and three RBIs…
Central Catholic lost, 8-2, at Lebanon yesterday, but had previously won three in a row. Emerson Dennis was good on the mound and Jaden Howlett went 2-for-4 with a double in a win over Century. Howlett and Thomas Ferroggiaro had two hits apiece and Jesse Palafox-Arceo tossed six solid innings in a tight win over Lake Oswego. Finally, the Rams stunned No. 1 Jesuit at Jesuit, handing the Crusaders their first loss of the year last Thursday. Luke Anzellotti and Armand Lettiere both homered for Central and Niall Doherty pitched into the seventh to get the win…
Over five games last week, the Dufort brothers led Ida B. Wells baseball to a 3-2 record. Senior OF Davis Dufort batted .500 on the week, going 7-for-14 with two doubles and a triple and five runs scored. Quin Dufort, a sophomore LHP/1B, was 6-for-16 with a pair of doubles, 5 RBI and 5 Runs. In two starts on the mound, Quin didn't allow a run, and only gave up three hits in 11 innings of work while fanning 22.
Sunset earned a 1-0 win over Tualatin last Thursday. Michael Fitzgerald, Jr. led the Apollos on the mound, scattering three hits over five innings…The Sunset offense is being led early in the season by SS Gage Lee, who is batting .500 with seven RBIs; and junior catcher Nate Davis, who is batting .455 with 13 RBIs…Wilsonville senior Rochne Beecham has been white hot these past two weeks. He has hit .750 (9-for-12) with 13 RBIs and two home runs during that span…
Going going gone goodbye!
In this space, and the ones below, we have recurring categories that will appear in every baseball notebook for the rest of the season. Varsity coaches may add to these categories by email [email protected].
Everyone digs the long ball.
Here, we will recognize those Oregonians who have gone yard three or more times so far this season. We will add to it in subsequent Baseball Notebooks as coaches tell us about the players who are dinger ringers.
3 – Devin Bell, senior SS, La Grande
3 -- Isaac Hill, senior SS, Hidden Valley
3 -- Ryan VandenBrink, sophomore C, West Linn
It's a blur
Throwing hard in high school is the easiest way to get outs.
In this space, we recognize those Oregon hurlers who hit 85 mph or higher when they get on the bump.
Fischer Barber, freshman RHP, Bend
Easton Corey, junior RHP, Pendleton
Parker Guinn, junior RHP, McMinnville
Isaac Hill, senior RHP, Hidden Valley
Ky Hoskinson, senior RHP, McMinnville
Kaden Isola, junior RHP, Bend
Jackson Jaha, senior RHP, Clackamas
Nelson Keljo, senior LHP, Jesuit
Payton Lambert, junior RHP, Pendleton
Maddux Molony, junior RHP, Thurston
Mason Spellecy, senior RHP, Hood River Valley
Austin Stalwick, senior RHP, Gresham
Sy Sullivan, senior RHP, Tualatin
Drew Talavs, junior RHP, West Linn
Ian Umlandt, senior LHP, Sherwood
Nolan Umlandt, sophomore RHP, Sherwood
Nate Vidlak, senior RHP, Hidden Valley
Jake Von Lubken, junior RHP, Hood River Valley
Paul Wilson, junior LHP, Lakeridge
Speed merchants
In this space, we recognize Oregon baseball players who have 10 or more stolen bases at this point in the season.
18 -- Cam Christenson, senior SS, Sherwood
17 -- Cody Reece, senior SS, Cascade Christian
13 -- Brandon Stinnett, junior SS, Sprague
13 -- Eli Brown; junior C, Stayton
12 -- Clancy Koch, senior OF, St. Paul
12 -- George Pohlschneider, sophomore OF, St. Paul
12 -- Brady Windham, sophomore 3B, Centennial
12 – Beau Erickson, senior SS, Siuslaw
12 -- Kade Johnson, senior SS, South Umpqua
11 -- Cole Hubka, senior SS, Wilsonville
10 – Tatum Erickson, senior OF, Clackamas
10 -- Nick Frith, senior OF, Stayton
Get a whiff of this!
Missing bats is an art.
In this space, we recognize those pitchers who, through a minimum of 10 innings, have struck out batters at the rate of about two per inning.
Patrick Adams, senior RHP, Coquille
Quinn Dufort, sophomore LHP, Ida B. Wells
Isaac Hill, senior RHP, Hidden Valley
Maddux Malony, junior RHP, Thurston
Tanner Manning, senior RHP, Regis
Blaine Peal, senior RHP, Weston-McEwen
Warren Rose, junior LHP, St. Paul
Grant Strother, junior RHP, Sprague
Nate Vidlak, senior RHP, Hidden Valley
College-Bound!
In this space, we list those players, in the current senior class and younger, who have signed National Letters of Intent in baseball or have made a commitment to attend a college or university of their choice to play baseball.
Here's whom we have so far. The list is 50 strong!! It is a golden age for Oregon prep baseball! We will add to this list in subsequent notebooks as we receive notifications.
Rochne Beecham, senior OF, Wilsonville – Pacific Lutheran
Max Bledy, senior C, Wilsonville – Pacific University
Jackson Bui, senior OF, Jesuit -- Linfield University
Cam Christenson, senior IF, Sherwood – Linn-Benton CC
Peter Coakley, senior RHP,, Sunset – Loras College
Ryan Cooney, junior SS, Jesuit – University of Oregon
Easton Corey, junior RHP, Pendleton – Oregon State
Jacob Dodge, senior 1B, Southridge – University of Oregon
Thomas Ferroggiaro, senior IF, Central Catholic – Santa Clara
Aiden Gebhard, Senior OF, Redmond – Lane CC
Blaise Heher, senior RHP/OF, Lake Oswego – Claremont Mudd Scripps
Isaac Hill, senior RHP, Hidden Valley -- Oregon State
Cole Hubka, senior SS, Wilsonville – University of Utah
Gabe Howard, sophomore, West Linn – University of Oregon
Jackson Jaha, senior IF, Clackamas – University of Oregon
Silas Jolicoeur, senior 1B, Westview – Los Medanos College
Ryan Hart, senior OH, Jesuit – Whitworth University
Nick Holm, senior IF, Clackamas – Linfield University
Evan Holman, senior C, North Marion – Bellevue CC
Ky Hoskinson, senior IF, McMinnville – Cal State Bakersfield
Cooper Johnson, senior 1B/LHP, Mountainside -- Linn-Benton
Levi Jones, junior 3B, Jesuit – Oregon State
Cole Jorgensen, senior C, La Grande – Western Oregon
Hayden Kaiser, senior 1B, McNary -- Pacific Lutheran
Nelson Keljo, senior LHP, Jesuit – Oregon State
Ely Kennel, senior IF, Santiam Christian – Oregon State
Ever Lamm, senior RHP, South Umpqua – Linn-Benton CC
Gage Lee, senior IF, Sunset -- Allan Hancock CC
Brody McMullen, senior RHP, West Salem – Linn-Benton CC
Noble Meyer, junior RHP, Jesuit – University of Oregon
Andy Miller, senior SS, Mountainside - Seattle University
Michael Miller, senior C, Tualatin -- Catholic University of America
Maddox Molony, junior SS/RHP, Thurston – University of Oregon
Cooper Newman, senior RHP, Newberg – Walsh University
Wyatt Norris, senior P, West Linn – Pacific Lutheran
Kellan Oakes, senior RHP, Canby – Linn-Benton CC
Blaine Peal, senior RHP, Weston-McEwen -- George Fox
Logan Plunkett, senior RHP, Westview – University of Puget Sound
Logan Ready, senior RHP, McNary -- Pacific Lutheran
Joe Reitz, senior C, Hood River Valley – Colorado School of Mines
Caleb Richter, senior OF, Hidden Valley -- Bushnell University
Chris Rogers, senior IF, Sprague – Edmonds College
Dawson Santana, junior 2B, Lakeridge – University of Oregon
Vinny Salvione, senior IF, Rex Putnam - University of Portland
Mason Spellecy, senior IF/RHP, Hood River Valley – Mesa CC
Spencer Sullivan, senior OF, West Linn – Linn-Benton CC
Sy Sullivan, senior RHP, Tualatin -- Fitchburg State University
Drew Talavs, junior P, West Linn – Oregon State
Ian Umlandt, senior LHP/OF, Sherwood – University of Oregon
Mason Utech, senior C/SS, Lakeridge -- Utah
Nate Vidlak, senior RHP/3B, Hidden Valley – College of Idaho
Ryan VandenBrink, sophomore C, West Linn – Oregon State
Paul Wilson, junior LHP, Lakeridge – Oregon State
If you are a HS coach and want to add someone to the list, by all means email me, [email protected], put "baseball commitment" in the subject line and provide the info in the manner shown above.