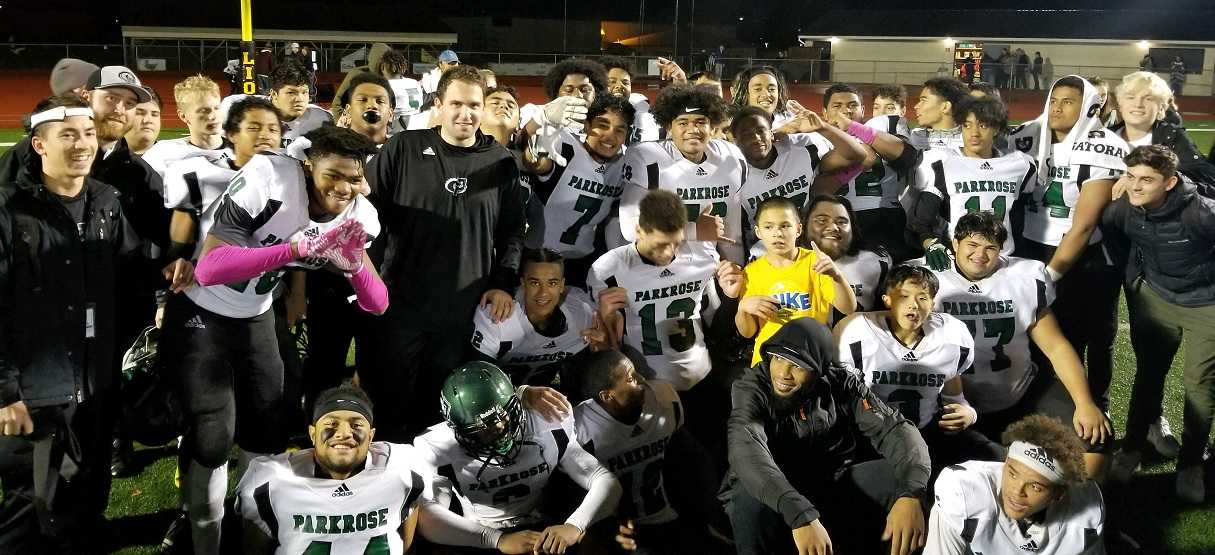 Keanon Lowe's vision for his first year as Parkrose's football coach probably didn't include players dousing him with the team's water bucket after the regular-season finale.
Given the Broncos' 23-game losing streak entering the season, the team had many issues to address.
But that's exactly how it went down Friday when Parkrose celebrated clinching a berth in the 5A playoffs with a 26-21 win at St. Helens in a Northwest Oregon Conference game. The Broncos (5-4) have made a dramatic turnaround under Lowe, the former Jesuit and University of Oregon standout.
"It was good to see them at the end of the game, how excited they were, that they truly changed the program by making the playoffs," Lowe said. "They're winners now. They believe in themselves, not just in football."
Parkrose, the No. 13 seed, will appear in the playoffs for the first time since 2014 when it meets fourth-seeded Silverton (8-1) in a first-round game Friday.
The Broncos made it possible Friday against St. Helens as senior Des Pooler and junior Taydrian Jackson scored defensive touchdowns, junior Jay Jay Hudson ran for a score and sophomore Tre Anderson caught a touchdown pass. The win gave Parkrose one of the conference's two remaining state berths.
"All week with our team, we preached that the playoffs started this week," Lowe said. "It was a win-or-go-home situation. We've been having that playoff mindset for weeks. It was an emotional game."
Parkrose has three outstanding junior skill players in quarterback Tre Singleton and running backs Hudson and Jackson. Lowe said that Singleton, who also plays middle linebacker, "is pretty much running the show" on offense and defense. He said Hudson "is a true Division I football player," and Jackson led 5A in rushing for part of the season.
"When we have those three guys rolling, we're tough to beat," Lowe said. "And the best thing for me as a coach is they're all juniors."
Lowe instilled a more rigid, disciplined practice ethic when he began conducting workouts in August. He said it was a difficult adjustment for many players in the program.
"We had a lot of guys drop out," Lowe said. "There were a lot of kids that couldn't handle it. It's not what they were used to. But the ones that stayed in it, those are the ones that have earned these five wins and are going to be playing in these playoff games."
With only three seniors in the playing rotation, the playoff experience will carry over to 2019.
"It's exciting," Lowe said. "We're going to have essentially the same group back, plus more."
Crisis control
If not for a "mid-season mid-life crisis," as coach Eric Mahlum put it, Liberty might not have celebrated the 6A Pacific Conference title with Friday night's 48-27 win at McMinnville.
The Falcons (7-2. 4-0) were overwhelmed with injuries in the first month of the season – missing up to six starters in some games – which forced many of their top players into extra duty. They won their first three games, but after losing to Oregon City 44-34 and Lake Oswego 45-13 in back-to-back weeks, they were running on fumes heading into the start of conference play.
The coaches met to discuss possible adjustments to the lineup.
"We had a number of guys going both ways that were just getting worn down and tired," Mahlum said. "We just said, 'We need to get some other guys in there, regardless of where we see the talent level.'
"You always say, 'You've got to have your best kids on the field.' Well, sometimes your best kids on the field all the time are not your best kids on the field in the third and fourth quarter. We made some changes, and the guys have really been clicking and playing well."
With a chance to win the Pacific title outright Friday, Liberty came out flat and fell behind McMinnville 14-0. The Falcons fought through it, though, and ended up rushing for 425 yards – getting more than 200 from senior Bryan Bafaro – to pull away from the Grizzlies.
Senior quarterback Bradley Norman continued his big season by running for four touchdowns and passing for a score Friday. He has run for 779 yards and 15 touchdowns and has thrown 13 scoring passes. For the season, he has one interception and no fumbles.
"He's one of the most dangerous players in the state," Mahlum said. "The guy can run all over you as soon as you give him space, but he's also throwing the ball really well."
The Falcons' strong finish lifted them to No. 7 in the power rankings, which means they would have home-field advantage through the second round. They meet 26th-seeded Roosevelt (7-2) in the first round.
"We're really happy to be sitting where we are," Mahlum said.
Historic win
Woodburn supporters were hoping to see their team clinch their first state playoff berth since 1973 when the Bulldogs played host to Tillamook in a 4A play-in round game Friday.
So when the Cheesemakers rallied from a 12-0 deficit to take a 13-12 lead in the third quarter, the air went out of the stadium.
"As they came back, the crowd was kind of quieting, didn't know what to do," Woodburn coach Nick Federico said.
But the Bulldogs showed the kind of resilience that has led to their about-face this season by pulling out an 18-13 win. Senior RJ Veliz ran for a 30-yard touchdown to put Woodburn ahead with 1:09 left, and sophomore Cole Beyer recovered a fumble on the ensuing kickoff to clinch the win.
"It was chaotic. Everybody was going crazy," Federico said.
The Bulldogs, who moved down from 5A this year after playing an independent schedule the last two seasons, lost 28 consecutive games in the 5A Mid-Willamette Conference from 2012 to 2015. At 6-3, they have clinched their first winning record since going 5-4 in 1991.
"For the last seven years, our goal was just to have a winning season," Federico said. "Now we're in the playoffs and we have nothing to lose. We're on house money right now."
Seeded No. 12, Woodburn plays at fifth-seeded Mazama (6-1) in a first-round game Friday. The Bulldogs have lost all three of their playoff games in their history, falling in 1959, 1963 and 1973.
"Mazama's been there. They've done it," Federico said. "We're very, very happy and very humble with where we're at. We get to see how good the southern part of the state is."
Woodburn's three losses this season have come by a total of five points.
Streak at 40
Reigning 3A champion Cascade Christian has kept rolling this season despite breaking in new starters at 12 positions.
The Challengers (8-1, 5-0) flexed again Friday when they played rival St. Mary's to decide the Special District 2 South division title. They blew out to a 40-7 halftime lead and cruised past the Crusaders 61-13 for their 40th consecutive league win.
Junior quarterback Kiegan Schaan had three touchdown passes, on only six completions, and ran for three scores to lead Cascade Christian.
Schaan has taken over at quarterback for his brother, Haiden, who was the 3A offensive player of the year last season. He has completed 58 percent of his passes for 1,618 yards and 19 touchdowns, with four interceptions, and has rushed for 567 yards and 14 scores. He also has a team-high five interceptions on defense.
Challengers coach Jon Gettman said Kiegan's on-field presence is much different than his brother's.
"Haiden is lot more outgoing, and on the field, he's more excited," Gettman said. "Kiegan is pretty level-headed, doesn't say a whole lot. They're both able to run and pass the ball, and that's tough for a defense to try to stop.
"Obviously, I think Haiden was a better thrower as a senior than Kiegan is right now, but he's vastly improved in that area. Each game he gets better, understanding where to throw it, the windows to throw it through. He's progressing well."
All but three of Schaan's touchdown passes have gone to seniors Ian Fralich and John Fralich and sophomore Kristian Fralich.
Cascade Christian, which has lost only to 4A Klamath Union, enters the playoffs as the No. 3 seed. The Challengers play a first-round game Friday against No. 14 Harrisburg (7-2), a team they defeated 52-20 on Sept. 14.
Can they make another run at the title?
"I don't know. Each week we're still finding out a lot about this team," Gettman said.
Meeting at the top
As the OSAA power rankings were finalized Friday night, a peculiarity emerged at the top of all six classifications.
In each case, the top two ranked teams have already met this season. And all the games were highly competitive:
6A – 1. Lake Oswego, 2. Clackamas: Clackamas won 49-39, taking the lead on a touchdown pass with 22 seconds left
5A – 1. Wilsonville, 2. Churchill: Wilsonville won 57-50, getting the go-ahead touchdown with 3.5 seconds remaining
4A – 1. Banks, 2. Gladstone: Gladstone won 35-28, breaking a tie with a 50-yard touchdown run with 1:11 to go
3A – 1. Rainier, 2. Amity: Rainier won 60-54, OT, tying with a touchdown and two-point conversion with 1:21 left in regulation
2A – 1. Monroe, 2. Sheridan: Monroe won 26-21, stopping Sheridan at the half-yard line in the fourth quarter
1A – 1. Dufur, 2. Wallowa: Dufur won 22-12 despite being outgained by Wallowa 313-245
Record watch
Wilsonville senior quarterback Nathan Overholt is threatening to break the state single-season record for touchdown passes.
The 6-foot-3, 190-pound Overholt continued his sensational season Friday by throwing for 425 yards and five touchdowns as the No. 1 Wildcats (9-0) beat Pendleton 53-7 in the 5A Northwest Oregon Conference title game.
Overholt has thrown 44 touchdown passes this season, inching closer to the record of 56, set by Beaverton's Taylor Barton in 1997. If he continues at his current pace, and Wilsonville plays four more games to reach the state final, he would finish with 63 touchdown passes.
Barton set the record in 14 games. At the most, Overholt would get 13 games.
For the season, Overholt has completed 72.7 percent of his passes (144 of 198) for 2,634 yards. He has thrown only two interceptions.
A glimpse at other Week 9 highlights across the state:
6A
Clackamas turned back Central Catholic 24-22 in the Mt. Hood Conference title game, getting two touchdown runs from receiver Jailen Hammer and a sack from Richard Kennewell on a two-point conversion attempt with 19 seconds left. … West Linn prevailed over Oregon City 46-14 in the 98th Battle for the Bridge, building a 39-0 lead in the first half as Dawson Jolley ran for 213 yards and three touchdowns. Jolley went over 1,000 yards for the season. … Jobadiah Malary scored seven touchdowns as Barlow outlasted Reynolds 54-40. … Casey Filkins ran for a career-high 325 yards and four touchdowns on 39 carries as Lake Oswego held off Lakeridge 30-14 in the Battle of the Lake to claim the outright Three Rivers League title. Lakeridge's Jalen John ran for 174 yards on 25 carries. … Drew Carter connected with Jazz Ross for a 44-yard touchdown pass on the first play of the fourth quarter to break a 14-14 tie and spark Tigard to a 27-14 win over rival Tualatin. Malcolm Stockdale ran for 219 yards and three touchdowns on 41 carries and Ross had five catches for 149 yards for Tigard, which outgained the Timberwolves 498-199. … Jesuit trailed 14-7 in the second quarter before pulling away to beat Beaverton 62-14. The Crusaders ran for 336 yards, getting 113 yards on 20 carries from Andy Alfieri. Campbell Brandt returned interceptions 48 and 27 yards for touchdowns for Jesuit. … Terrence Butler rushed for 180 yards and three touchdowns on 31 carries as South Medford beat North Medford 35-0, cutting the Black Tornado's lead in the series to 17-16. North Medford's Eli Spence ran for 93 yards, extending his school record to 1,850. … Michael Johnson Jr. ran for three touchdowns and passed for two scores as Sheldon beat Grants Pass 56-6 to claim the Southwest Division title outright. The Irish forced four turnovers in the first half; Jack Folsom had two interceptions. … McNary wrapped up the outright Mountain Valley Conference title with its fourth consecutive win, 40-33 over South Salem. Junior Walling ran for three touchdowns and Erik Barker rushed for two touchdowns and threw a scoring pass. … Mountain View defeated rival Bend 24-7 behind Jonas Larson, who ran for 175 yards and three touchdowns on 33 carries. … Mountainside, which opened the season 0-6, finished with its third consecutive win, rallying from a 14-0 deficit to beat Summit 17-14. Eldridge Broussard had a 46-yard touchdown run for the Mavericks. … Sunset outscored Westview 63-42 as Kylie Sagon ran for 153 yards and three touchdowns and Callum Craig ran for 135 yards and two touchdowns and threw for two scores. Nick Niedermeyer caught two touchdown passes and returned a punt for a score for Sunset. … Anthony Gould rushed for 303 yards and three touchdowns on 17 carries to spark West Salem past Sprague 42-14.
5A
Nate Kuenzi ran for two touchdowns as Silverton built a 17-0 lead and held on to beat West Albany 17-14, sharing the Mid-Willamette Conference title with the Bulldogs. … Landon Kisling had two touchdown runs in Lebanon's 44-7 win over North Salem. … Trever Davis threw two touchdown passes and Logan Lowder forced two fumbles, returning one seven yards for a touchdown, in Crater's 53-33 win over Ridgeview. Bryce Demars threw for 244 yards for the Ravens. … Cameron Morgan threw for 292 yards and four touchdowns and rushed for 114 yards and three scores to lift Eagle Point past Willamette 62-46. Eagle Point rushed for 382 yards, getting 110 from Devin Bradd. The Eagles' Noah Page had four catches for 178 yards and two scores. … Ashland blanked Redmond 19-0 as DaMario Watson rushed for 144 yards and Rieger Sayre passed for 212 yards. … North Bend rolled over South Eugene 55-22 as Divenson Willis ran for 208 yards and three scores. Bryce Boettcher ran for 141 yards and passed for 187 yards for the Axe. … Deonte Jones rushed for 162 yards and two touchdowns and Elijah Fields had an 86-yard kickoff return for a score as Churchill beat Thurston 28-20 for the Midwestern League championship. Wes Kommer ran for 214 yards on 37 carries for Thurston, which had edges in yards (410-296) and plays (86-36).
4A
Four teams advanced to the 16-team playoff bracket with play-in round victories: Woodburn beat Tillamook 18-13; Baker held off Astoria 17-10; Cottage Grove defeated Newport 32-24; and North Marion dropped Molalla 12-6.
3A
Dax Bennett ran for 200 yards and three touchdowns on 18 carries and Gabe Knox added 109 yards and three touchdowns on 24 carries in Harrisburg's 48-27 win over Pleasant Hill. … Burns won 26-6 at Vale to force a three-way tie for the Special District 3 title with Vale and Nyssa. Quarterback Mick Winn rushed for 171 yards and two touchdowns on 24 carries and Zane Taylor returned an interception for a touchdown for Burns, which had a 389-239 edge in total yards. … Yamhill-Carlton trailed 14-8 in the third quarter but rallied to beat Blanchet Catholic 22-14 behind touchdown runs from Rey Risch and Jamie Garcia. Trey Richmond's sack on the final play thwarted a Blanchet Catholic scoring threat. ... Kiegan Schaan accounted for six touchdowns – three throwing, three rushing – in Cascade Christian's 61-13 win over St. Mary's for the Special District 2 South division title. Gavin Rajagopal rushed for 193 yards for St. Mary's, giving him 1,136 for the season.
2A
Monroe dominated Creswell 45-0 as Zach Young rushed for 206 yards and four touchdowns on 16 carries. … Heppner blitzed Stanfield 51-12 as Jayden Wilson threw three touchdown passes, Blake Wolters ran for 181 yards and two scores and Mason Lehman rushed for 107 yards and three scores. … Jerry Patzke returned an interception 40 yards for a touchdown late in the fourth quarter to lift Lakeview to a 21-20 win over Glide, clinching the Special District 5 title. Lakeview also got an 85-yard kickoff return for a touchdown from Jace Brazeal. … Bandon's defense dominated the line of scrimmage, holding Gold Beach to 142 yards in a 35-8 win that sealed second place in Special District 4. ... Jacob DeBoff completed 9 of 15 passes for 202 yards and four touchdowns to lead Sheridan past Culver 49-7. Josh Rogers rushed for 112 yards and two touchdowns and caught a scoring pass for Sheridan.
1A
Three-time reigning champion Dufur remained unbeaten, breaking from a 6-6 halftime tie to defeat Wallowa 22-12. The Rangers won despite being outgained 313-245. Zeb Ramsden caught a touchdown pass and ran for a score for Wallowa. … Prospect ended a 15-game losing streak, giving second-year coach Jimmy Slaton his first victory, by beating Myrtle Point 24-14. The Cougars rushed for 298 yards, getting a 100-yard game from Nathan Glover. Nick Strahan had two interceptions for Prospect. … Oakridge outlasted Waldport 58-44 as Michael Powell rushed for 224 yards and three touchdowns and Derrick Collins ran for 105 yards and three scores. Collins also passed for two touchdowns, including one to himself on a deflected shovel pass. … Jordan Aguilar rushed for 196 yards and three touchdowns and caught a touchdown pass to lead Yoncalla past Perrydale 80-46. Dominic Aguilar ran for 108 yards and two touchdowns, caught a scoring pass and returned a kickoff for a touchdown, and Bryan Allen ran for two touchdowns and passed for two scores for Yoncalla. … Elgin, playing in a league for the first time after five independent seasons, defeated Enterprise 42-14 in a Special District 3 crossover game to earn an at-large state berth. It will be Elgin's first playoff appearance in 10 years. ... Joseph defeated McKenzie 64-31 in a divisional crossover game to win the unofficial title for the first season of six-man football. In other six-man crossover games, South Wasco County beat Eddyville Charter 65-13, Echo blanked Gilchrist 55-0 and Harper Charter defeated Powers 71-8.