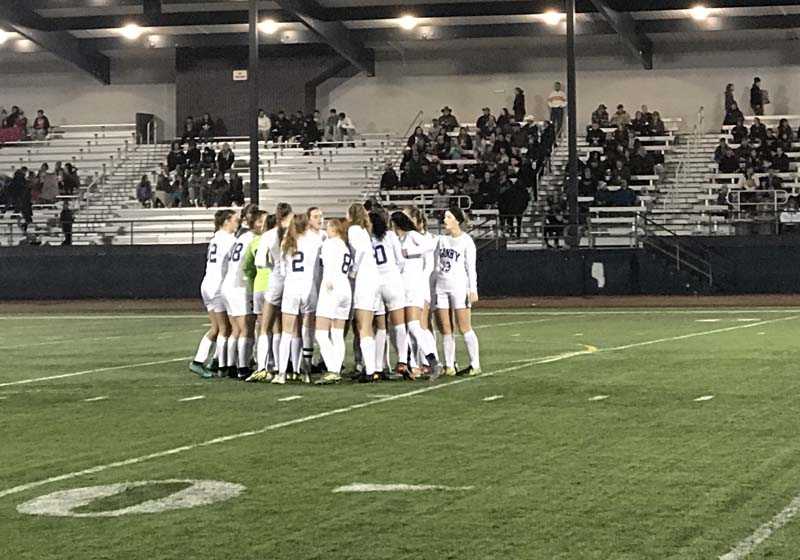 See below for results and highlights from 16 opening-round girls soccer matches in Oregon's 6A last night. We will add more highlights as we receive them.
Second-round play in 6A is Tuesday.
Girls Soccer -- 6A First Round
Jesuit 10, Forest Grove 0 – The top-ranked Crusaders got two early goals from Katie Duong and four goals from Callan Harrington in the impressive home win over the Vikings.
West Linn 7, Centennial 0 – The Lions bolted to a 4-0 lead at the half on goals from Calli Masters, Sophie Conrad, Abby Schmidt and Rosie Larsen and cruised to the home win.
Clackamas 7, Oregon City 0 -- An outstanding effort from keeper Hallie Byzewski and the entire defense helped the Cavaliers shut out Oregon City at home. Clackamas got goals off of penalty kicks from Kyla Sullivan and Ellie Gentry in the first 10 minutes in building a 6-0 lead at the half. Sullivan scored in the 66th minute,her third of the match, to notch the hat trick.
Mountainside 6, Wilson 0 – Junior Nedya Sawan scored the second of her three goals early in the second half to blow open a close match with visiting Wilson. Stella Bauman, Emma Rogers and Leila Hausia-Haugen also scored for the Mavericks, whose roster includes no seniors and just four juniors.
Sunset 3, Tigard 2 -- The young Apollos jumped to a 2-0 lead midway through the second half, but saw Tigard knot the score before Lauren Fuller's through ball to a streaking Stephanie Niebergall produced the game winner with about seven minutes to play.
Sherwood 3, South Eugene 2 – Loma McNeese scored twice, including a free kick from 25 yards out that broke a 2-2 tie with two minutes remaining to help the higher-ranked Bowmen escape at home. South Eugene played a player down for the game's final 25 minutes after its goalie received a red card for handling the ball outside the box, ye showed enough resilience to tie the match with five minutes left on a Savannah Wegener lefty chip from 15 yards out, assists by Devyn Simmons.
Barlow 5, South Salem 1 -- Abi Hoffman scored on a strike from 20 yards out 10 minutes into the match and Mikayla Topaum scored twice before the half to stake Barlow to an insurmountable lead in a physical, chippy game played in very wet conditions.
West Salem 2, Lakeridge 0 -- West Salem scored in the closing minutes of the first half, on a goal by Lexi Tejada assisted by Fatima Jimenez; then did the same to clinch the win, as Amani Noor scored in the 78th minute off of a pass from Sarah Rice.
Summit 3, Grants Pass 2 – Bree Stroud's second goal of the match, from 25 yards out late in the second half, broke a 2-all tie and propelled the host Storm past Grants Pass.
Cleveland 1, Aloha -- Ellie Ruhoff scored late in the first half for Cleveland, which pitched the shutout at home.
Westview 2, Grant 1 -- Ellee McBeth tickled the twine on a header in the eighth minute and Kendall Ingersoll scored midway through the second half for the Wildcats, who withstood a late Grant goal to earn the home win.
Canby 2, Glencoe 1 – The lower-seeded Cougars (10-5) got two second-half goals from Joey Baguio to rally from behind to defeat host Glencoe. "This group is so special on and off the field," said Canby coach Maria VanAcker. "They have trained so diligently together, as a cohesive unit. They fight and battle for each other every night and tonight's win is truly a testament to their heart and true passion to compete for each other."
Sheldon 6, Sandy 1 – Emily Wilshire scored two breakaway goals in the first half and completed the hat trick in the second on a penalty kick as the Irish (11-3-1) rolled at home. Marley Salveter scored Sandy's lone goal.
Tualatin 1, South Medford 0 – The athletic Timberwolves scored on a rebound from senior Megan Macpherson midway through the second half to escape gritty South Medford, which came into the match having won eight in a row. Madelyn Pineda and Baylee Smith played well defensively in the loss for the Panthers.
St. Mary's Acad. 1, Lincoln 0 -- Abby Ecker scored off of a rebound in the first half and St. Mary's made it stand up in a hard-fought battle that could have gone either way.
Bend 1, Lake Oswego 0 -- Leah Richards scored in the 66th minute off an assist from Kaycee Brown as the Lava Bears (11-3-1) edged Lake Oswego at home.