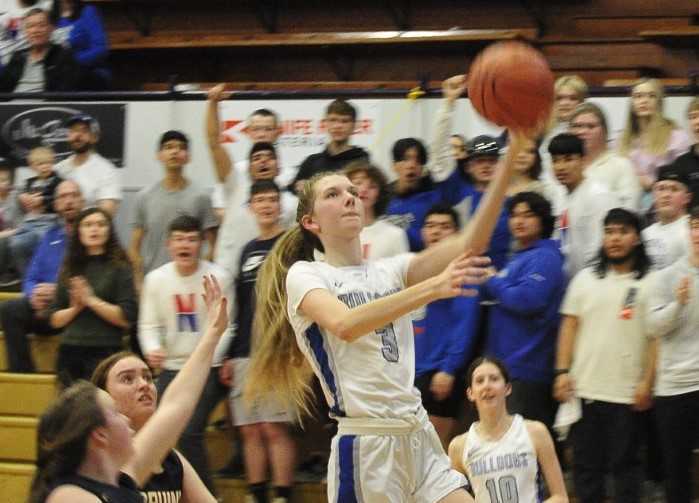 By JOHN GUNTHER/THE WORLD
COOS BAY — The battle of the Bulldogs will be a clash of the titans on Friday night at Marshfield High school when Nyssa and Sutherlin meet in the semifinals of the OSAA/OnPoint Community Credit Union 3A girls basketball tournament.
Nyssa, the top remaining seed at No. 2, beat Brookings-Harbor 51-27 and Sutherlin topped Amity 64-31 in the quarterfinals Thursday at Marshfield. They meet at 6 p.m. Friday for a spot in Saturday's championship game.
"They are really well-coached and really disciplined," Nyssa coach Jeremy Chamberlain said of Sutherlin. "They are one of the best programs in the state and they have one of the best players in the state, if not the best player in the state (Micah Wicks).
"We've got to put a good game plan together. It will be a great game tomorrow."
Sutherlin coach Josh Grotting had similar praise for Nyssa.
"They are really good," he said.
Nyssa led nearly all the way against Brookings-Harbor, finding other ways to score when the Bruins tried to double-team 6-foot-5-inch center Gracie Johnson. The Nyssa junior still scored 13 points and grabbed nine rebounds, while also blocking five shots.
Brooklyn Johns had 12 points inside for Nyssa and Laney Hartley hit a trio of three-pointers and scored nine.
"The diagonal pass was good," Chamberlain said. "Malerie Long did a lot of those. She does a good job seeing the floor."
He said Nyssa was a little sloppy in the first half, when the Bulldogs took a 25-11 lead on the Bruins.
"It's the jitters of the state tournament," Chamberlain said. "You've got to get settled in.
"I thought we played good defense all night. Once we got settled down on offense, we did good."
Brookings-Harbor struggled to get good looks all evening against Nyssa's pressure defense and Johnson and Johns inside.
Ashlyn Schofield and Zoe Carlson each had seven points to lead the Bruins. Carlson hit two of her team's four three-pointers.
Brookings-Harbor gave itself plenty of chances at the foul line, but didn't capitalize there either, making just 7 of 20 free throws (Nyssa went 5-for-6 from the stripe).
Chamberlain was just relieved to be moving on to the semifinals.
"Any way you get a win here, it doesn't matter how it works," he said.
In the first game of the evening session, Sutherlin's defensive pressure wore down Amity and the Bulldogs used a huge run bridging halftime to take control.
Sutherlin had the last nine points of the first half and the first 13 of the second to turn a three-point deficit into a 19-point lead and never looked back.
"Our pressure got to them eventually," Sutherlin coach Grotting said. "Our kids play hard — not that theirs don't, but our guards put a lot of pressure on them."
Sutherlin forced Amity into 32 turnovers and scored 38 points off those miscues.
The Bulldogs trailed much of the first half as Amity came out shooting well, a change from an earlier meeting of the teams that Sutherlin won 47-17.
"Amity shot real well in the first quarter," Grotting said of the Warriors, who hit three 3-pointers in the opening eight minutes.
Ultimately, Sutherlin had too much for Amity, with the defense and outstanding ball movement enabling the Bulldogs to pull away.
"In the second half, we started moving well without the ball," Grotting said. "It's hard to teach, but once they get it, it's hard to defend.
"It was a real team effort."
Wicks, who applied the pressure at the point all night, led the way with 23 points and also had seven steals and seven assists. Madison Wagner added 12 points and Josie Vermillion had eight rebounds.
"Wagner had a great game, probably her best game all year," Grotting said.
Ellie McMullen led Amity with 15 points, including three three-pointers.
Oregon Episcopal 39, Creswell 32: The Cinderella run for the Aardvarks continued as they reached the semifinals by beating the Bulldogs.
OES, which had to win in the league playoffs just to reach the state playoffs and entered as the lowest seed before knocking off top-ranked Willamina, advanced to the semifinals against Burns, scheduled for a 4:15 p.m. tip.
The Aardvarks took control of the game by holding Creswell scoreless in the second quarter to build a 19-12 halftime lead. They led by double digits much of the second half and held on after Creswell twice pulled within five points in the final minutes.
Cayton Smith had 19 points and 11 rebounds and Hollis Hale had nine points and 10 rebounds for OES.
Creswell, which meets Santiam Christian in the consolation semifinals at North Bend on Friday morning, was led by Emme Whitson, who finished with nine points. Lauren Bailey had six points and nine rebounds.
Burns 47, Santiam Christian 43: The Hilanders reached the semifinals by holding off the Eagles in the second game at Marshfield High School.
Kaitlyn Wright had 19 points and Akylah Kaino 14 points and eight rebounds for Burns, the No. 4 seed, which had four of its starters play all 32 minutes.
Tayla Yost had 22 points and Maddie Fields added 15 points and 13 rebounds for Santiam Christian, which entered as the No. 5 seed.
They now face league foe Creswell with the winner advancing to Saturday's fourth-place game. Santiam Christian and Creswell split their meetings in the regular season, each winning on their home floor.
Santiam Christian and Creswell meet at 9 a.m. at North Bend High School, followed by Amity and Brookings-Harbor at 10:45.