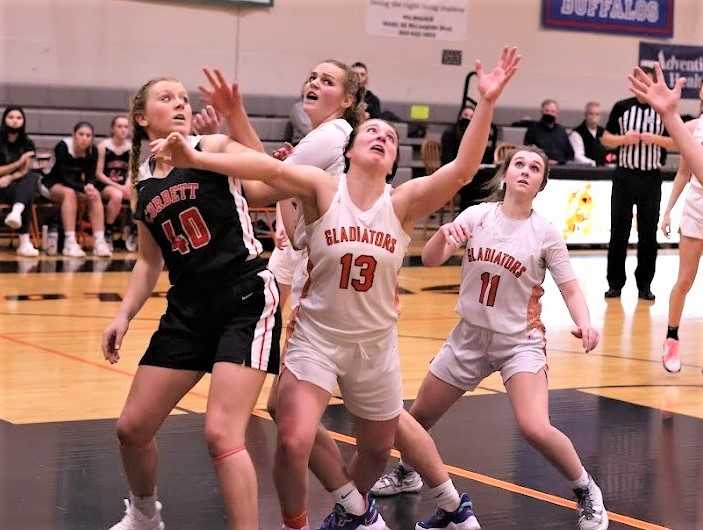 For most of Tuesday night, No. 6 Gladstone couldn't get a three-pointer to fall in a 4A Tri-Valley Conference girls basketball showdown with No. 4 Corbett.
But the host Gladiators (12-1, 3-0) made their last chance count for a 46-45 win, handing the Cardinals (14-1, 2-1) their first defeat of the season.
Freshman wing Hailey Monte drilled a shot from the top of the arc with eight seconds left, Gladstone's second three-pointer of the game, for a one-point lead. Corbett sophomore Ella Holwege had a chance to win it at the buzzer, but her deep three-point attempt missed off the front of the rim.
Monte's shot capped a comeback from seven points behind in the last two minutes for the Gladiators, who are tied for first place with Madras (8-7, 3-0).
"It's big for us," Gladstone coach Glenn Hopkins said. "Teams I've had in the past, if we got down by seven in the fourth quarter, we probably would've just called it in. There was no quit in these guys at all. There's just something different about them. They play really hard until the end."
The Gladiators went into the game fired up, aware that the Cardinals had circled the game on their calendar. Corbett was eager to end an eight-game losing streak to Gladstone that went back five years.
"It just increased the intensity a little bit," Hopkins said. "And the fact that they were undefeated and ranked ahead of us in the OSAA rankings."
Junior Hanne Hopkins scored 23 points, 14 coming in the second half, and freshman guard Ryme Jaekel added eight points for the Gladiators.
Monte, Gladstone's leading three-point shooter this season, missed her first four shots from deep Tuesday. She had sat out the fourth quarter, but when Holwege went to the free throw line with 23.8 seconds left and Corbett ahead 44-43, Glenn Hopkins put her back into the game.
"I put her in thinking we were going to need a three to tie it and send it into overtime," he said.
After Holwege split two free throws for a 45-43 lead, the Gladiators worked for a shot. Senior Alyx Deveny dribbled into the lane and passed out to Monte, who had a clean look and buried the shot from out top.
It was her team-leading 15th three-pointer of the season. She was coming off a career-high 13-point game against North Marion in which she went 3 for 3 from three-point range.
"She's instant offense," Glenn Hopkins said. "There's no fear of pulling the trigger."
It was a season-high scoring night for Hanne Hopkins. The 5-foot-8 Hopkins is averaging a team-high 15.1 points, 5.5 rebounds, 5.0 assists and 4.8 steals.
The 5-9 Jaekel, the only new starter in the lineup this season, is second in scoring at 9.5 points. She has assumed the role as the team's lockdown defender.
"She's going to have a great high school career," Glenn Hopkins said.
Sophomore Allyson Schimel scored 15 points, all in the second half, to lead Corbett. The Cardinals also got nine points from Holwege and eight points from senior Sydney Schimel.
"Corbett is tough. I think they're definitely a top-10 team," Glenn Hopkins said. "They're a team that could be at the state tournament."
Gladstone has won five in a row since losing to Banks 48-44. The Gladiators have another key game Wednesday when they visit Madras, which beat them in both meetings last season. They go to Corbett for a rematch Feb. 15.
Gladstone-Corbett is a generational rivalry of sorts. Glenn Hopkins' wife, Heidi (Alderman), and Corbett coach Bill Schimel's wife, Kari (Steele), were high school rivals at Oregon City and Lake Oswego, respectively. Now their daughters are facing off.
Rojas returns
A familiar face has resurfaced on the bench at Grant this season.
Art Rojas, who coached St. Mary's Academy for seven seasons (2007-14), took over as the Generals' coach prior to the season. He joined the staff to assist Mike Bontemps, but became head coach when Bontemps resigned in early December.
Rojas went 119-69 at St. Mary's Academy, posting three 20-win seasons. He assisted at Central Catholic for two seasons (2017-19), but had not coached the past two seasons before agreeing to help out Bontemps with the Generals.
"He wanted me to come in and put my offense in," Rojas said. "Michael and I are very similar in the fact that we like to build from the bottom up."
Rojas said it "just kind of happened" that he became coach after Bontemps resigned. Rojas continues to work at St. Mary's Academy, where he has taught for 15 years.
Had he considered being a head coach again?
"You always keep an eye on things," Rojas said. "You never really leave the game. And I've been thinking about it for a long time. I wanted to coach at a place where I feel like I could build something, and still be close enough where it's not a liability to not be in the building, because I think it's important for the kids to have a home base."
Rojas said he is committed to staying at Grant, even if he's not teaching in the building.
"I've got to figure that part out," he said. "It's hard for me to not be in the building. I've never done that before. But I'm there. I don't do anything halfway. If I'm going to do it, I'm going to do it."
Grant is 9-7 overall, 5-2 in the 6A Portland Interscholastic League. The team includes Eboni Clay, a 5-5 sophomore guard who is averaging 18 points, five rebounds and four assists. Clay is the half-sister of former Westview star Jaime Nared.
"She's got that same fire. A nice, aggressive mentality," Rojas said. "She's wiry now, but you can tell she's just getting into her body. She's a tremendous athlete, tremendous worker. The biggest thing is she's a hungry basketball player."
1,000-point club
Elli Kent, a senior at 1A Trinity Lutheran of Bend, reached a milestone last week when she passed the 1,000-point mark for her three-year career with the Saints.
The 5-8 point guard scored 28 points in a 58-34 win over Chiloquin to reach the plateau. She added 10 points in a win over Gilchrist to give her 1,029 points in 43 career games at Trinity Lutheran, a 23.9 average.
"She has a very tenacious attitude toward scoring," coach Irish Milandin said of Kent, who had a 51-point game as a sophomore. "Elli thinks outside the box. She's very creative on her offense. And because she's so defensive-minded, she gets many steals, and with that comes a lot of transition points."
Kent averaged 24.7 points as a sophomore and 24.3 points as a junior. This season, she is averaging 22.3 points, 7.8 rebounds, 4.8 assists and 6.3 steals.
She has made 110 three-pointers at Trinity Lutheran.
"She's a very fundamental shooter," Milandin said. "She has the ability to shoot anywhere in the gym. She can pull up from NBA range and drain it. It makes it very difficult to guard her because she not only can attack a lane or a seam, but she can hit the three. And she has no problem getting her hands dirty down low."
Kent transferred to Trinity Lutheran from Bend, where she played on the varsity as a freshman. Counting her 123 points with the Lava Bears, her career total is 1,152.
Milandin said Kent has received an offer to play at Corban University and has drawn interest from Oregon Tech.
Crusaders settle score
No. 5 Salem Academy got some payback by going on the road for a 48-35 win at No. 1 Gervais in a 2A Tri-River Conference showdown Tuesday.
Senior wing Annabelle Brawley had 19 points, 10 rebounds and four assists and senior guard Bailey Pedersen added 13 points, six rebounds and three assists for the Crusaders (14-3, 7-1), who avenged a 51-36 home loss to the Cougars (16-3, 8-1) on Dec. 11.
"It was a very solid win for us," Salem Academy coach Derek Imig said. "It was more or less a complete 180 from our previous matchup in early December."
In the rematch, Gervais bolted to an 18-5 lead five minutes into the game. But the Crusaders were able to regroup and outscore the Cougars 43-17 the rest of the way.