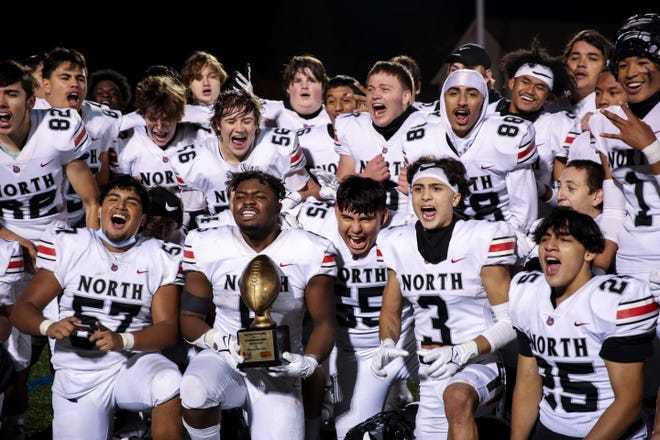 It took a last-minute goal-line stand to make it happen, but North Salem is going to the football playoffs for the first time since 2010.
The visiting Vikings (6-3, 5-2) stopped McKay three times from inside the 3-yard line to secure a 21-18 win Friday night and lock down the third and final playoff berth in the 5A Northwest Oregon Conference West division.
For a program lacking a history of success, a berth in the 5A playoffs represents a major step forward for North Salem. The seventh-seeded Vikings, who haven't won a playoff game since defeating Hermiston in a first-round game in 2004, will play host to No. 10 seed Crater in the first round.
"It's a great reward for our kids," Vikings coach Jeff Flood said. "I'm sure that our kids feel that all of the work they've put in over the past 15 months is paying off.
"Our school and community have been so supportive of this team, and it will be great to get to host a playoff game next Friday in front of all the Viking faithful."
In the previous 28 seasons, North Salem finished the season with a winning record once (6-5 in 2004). But with a talented young cast that includes sophomore quarterback TC Manumaleuna and junior running back Josiah Davis, the Vikings believe they are writing a new chapter.
Despite a three-week break in the middle of the season due to two forfeits (one win, one loss), they are finishing strong. They beat Forest Grove 35-13 and Scappoose 35-34 to set up their playoff-clinching win over McKay.
"It seemed like we stopped, took a breath and came back and tried to get back into things," said Flood, who is 33-101 in 14 seasons at North Salem. "We had a couple games where we weren't quite there, but it seemed like we were getting better. I think we put it all together against Scappoose."
The 5-11, 205-pound Davis, who rushed for 185 yards and two touchdowns on 32 carries Friday, has been outstanding. Despite missing two games with a leg injury – losses to South Albany and Canby – he has rushed for 1,149 yards and 20 touchdowns in five games. He ran for nine scores in the wins over Forest Grove and Scappoose.
"We weren't playing well when he wasn't with us," Flood said. "I think he's the best back in the state."
With an early offer from Oregon, the 6-1, 200-pound Manumaleuna entered high school with much fanfare. Flood said that Manumaleuna – who has had limited passing attempts in the team's run-heavy offense, throwing for only two scores this season -- is gradually gaining command of the offense.
"We've seen a lot of improvement throughout the season, just his ability to run a team," Flood said. "As far as his skills go, there's no doubt he's a really talented kid. We're trying to match his development with the talent he has.
"He probably had one of his best games as a high-schooler against Scappoose. I'm really pleased with his progress. I know he's got a long way to go to meet that potential that he has."
The future appears to be bright for the Vikings, who start three seniors on offense (all linemen) and four on defense. Junior Erik Gonzalez is a third-year starter at defensive back and the team's best receiver. Sophomore middle linebacker Jerrik Wangler and sophomore halfback Micah Richter were starters as freshmen in the spring.
"It's a long-term project for the success of this team," Flood said. "Anything we can do this year is something that is kind of our jump-off point for next year."
North Salem-McKay photo gallery (Statesman Journal)
Mazama lurks
Mazama had some stumbles early in the season, but given how the Vikings dominated in winning the 4A Showcase in the spring, it would be wise to be wary of the momentum they have generated entering the 4A playoffs.
No. 4 Mazama (7-2, 5-0) handled Klamath Union 48-14 in the Canal Bowl rivalry game Friday night to clinch the outright Skyline Conference title and extend its winning streak to six. The Vikings have found their stride since their first few games, when they lost to No. 1 Marshfield 35-20 and No. 2 Cascade 31-28.
"I feel good about our progress," Mazama coach Vic Lease said. "It took us a while to figure it out."
Lease said the unusual schedule of the past year threw a wrench into the Vikings' offseason development plans and contributed to their choppy start. They had to replace starters at 17 of 22 positions.
"We did not get our hands on our team until August," Lease said. "We didn't have all that time to figure out who's going to be those guys."
The Vikings started to find themselves in Week 4, when they came from behind in the fourth quarter to beat revenge-minded Eagle Point 21-20. Mazama has won its last four games by an average score of 50-7.
"That was the turning point," Lease said of the Eagle Point game. "It flipped a switch in a number of our boys. And then we just started rolling."
The Vikings have been winning without their star fullback in senior Zeke Heaton, who rushed for 635 yards in a little more than three games before being sidelined with a knee injury. He is scheduled for an MRI next week and the team is hopeful he will return for the playoffs.
In his absence, junior Trevor Anderson (534 rushing yards) and senior Aidan Kindt (565 yards) have picked up much of the slack. In Friday's win, senior Brandon Gailey rushed for 168 yards and two touchdowns and Kindt ran for 106 yards and two scores.
Quarterback Tyson Van Gastel, a 6-3, 190-pound sophomore, has proven adept at running the team's triple-option offense.
"He's the real reason that our offense is going," Lease said of Van Gastel, who has rushed for six touchdowns and passed for six scores. "He's the most legitimate sophomore that I've ever coached. I've never started a sophomore quarterback running the triple option. He'll be one of the best quarterbacks in the state when he's a senior."
Stunning rally
No. 3 Siuslaw used a comeback for the ages to finish the regular season unbeaten for the first time since 2011 and clinch the outright title in the 3A Special District 2 North division Friday night.
The Vikings (8-0, 5-0) trailed at No. 9 Junction City 40-14 late in the third quarter before rallying to win 41-40. Senior Beau Erickson threw two touchdown passes to senior Braydon Thornton and ran for two scores as the Vikings scored 27 points in a span of 8:33.
"I had three or four seniors come over to me when we were down 40-14, and they said, 'Just keep trusting us, we're going to win this thing. Don't give up, don't run the ball, just trust us,'" Siuslaw coach Sam Johnson said.
"When those kids said that, that was all I needed to hear, that we've got to keep slinging the ball, we've got to keep fighting. If we were going to go down, we were going to go down on our terms, swinging."
Erickson got the rally started with a five-yard touchdown run with 1:38 left in the third quarter, then hit Thornton with a 22-yard touchdown pass to draw Siuslaw within 40-26 with 9:14 remaining in the game.
Erickson's four-yard touchdown run and Camp Lacouture's two-point conversion run with 7:03 left made it 40-34. Erickson hit Thornton with a 23-yard scoring pass, and Lacouture kicked the extra point, to put the Vikings up 41-40 with 5:05 on the clock.
"Being down 26 points, with this group of kids, no lead is safe," Johnson said. "For them to battle and come out on top, it's a great feeling."
Erickson overcame playing with a swollen passing hand after injuring it on a helmet in practice. He started slow, floating passes early, but came through when it mattered.
"The adrenaline was going, and he felt confident," Johnson said. "He's the cog that makes us go, for sure. Without him throwing the ball, we're very one-dimensional."
Thornton's two touchdown catches give him 17 for the season. He also returned a kickoff 80 yards for a score.
Siuslaw's comeback overshadowed a strong performance by Junction City's Gabriel Ward, who ran for six touchdowns.
Pirate plunder
No. 1 Marshfield served up some revenge by turning back No. 5 Marist Catholic 48-41 in a game that decided the title in the 4A Sky-Em League.
In each of the previous three seasons, the game between the Pirates and Spartans was for the league title, with Marshfield winning 21-14 in 2018 and Marist Catholic prevailing 27-21 in 2019 and 39-21 last season. The spring meeting vaulted Marist Catholic into the 4A Showcase final, where it fell to Mazama.
"As sophomores and juniors, a lot of our seniors were a part of it, and they fell short both times," Pirates coach John Lemmons said. "After watching film last season, we felt like we really had our chances to win that game, and kind of shot ourselves in the foot. We had big expectations, and wanted to not shoot ourselves in the foot again."
The Pirates led 48-28 in the fourth quarter before giving up two late touchdowns.
"It was a big win for everybody," Lemmons said. "The kids were excited. But there's a lot to improve on."
The win also gave Marshfield the No. 1 overall seed in the 4A bracket. The Pirates, state runners-up in 2017, will be going for their first state championship since 1992.
"We're getting better. There's definitely lots to clean up," Lemmons said. "I feel like each week we're kind of competing against ourselves a lot of times. We do some things pretty well when we do them right. And we can do things really bad when we don't."
Marshfield senior Dom Montiel completed 26 of 40 passes for 402 yards and seven touchdowns – three to senior DJ Daugherty -- in Friday's home win. For the season, Montiel has passed for 2,456 yards and 37 touchdowns, with 17 of the scores going to Daugherty.
Montiel has been dominant, but Lemmons believes the quarterback can reach another level by being more consistent.
"He has spurts," Lemmons said. "When his 'A' game is on, he's really good. Even when he's playing his 'B' game, he's pretty darn good."
Rams rise
Central Catholic, the 6A champion in 2019, got its wish by landing one of the coveted top four seeds in the 6A playoff bracket, which was announced Saturday.
The unbeaten Rams (10-0), No. 1 in the OSAAtoday coaches poll, moved up from sixth to No. 4 in the OSAA power rankings with a 38-20 win over previously undefeated Clackamas (9-1). The win gave them the Mt. Hood Conference title.
The No. 4 seed means Central Catholic is assured of playoff home games through the quarterfinals. The other top 6A seeds are No. 1 Lake Oswego, No. 2 West Linn and No. 3 Tualatin, all from the Three Rivers League.
The Rams will play host to No. 29-seeded Oregon City in a first-round game at Hillsboro Stadium on Friday as they go after their fourth title in nine seasons.
How does this Central Catholic team stack up with the 2019 champion?
"Defensively, I think we're a little bit more physical and have a little bit more speed than that team did," coach Steve Pyne said.
Pyne said that the offense, with weapons such as 6-7, 235-pound junior tight end Riley Williams, senior receivers Jordan King and Stryder Todd-Fields and senior running back Ellis Bynum "compares to that group."
The 2019 team had an outstanding collection of skill players that featured receivers Silas Starr and Kalvin Souders and running back Elijah Elliott – now on teams at Stanford, UNLV and Montana State, respectively – but it did not have a player like the multidimensional Williams, one of the most highly recruited players in the country.
"He gives you that little extra dynamic," Pyne said.
Other highlights from Week 9 games:
6A
Brock Thomas (131 rushing yards, two touchdowns) and Grafton Robinson (100 rushing yards, two touchdowns) propelled Sheldon past Grants Pass 38-10. … South Salem's Daschel Smith completed 25 of 37 passes for 277 yards and two touchdowns and ran for two scores to spark a 35-25 win over Southridge. … West Salem blanked Sprague 30-0 as Johnny Withers rushed for 127 yards and Brooks Ferguson ran for two scores and passed for another. … South Medford defeated North Medford 40-34 in the 36th Black and Blue Bowl rivalry game, drawing even in the series at 18-18. Deacon Edgar threw for 252 yards and three touchdowns and Carson Joe ran for three scores for South Medford. Ty Pugliano rushed for 188 yards on 25 carries for North Medford. … Lake Oswego opened a 28-0 lead in the second quarter and held off Lakeridge 42-21. Jack Layne threw for 221 yards and two touchdowns and rushed for 65 yards and one score. ...
West Linn beat Oregon City in the Battle for the Bridge as Earl Ingle ran for two touchdowns and Jordan Tawa returned a punt for a score. … Jordan Fisher ran for 185 yards and three touchdowns to help lift Westview over Beaverton 42-0. Darrius Clemons scored touchdowns receiving and on an interception return. … Roseburg led 49-0 at half in thumping Springfield 63-0. Cayden Eckel ran for 141 yards and three touchdowns for the Indians. … Bend ended a six-game losing streak to rival Mountain View with a 49-3 win. Malakai Nutter rushed for 191 yards and three touchdowns for the Lava Bears. … Malik Ross ran for 183 yards and two touchdowns and caught a scoring pass in Tualatin's 49-13 win over Tigard. ...
Summit took care of McNary 27-7. The Storm, seeded sixth, will make their first 6A playoff appearance. … Central Catholic stopped Clackamas 38-20 to win the Mt. Hood Conference title. Cru Newman completed 18 of 23 passes for 269 yards and three touchdowns, two to Riley Williams, who had five catches for 145 yards. Ellis Bynum rushed for 135 yards and one touchdown and caught a scoring pass. … Jesuit thumped Sunset 42-0 as Michael Rincon rushed for 215 yards and two touchdowns on 28 carries. It was win No. 333 for coach Ken Potter, who moved past Thurman Bell into second place on the state's all-time list. … Sherwood topped Liberty 49-39 for the Pacific Conference title. Nolen Scott returned the opening kickoff for a touchdown and Seth Glenn ran for four scores for the Bowmen. Liberty's Hiro Diamond ran for 175 yards and four touchdowns and passed for 225 yards and one score.
5A
Wilsonville got fumble returns for touchdowns by Kal Gutridge and Tristan Davis to help beat Canby for the title in the Northwest Oregon Conference West division. … Scappoose's Luke McNabb passed for three touchdowns and ran for two scores to lead a 56-14 win over St. Helens. … Chace Pence completed 19 of 23 passes for 251 yards and three touchdowns and John Peck ran for 119 yards and two scores as Churchill handled Willamette 35-0. … Thurston handled North Bend 60-0 as Alex Boring passed for three touchdowns. … Crater got four touchdown passes in the first half from Shane Wood to blow out Ashland 45-0. Kayden Gardner and Javon Smith each caught two touchdowns. …
Ridgeview got three interceptions in dominating rival Redmond 42-0, clinching a playoff berth. … Michael Cale ran for three touchdowns and threw two scoring passes to freshman Tyler Hart-McNally for West Albany, which held off Corvallis 41-27. The Spartans' Carter Steeves threw four touchdown passes. … South Albany scored on a blocked punt and a fumble recovery in the end zone in defeating Crescent Valley 42-0. Tyler Seiber blocked the punt and ran for two touchdowns. … Austin Ratliff scored touchdowns receiving and on an interception return in Silverton's 35-0 win over Lebanon. … Myles Barton ran for 448 yards and seven touchdowns on 34 carries to lead Putnam past The Dalles 55-41. The rushing total is No. 7 all-time in the state; the touchdown total is tied for third.
4A
Banks won the Cowapa League by beating Tillamook 42-13 behind Cooper Gobel, who passed for 228 yards and five touchdowns, two each to Aaron Brown and Charlie White. … North Valley ran over Phoenix 35-12, getting two touchdown runs from Sam Campos. … La Grande rolled past Baker 27-7 as Brody MacMillan ran for 194 yards and a touchdown and Kaden Nelson returned an interception for a score. … Rocky Rub threw a touchdown pass to Colton McMaster in the second quarter to give Astoria a 7-0 win over Seaside. … Lance van Hoose rushed for four touchdowns as Cascade defeated Sweet Home 63-27. … Cory James passed for two touchdowns and ran for a score for Estacada, which beat Crook County 52-34. … Tulson Higgins ran for a touchdown and Owen Cheyne kicked a go-ahead field goal in the third quarter as Henley edged Hidden Valley 10-7.
3A
Nathan Kimball rushed for 140 yards and two touchdowns and Tanner Steele ran for 80 yards and threw a scoring pass as Vale dropped Burns 20-0. … Dayton beat Amity 14-6 in overtime to clinch the outright title in the Special District 1 West division. Zach Smith scored on an eight-yard run in overtime and Nate Arce sealed the win with an interception. Arce also rushed for 107 yards. … Hordie Bodden Bodden led Warrenton past Yamhill-Carlton 36-22 by completing 14 of 21 passes for 260 yards and three touchdowns, two to Ethan Caldwell, who had five catches for 168 yards. … Cascade Christian racked up 491 yards in beating Sutherlin 68-6. Keith Reed completed all 10 of his passes for 133 yards and rushed for two scores. Kameron Rague ran for 133 yards. … St. Mary's built a 35-0 lead and half and coasted past Douglas 41-0. Tyson Delplanche caught two touchdown passes from Eli Haynes and had an interception. … South Umpqua suffered its first defeat, falling to Kalama (Wash.) 40-0 at Barlow High School. Kalama, ranked No. 1 in Washington 2B, led 34-0 at half. … Stone Ware rushed for 185 yards and one touchdown on 19 carries and Jayce Womack ran for 106 yards and three scores to lead Rainier past Corbett 38-6.
2A
Riley Cantu threw two touchdown passes and ran for two scores in Kennedy's 40-7 win over Salem Academy. … Heppner extended its winning streak to 27 by defeating Umatilla 45-0. Landon Mitchell completed 10 of 12 passes for 155 yards and two touchdowns and ran for two scores. … Monroe rallied past Creswell 30-29 behind Brody Ballard, who rushed for 213 yards and four touchdowns. Creswell's Connor Hanson ran for 170 yards and three scores. … Glide's Dylan Ackerman threw three touchdown passes to lead his team past Rogue River 39-0. … Levi Phillips ran for 224 yards and four touchdowns on 35 carries for Weston-McEwen, which held off Grant Union 28-26. … Oakland dispatched Bandon 18-7 as Baker Brooksby ran for 126 yards and two touchdowns on 10 carries. … Benny Alves passed for two touchdowns and Gavin Patterson ran for two scores as Lakeview turned back Reedsport 39-13. … Toledo's starters played for one quarter in a 46-6 win over Oakridge in a nine-man game. ... Gunner Yates rushed for 227 yards and three touchdowns on nine carries to lead Coquille past Sheridan 46-13. Yates has rushed for more than 1,000 yards this season in five games. ... Knappa defeated Gaston 28-18 behind Tanner Jackson, who rushed for 177 yards and two touchdowns and threw a scoring pass to Trevor Ogier.
1A
Elgin built a 66-6 lead by halftime, getting four touchdown runs from Ty McLaughlin, en route to an 80-6 win over Lyle/Wishram/Klickitat. … St. Paul held Mohawk to 54 yards in a 54-0 win. Lance Tuck completed 8 of 14 passes for 207 yards and four touchdowns, two to Warren Rose, and Clancy Koch ran for two scores. …Reece Dixon and Case Olson scored two touchdowns apiece and Jaxson Chandler returned an interception 75 yards for a score to lift Powder Valley over Ione/Arlington 48-20. ... Alex Mahmoud rushed for 178 yards on 23 carries and Rene Sears ran for two touchdowns as Powers beat Joseph 14-0 in a six-man game. ... Lost River's Chase McAuliffe completed 10 of 13 passes for 192 yards and four touchdowns, two to Isaac Hernandez, in a 38-8 win over Brookings-Harbor. Nathan Dalton rushed for 120 yards on 12 carries for Lost River. ... Adrian had 423 total yards in defeating Dufur 62-6. ... Logan Backman completed 7 of 20 passes for 242 yards and six touchdowns to lead Myrtle Point past Camas Valley 54-14. Andreas Villanueva caught three passes for 113 yards, all for touchdowns, and Billy Reynolds rushed for 106 yards for Myrtle Point.