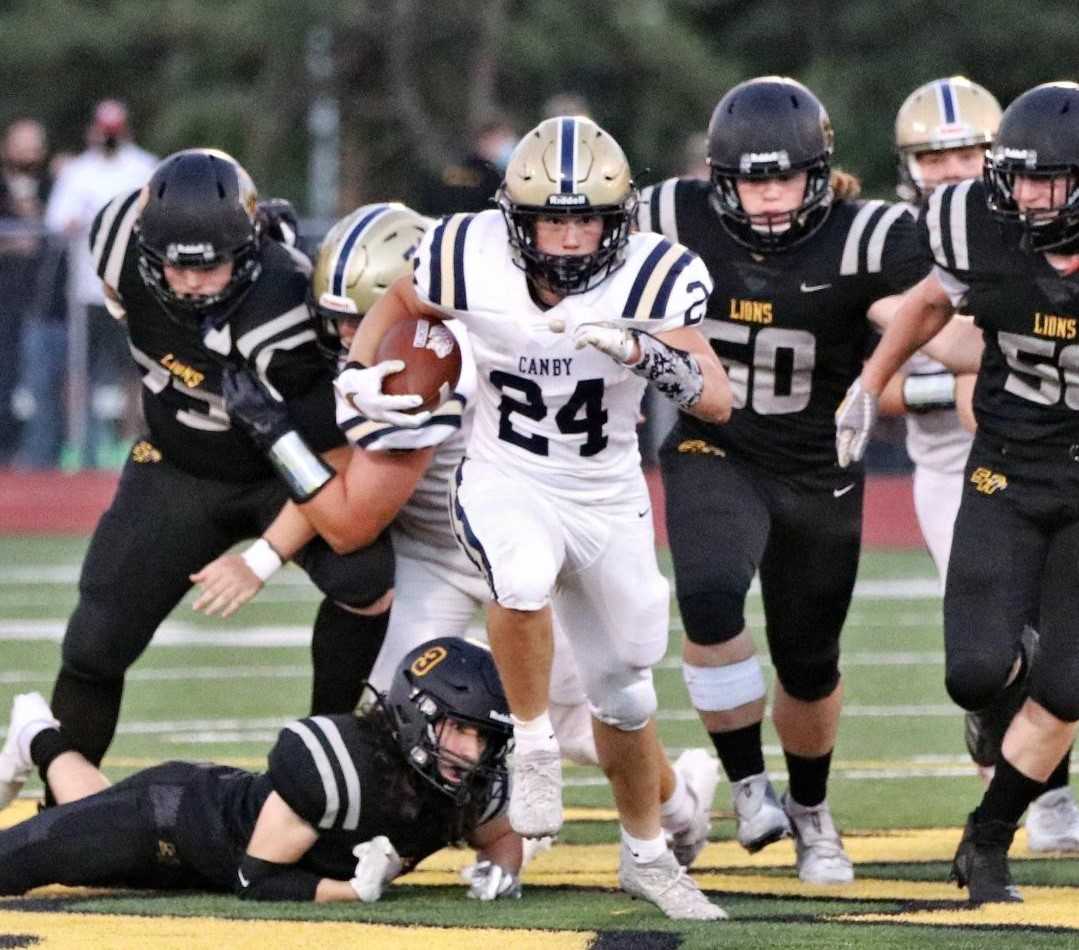 Canby's football team could have built its offense around the talented arm of senior quarterback Mikey Gibson this season.
But after evaluating their personnel in the offseason, the fifth-ranked Cougars made some changes and have complemented Gibson with a rushing attack that is among the best in 5A. They are averaging 276.7 rushing yards in winning their last three games, the latest a 52-12 drubbing of McKay on Friday.
"We played around with going from a spread, zone-read attack to more of a spread, power-oriented run game," coach Jimmy Joyce said. "It took some time. The first two games, we struggled with it, getting the ideas and concepts down. But really, we've been able to take off."
Against McKay, Canby had 311 rushing yards as sophomore Tyler Konold ran for 189 yards and three touchdowns on 12 carries. Gibson also had a big game, completing 10 of 14 passes for 293 yards and three touchdowns.
The balanced offense makes Canby (4-1, 3-0 Special District 2) even more difficult to defend.
"We have a lot of good receivers, but we felt like the run game could really open them up more," Joyce said. "Instead of looking at it like we did in the past, where the passing game is going to open up the run game, we were just going to try to flip the script."
Konold, a 6-0, 185-pound sophomore running back, has emerged as one of the leading rushers in 5A. He has rushed for 741 yards and nine touchdowns this season.
"If we would've had more of a normal season in the spring, I think he would've played some varsity," Joyce said of Konold, who also returned the opening kickoff 89 yards for a score Friday. "He's one of those guys that just has the 'it' factor. He's fast, he's powerful, he's got great vision, but the thing we like about him is he's really physical. He's a stud, and he's going to be a stud for a few years to come, too."
The addition of Konold and the return of senior running back Bryce Oliver, who contributed as a sophomore but did not play as a junior, gives Canby a one-two punch. Oliver added 79 yards on eight carries Friday.
"It's really 1A and 1B with two really good running backs," Joyce said. "Their styles complement each other pretty well. Tyler is really that downhill, explosive guy, and Bryce has unbelievable vision and great patience."
The offensive line is meshing nicely with seniors Casey Langdale (6-4, 250), Colin Kennedy (6-0, 230), Matthew Hagen (6-1, 240) and Grayson Noss (5-10, 200), junior Brayden Snoderly (6-2, 200) and sophomore Gideon Noss (5-11, 200). Senior Clayton Langdale (6-4, 250), who started along with his twin brother in the spring, is expected back soon after suffering a stress fracture in his leg in the jamboree.
Jacob Strand, a 6-6, 260-pound senior who has committed to Oregon State as a tackle, has switched to tight end this season. He caught a touchdown pass and has had two other big plays nullified by penalties.
Rams lock down
As Central Catholic's relatively young offense continues to evolve, the Rams (6-0, 4-0 Mt. Hood Conference) have been getting rock-solid play from their defense.
The defense held Reynolds to 73 total yards in a 54-6 road win Friday, the first points the unit has allowed in three conference games. Central Catholic's other conference win was a forfeit over Nelson.
Central Catholic is limiting foes to 179.4 yards per game for the season. The Rams have 15 sacks, getting three each from senior outside linebacker Emar'rion Winston, junior defensive lineman Joe Merlino and sophomore defensive lineman Matix Carpenter.
"I think our defense is as good as maybe any defense we've had, at this juncture of the season," Central Catholic coach Steve Pyne said. "I've just been really impressed with how they run to the football. And they're physical. They communicate really well, and they have a great time with each other."
The unit features the 6-4, 250-pound Winston, who has committed to Oregon. He is the brother of former Rams standout linebackers La'Mar Jr., who played at Oregon, and Eli'jah, who plays at USC.
"He's just been a fantastic leader," Pyne said. "He comes to practice every day and works his butt off. He makes guys compete in practice. It's been fun to watch him mature in that way.
"I've seen a huge increase in his production over the last year, in terms of understanding what his job is. He now knows that doing his job helps other guys make plays, as opposed to him trying to make every play."
Senior outside linebacker Gavin Jackson has been steady opposite of Winston. Pyne said that senior nose guard Myale Jones (6-4, 340) has been "virtually unblockable" and senior inside linebacker Gibson Coyle "makes all the right calls and reads."
The secondary includes senior Stryder Todd-Fields, a lockdown cornerback who has two interceptions, as well as seniors Jordan King, Zach Grisham and Solon Sanders and sophomore Timmy Mitchell.
The Rams played two Washington schools in nonleague games, defeating Camas 28-17 on Sept. 3 and Tumwater 42-35 on Sept. 17. The latter was a hastily arranged game due to the Nelson forfeit.
"That was with less than one day to prepare for the wing-T," Pyne said. "So I thought we played pretty well defensively that night."
'Siuslaw is back'
Siuslaw, which has made dramatic strides in three seasons under coach Sam Johnson, is showing a knack for making winning plays late in games.
One week after scoring a go-ahead, fourth-quarter touchdown to win at 4A Gladstone, the No. 2 Vikings (4-0) rallied from a 10-point, fourth-quarter deficit to beat No. 3 Cascade Christian 38-34 on Friday in a 3A Special District 2 game.
"They're legitimately refusing to lose games," said Johnson, a 2014 Siuslaw graduate who took over the program after the team finished 0-8 in 2018. "For them to have the will to just not lose a game has been awesome to see so far."
Siuslaw trailed 34-24 in the fourth quarter before surging past the visiting Challengers (1-2).
Senior quarterback Beau Erickson scored on a 10-yard run, and senior Braydon Thornton ran in the two-point conversion, to make it 34-32 with 6:42 left. Cascade Christian drove into Siuslaw territory, but Thornton ended the drive with an interception at the 10-yard line, returning it to the Siuslaw 32 with 1:57 remaining.
Erickson connected with senior Camp Lacouture for a 38-yard touchdown pass to give the Vikings the lead with 37 seconds to go. The Challengers made one last threat, reaching the Siuslaw 17 with one second left, but the Vikings held.
The 5-11, 170-pound Lacouture rushed for 127 yards and one touchdown on 31 carries and threw a 22-yard scoring pass to Thornton.
"It's like we have a grown man in the backfield," Johnson said of Lacouture. "He's just not letting one person tackle him. We rode him a lot the last two weeks."
The game was a late add to the schedule after both teams had open dates to due COVID-related cancellations.
"Going into this year, we knew the knock against us was we hadn't beat a top-tier program since I got there," Johnson said. "But last week we beat a 4A powerhouse in Gladstone, and we feel like that was a huge statement win for us.
"When we called Cascade Christian and put it on our schedule, we knew this was the one we were circling. This is our statement win, as a program, that Siuslaw is back. We're not joking around anymore. We're not halfway back. We've got a lot of work ahead, but 4-0 feels nice right now."
Nelson's 'validation'
Nelson, the new Happy Valley high school, made history Friday by beating host Centennial 27-12 for its first win.
Freshman quarterback Avirey Durdahl, making his first start, threw three touchdown passes to junior Max Kirsch for the Hawks (1-4), who had scored only six points in their first three games.
"It validates all the work the kids have been putting in," Nelson coach Aaron Hazel said. "This tradition that we're building, this culture we're building, we're moving in the right direction."
Durdahl replaced junior Alex Nita, who played linebacker Friday. Two of the touchdowns to Kirsch were on screen passes and the other was on a bootleg from inside the 10-yard line. Kirsch finished with nine catches for 132 yards.
Hazel said the plays were set up by the running game, which featured junior Jack Gandert and sophomore Alex Leontyuk. Gandert rushed for 85 yards on 23 carries and Leontyuk ran for a score.
"They kind of did the heavy lifting, and Max Kirsch got a lot of the glory getting into the end zone," Hazel said.
The defense, which entered allowing 39.7 points per game, contained the veer offense of Centennial (2-3), a team that had scored 66 points in winning its previous two games. Hazel credited the play of defensive linemen Boone Standley and Rene Silva Herrejon and linebackers Nita, Leontyuk and Owen Hunt.
Hunt, a 6-2, 185-pound sophomore, is having an outstanding season.
"He stood out against the veer," Hazel said. "He canceled everything he was supposed to cancel, and he made some great open-field tackles, as well."
In previous two weeks, Nelson forfeited a game to Central Catholic due to COVID issues and lost 52-0 at Clackamas, where most of the Hawks started their high school careers.
Despite the score, Hazel liked how his players battled against Clackamas.
"Nobody quit during the game," he said. "We got beat, but they didn't break us. That was something we built on this week. We know that we're physically tough enough to play football, now can we be mentally tough enough to play disciplined football?"
Hazel said that finishing the season strong is key for the program's development.
"We want to have momentum to build into a full offseason, knowing we've got everybody back," he said.
1A showdown
No. 1 Adrian served up some payback against No. 2 Powder Valley with a 38-0 win in a 1A Special District 2 East eight-man showdown Friday.
The host Antelopes (5-0, 3-0) took advantage of three fumbles to build a 22-0 halftime lead and coasted to the win over the Badgers (4-1, 3-1), posting their fourth consecutive shutout.
It was a much different outcome than the teams' previous meeting in the spring finale, when the Badgers' offense exploded in a 70-58 home win over Adrian, the 2019 state champion.
"Our boys were pretty motivated," Adrian coach Bill Wortman said. "We're in a lot better shape than we were in the spring. That was more of a learning year for us."
In Friday's game, the Antelopes dominated on both sides of the ball. Senior quarterback Conley Martin ran for 106 yards and three touchdowns and threw a 40-yard scoring pass to junior tight end Carter Bayes. Junior Jace Martin ran for 116 yards and a touchdown.
On defense, Conley Martin had 16 tackles and Jace Martin had an interception. The Martins and Bayes form a devastating linebacking crew.
"We try to keep our linebackers free from down blocks," Wortman said. "That's always key."
Powder Valley coach Josh Cobb tipped his cap to the Antelopes.
"They ran the first few in, and then they kind of picked us apart with play-action," Cobb said. "The Martins are hands-down fast. They just torched us. And we just played on our heels all game. They got off the ball quicker, they blocked better. We just got outplayed."
In all, Powder Valley lost four fumbles.
"From the get-go, we had zero momentum," Cobb said. "We had bad snaps, penalties, It was a rough night to be a Badger. Adrian is good. You can't play bad against a good team.
"I know we'll play better the next time we meet them."
Other highlights from Week 5:
6A
Sandy topped Franklin 47-13 behind Teague Clemmer, who threw for 255 yards and three touchdowns. … Sherwood held off Newberg 23-16 as Bjorn Bergstrom threw two touchdown passes and kicked a field goal and two extra points. It was the first win for Sherwood coach Kevin Hastin, who left the Newberg job to take over the Bowmen. … Ryan Powell rushed for 126 yards and two touchdowns to propel Summit past South Salem 38-6. … Tualatin fell behind West Linn 14-0 before running away to a 49-14 win as Jackson Jones threw for four touchdowns. Cole Prusia caught three scoring passes. … Jack Layne threw four touchdown passes as Lake Oswego cruised past Tigard 35-0. Gabe Olvera caught two touchdown passes and ran for a score. ... West Salem rushed for 408 of its 555 total yards in beating Mountain View 55-20. Hudson Giertych rushed for 136 yards and two scores on 11 carries for the Titans. ...
Clackamas dominated David Douglas as Blake Baker threw three touchdown passes, Luke Ash ran for three scores and Miles Williams scored three times, two receiving and one rushing … Caleb Kim rushed for 173 yards and three touchdowns for Sunset, which handled Heritage (Wash.) 39-2. … Roseburg improved to 5-0 by dispatching Grants Pass 54-14. Colton Marsters rushed for 221 yards and four touchdowns on six carries and threw two scoring passes to Landyn Dupper. … Jake Fay and Hunter MacDonald each rushed for three touchdowns as Barlow thumped rival Gresham 48-0. … Lakeridge improved to 5-0 for the first time in 10 years by routing Oregon City 41-8. Jake Reichle ran for 176 yards and two touchdowns on eight carries for the Pacers. … Jacob Hutchinson completed 3 of 6 passes, all for touchdowns, as Jesuit built a 42-0 halftime lead and defeated Southridge 49-0. …
Cru Newman completed all 10 of his passes for 174 yards and six touchdowns – two each to Jordan King and Riley Williams – in Central Catholic's 54-6 win over Reynolds. … Ty Pugliano scored on a three-yard run with 24 seconds left to give North Medford a 25-21 win over Bend. Pugliano set up the score by causing and recovering a Bend fumble on the previous possession. … Sheldon's Brock Thomas passed for 237 yards and five touchdowns and ran for 144 yards and one score on 22 carries to lift Sheldon over South Medford 54-37. … Liberty's Hiro Diamond rushed for 269 yards and four touchdowns and passed for a score in a 56-21 win over Glencoe. … Mountainside overcame a 28-10 deficit to beat Beaverton 38-28. Caleb Paler ran for 180 yards and two touchdowns for the Mavericks.
5A
Silverton subdued Crescent Valley 48-0 as Alex Briseno ran for three touchdowns and Vandon Fessler caught 10 passes for 161 yards and two scores. … Michael Cale ran for two touchdowns and passed for a score in West Albany's 21-14 win over Central. … Scappoose fell behind 14-0 before putting away Hillsboro 41-32. Luke McNabb ran for three touchdowns and returned a fumble 80 yards for a score for the Indians. … Churchill forced six turnovers, getting three interceptions from Romynn Schaefer, in dominating North Bend 51-0. Riley Van Camp caught three touchdown passes from Chace Pence and Austin Mills ran for two scores and returned an interception for another. … Hood River Valley's Trenton Hughes sparked a 44-29 win over Redmond. He rushed for 234 yards and three touchdowns on 21 carries, passed for 151 yards and three scores and stood out on defense with an interception and two blocked extra-point attempts. … Jacob Newell caught two touchdown passes and ran for two scores as Thurston defeated Eagle Point 42-21. … Braydon Burton ran for three touchdowns for Lebanon, which held off Corvallis 37-27. … Dallas handled South Albany 35-12 as Logan Person rushed for 149 yards and three touchdowns on 25 carries. … Javon Smith ran for two second-half touchdowns in Crater's 28-7 win over Willamette. … Brock Mackey rushed for 111 yards and four touchdowns as Pendleton blitzed The Dalles 70-6.
4A
La Grande trailed 12-0 before pulling away to beat Burns 35-20. The Tigers got fourth-quarter touchdown runs of 27 and 20 yards from Brody MacMillan. … Cascade got three touchdown runs from Blake Lewis in dropping Woodburn 64-0. … Cory James and Jake Behrman each ran for two touchdowns in Estacada's 43-18 win over Gladstone. … Banks trailed 17-14 at half before pulling away to beat Astoria 42-17. … Quarterback Trent Buchler had 142 of Tillamook's 297 rushing yards in a 42-28 win over Milwaukie. … Mazama handed rival Henley its first defeat, winning 41-14 for its fifth consecutive victory in the South-Side Series. With star tailback Zeke Heaton out, Mazama sophomore quarterback Tyson Van Gastel threw for three touchdowns and ran for 65 yards. … Dom Montiel passed for 368 yards and six touchdowns, three to DJ Daugherty and two to Maddux Mateski, as Marshfield blew past Stayton 57-0. … Marist Catholic's Lucas Tuski rushed for 125 yards and three touchdowns and returned a blocked punt for a score in a 56-14 win over North Eugene. … Hidden Valley blanked Phoenix 45-0 behind Noah Stone, who threw three touchdown passes, ran for a score and returned a punt for a touchdown. … Seaside's Carson Kawasoe passed for three touchdowns to lead a 69-0 win over Valley Catholic.
3A
Dayton rolled Willamina 44-6 behind three 100-yard rushers in Justin deSmet (107), Zach Smith (106) and Nate Arce (101). … Nate Kimball rushed for 117 yards and two touchdowns on 17 carries and Tanner Steele passed for two scores in Vale's 41-6 win over Ontario. … Adan Diaz rushed for 161 yards and three touchdowns on 20 carries as Sutherlin outlasted previously unbeaten Lakeview 30-27. The Bulldogs led 24-7 at half and withstood a late rally, sealing the win on Ely Palm's interception in the end zone in the final minute. … Jace Johnson threw three touchdown passes, two to Kade Johnson, in South Umpqua's 55-6 win over St. Mary's. Kade Johnson also returned an interception for a touchdown. ... Hordie Bodden Bodden completed 15 of 18 passes for 268 yards and three touchdowns and ran for a score as Warrenton blanked Clatskanie 41-0. Josh Earls caught seven passes for 132 yards and two touchdowns and Dylon Atwood ran for two scores for Warrenton.
2A
Toledo stopped a two-point conversion attempt with 55 seconds left to hold on for a 22-20 win over Oakland. The Boomers broke a 14-14 tie midway through the fourth quarter when quarterback Gunner Rothenberger scored on a seven-yard run and they added a two-point conversion. Oakland's Baker Brooksby rushed for 185 yards on 21 carries. … Said McWillie and Alleric Cosgrove each ran for three touchdowns for Rogue River, which downed Illinois Valley 48-26. ... Heppner handed Weston-McEwen its first defeat, holding the TigerScots to 51 total yards in a 39-0 win. Brock Hisler rushed for 101 yards and two touchdowns and Caden George scored on a run and an interception return for the Mustangs, who have won 23 in a row. .. Sheridan held off Douglas despite a big game from the Trojans' Branson Willis, who rushed for 177 yards and two touchdowns on 31 carries. ... Reef Berry ran for a touchdown and threw a 45-yard scoring pass to Cooper Lang in Bandon's 14-7 win over Reedsport.
1A
Camas Valley turned back Days Creek 54-6 as Jared Standley threw for 293 yards and four touchdowns – three to his brother, James – and ran for three scores. … Sophomore quarterback Ty McLaughlin rushed for 271 of Elgin's 578 total yards in beating Union 48-24. ... Crane outscored Dufur 28-0 in the second half to pull away for a 42-16 win. Ty Taylor caught two touchdown passes and Jake Doman scored on a catch and punt return for Crane, which held Dufur to 217 yards. ... Lost River rushed for 313 yards, getting 105 yards and two touchdowns from Nathan Dalton, in routing Crosspoint Christian 51-0. Hayden Duren caught two touchdown passes. ... Conner Anderson threw for 258 yards and four touchdowns and ran for a 60-yard score in Elkton's 53-13 win over North Lake in a six-man game. Nathan Rausch rushed for 103 yards and three touchdowns and had a sack and two fumble recoveries for Elkton. ... Mitchell/Spray/Wheeler improved to 5-0 with a 56-25 win at Echo in a six-man game. Nate Clark rushed for 272 yards and four touchdowns on 25 carries, Clint Rutherford ran for two touchdowns and returned a kickoff for a score and Carter Boise had an interception return for a touchdown.