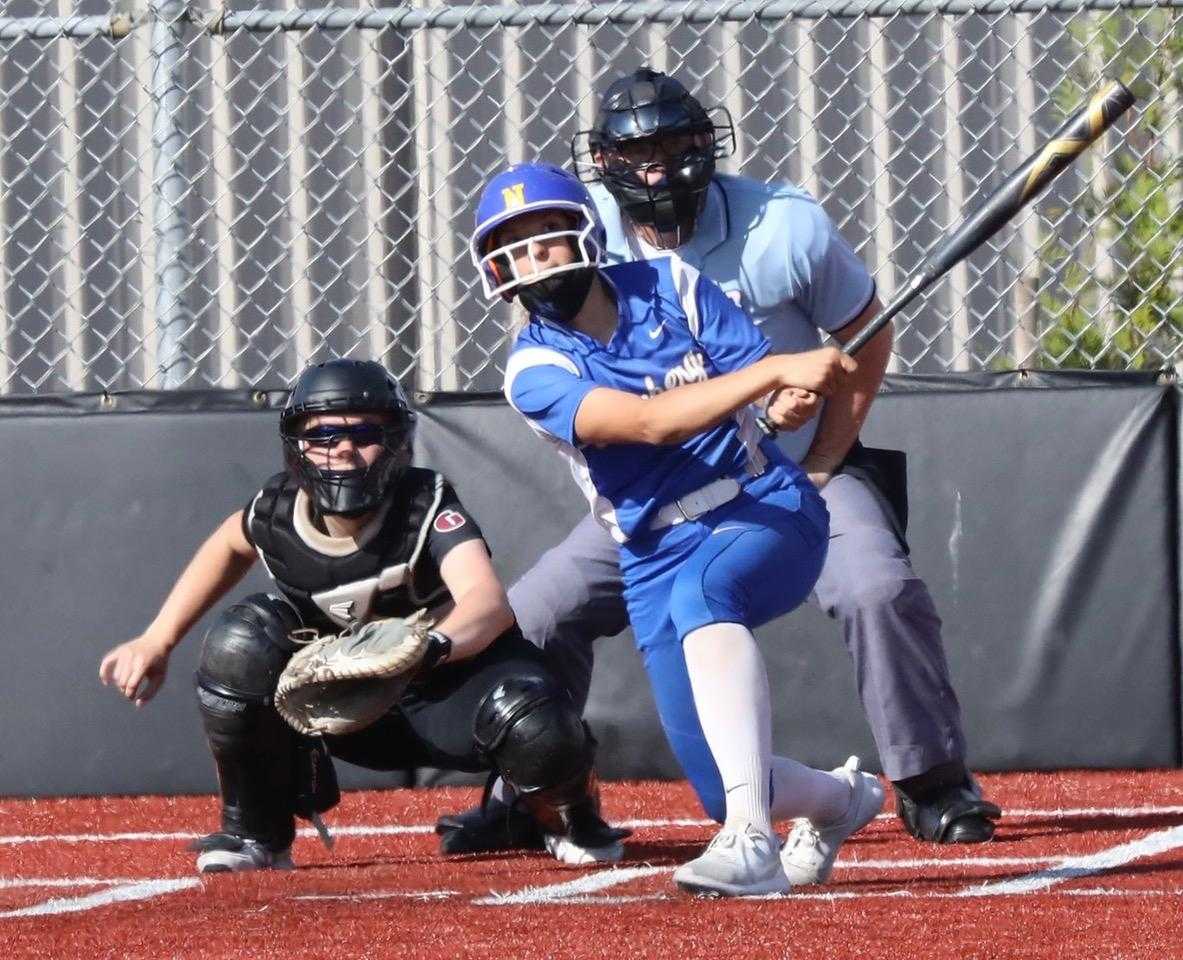 It took an extra year, but Newberg finally has climbed to the top of 6A Pacific Conference softball.
The Tigers – who went from 5-21 in 2018 to 18-9 in 2019 – had high expectations for 2020 before the season was nixed by the COVID-19 crisis.
"I thought we'd be right at the top of the league last year, placing first or second," said Angela Stutzman, who is in her fifth season as the team's coach. "That was devastating."
This season, though, Newberg has made its move. With two conference games left, the Tigers (11-2, 10-2 Pacific) lead Glencoe (8-5, 7-4), Sherwood (8-4. 7-4) and McMinnville (6-4, 6-3) in the standings.
The Pacific is not recognizing an official conference title this season, but Newberg can claim outright bragging rights with one more win. The Tigers play host to Sherwood on Thursday and Forest Grove (5-7, 5-7) on Friday.
Newberg won both of its meetings against reigning Pacific champion Glencoe, defeating the Crimson Tide 12-1 on April 23 and 7-0 on Monday. Glencoe has been without ace senior pitcher Dana Butterfield, who is injured, but her absence didn't dampen the accomplishment for the Tigers.
"I do believe we were in utter shock, to be honest," Stutzman said of beating Glencoe. "But it felt really good."
Sophomore catcher Abby Carsley is batting .512 with eight home runs and 28 RBIs. She went 3 for 4 with a home run and two RBIs in Monday's won over Glencoe.
"She's been blessed by the softball gods," Stutzman said. "She's an athletic lady. There's just no stopping her. She's a beast."
Junior lefty Serayah Neiss, who tossed a two-hitter with 17 strikeouts against Glencoe on Monday, has a 1.04 ERA and has struck out 111 in 53 2/3 innings She began her freshman season on JV and quickly moved up to varsity and was selected first-team all-Pacific in 2019.
"After two or three games, she was like smoke-showing JV," Stutzman said. "It turned out she's a gamer, so watching her in practice, it looked fast, but inconsistent. She just developed in her ability to stay fast, and now she's got movement."
Her emergence as a stopper has been vital to the team's success.
"I have a real heavy-hitting team, so we expect to put runs up, we just need to make sure we have more runs than the other team," Stutzman said.
Newberg hit a wave of adversity last week. Not only did the Tigers absorb their first two defeats – falling to Forest Grove 6-4 and Liberty 6-3 – but two of their key players suffered season-ending injuries in senior shortstop Katy Evans (broken fibula) and senior center fielder Alina Garstka (dislocated kneecap).
Evans and Garstka will be missed as Newberg plays an ambitious schedule of league leaders during culminating week. The Tigers visit Tigard (12-2) on May 15 before playing host to Jesuit (13-1) on May 18 and Franklin (12-2) on May 19.
"You always accept the challenge," Stutzman said. "We're ready to show up and do what we can, and hope to bring home some Ws. I think everybody was a little bit shocked when we first saw all the teams, but we're going to go out and do what we need to do. If we come out on top, that's awesome. If not, we know we competed with some of the best."
Clatskanie streak ends
Clatskanie's 35-game winning streak ended Monday, but the reigning 3A champion Tigers bounced back in the second game of a doubleheader to beat rival Rainier 6-4 in a Coastal Range League showdown.
On Friday, Clatskanie extended its winning streak to 35 with a 6-5 home win over Rainier, setting the stage for a big doubleheader Monday on the Columbians' field.
Rainier took the opener 6-5 to hand the Tigers (9-1, 7-1) their first defeat since falling to Dayton in the 3A final in 2018. Reese Schimmel homered and Alexis Crape drove in two runs for the Columbians (11-2, 8-2).
In the second game, Rainier built a 4-1 lead in the third inning as Crape homered twice and drove in three runs. But Clatskanie responded with a four-run fifth inning, getting an RBI single from Alexis Smith and a two-run single by Kaity Sizemore to pull ahead 5-4. Smith added an insurance run with an RBI single in the seventh, and pitcher Shelby Blodgett closed out the win.
"I thought in the first game that we were maybe playing hero ball," Clatskanie coach Kevin Sprague told The Daily News of Longview (Wash.). "We were trying to be too (focused on) one play, instead of stringing hits together and that kind of thing, and then I thought we did a better job of that in the second game."
Bucking the trend
Clatskanie wasn't the only reigning state champion to have a long winning streak snapped in recent days.
La Grande's run of 24 wins, which included the 4A final in 2019, ended Saturday with a 10-0, five-inning loss at 5A Pendleton.
Kylie Parsons pitched a two-hitter and struck out seven to lead the Buckaroos (12-1) over the Tigers (10-1). Sauren Garton tripled and drove in two runs and Chloe Taber and Ella Chrisman added two RBIs apiece for Pendleton, which blew open the game with a five-run fourth inning.
It was a big day for host Pendleton, which followed the win over La Grande by cruising past reigning 5A champion Ridgeview 11-1 in an Intermountain Conference contest.
Garton pitched a three-hitter with 10 strikeouts to stop the Ravens (7-5). Garton also had three hits, including a triple, and drove in two runs for the Buckaroos, who got a grand slam from Ellie Samford.
Unbeatens clash
Sheldon turned back visiting Marist Catholic 6-1 on Monday in a battle of unbeaten teams.
Freshman Payton Burnham pitched a two-hitter with 11 strikeouts to lead Sheldon (12-0). Samantha Vinti hit a three-run homer, Molly Blanchette drove in two runs with a double and Burnham added an RBI single for the Irish, the 6A champions in 2019.
Junior Malia Williams took the loss for 4A Marist Catholic (13-1) despite striking out 11. The Spartans scored got their only run in the sixth inning when Kellie Schroffner came across on an error.
Sheldon had dropped the last five meetings against Marist Catholic since a 5-2 win in 2014.
4A Showcase
A 4A committee will release its final rankings Saturday as part of determining the field for the season-ending 4A Showcase.
The eight-team bracket will include the No. 1 team from each league and the two highest-ranked No. 2 teams. The first round of the double-elimination tournament is May 18, followed by the semifinals May 20 and trophy games May 22.
The latest rankings, released May 9:
1.Henley
2.Marist
3.Banks
4.La Grande
5.Cascade
6.Gladstone
7.Mazama
8.Newport
9.Estacada
10.Ontario
Notes
Westview (12-3, 10-1) pulled even with Jesuit atop the 6A Metro League with a 3-2 home win over the previously unbeaten Crusaders (13-1, 10-1) on Wednesday. The Wildcats scored twice in the fourth inning to take a 3-1 on RBI hits by Kiana Klein and Ciara Showalter. Julia Jordan pitched a five-hitter with nine strikeouts for Westview, yielding only solo home runs to Ellie McClaskey in the third and Maxi Mayhew in the sixth. ... Franklin (12-2, 10-0) wrapped up first place in the 6A Portland Interscholastic League on Wednesday with an 8-5 home win over second-place Roosevelt (8-5, 8-2). ...
Tigard (12-2) suffered its first two losses of the season this week, falling to Lakeridge 5-1 on Monday and Canby 3-2 on Wednesday. ... Host Kennedy (10-0) beat reigning 2A/1A champion North Douglas 12-0 on Friday, avenging a 15-6 loss to the Warriors in the 2019 state final. Jenna Hopkins pitched a one-hitter with 10 strikeouts to hand North Douglas (12-1) its first defeat. Kennedy scored eight runs in the second inning. ...
Henley (14-0, 13-0) took sole possession of first place in the 4A Skyline Conference with a 12-0, five-inning win over visiting Mazama (12-1, 12-1) on Tuesday. Madison Perez went 3 for 4 with a home run and five RBIs and Carli Moore went 3 for 4 with a homer and two RBIs to lead the Hornets' offense, which rapped 13 hits. Moore also pitched a one-hitter with 10 strikeouts. The teams finish the season with a doubleheader at Mazama on Friday. Henley, which has outscored opponents 232-3, has won 74 consecutive conference games. …
Senior shortstop Emma Deloyola was a bright spot for Aloha in a 12-6 loss at Jesuit on Monday. She went 4 for 4 with two home runs and a double. …Weston-McEwen junior Madison Shell went 5 for 6 with a grand slam, two doubles and seven RBIs in a doubleheader sweep of Umatilla on Friday. ... Roseburg junior Kami Gibson had one of the season's best performances in a doubleheader sweep of visiting Ashland on Saturday. In the first game, Gibson hit two home runs as the Indians won 10-0. In the second game, she hit another homer and pitched a one-hitter with 17 strikeouts as Roseburg rolled 10-0.