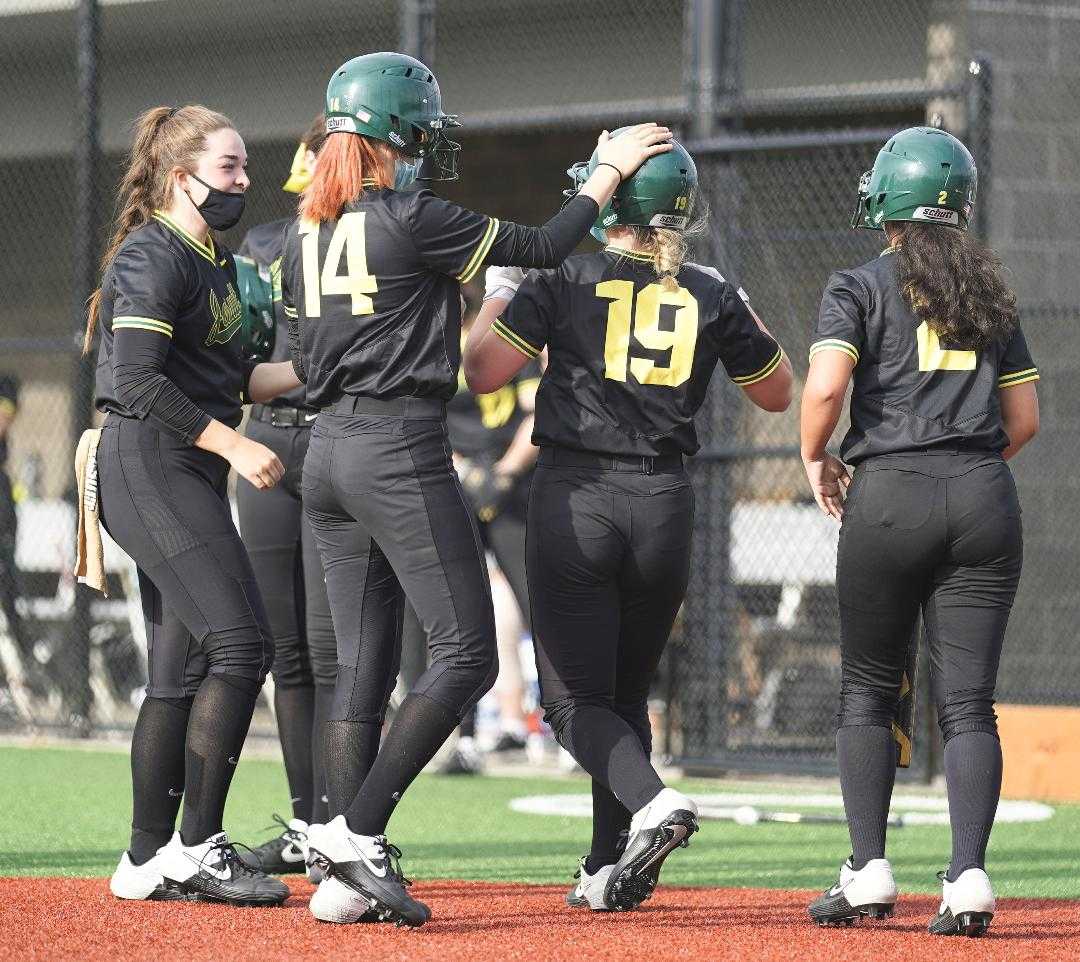 Heading into Wednesday's Metro League softball showdown at Mountainside, no one had to tell Jesuit junior pitcher Ainsley Davis about a Mavericks offense that was averaging 14.0 runs during a six-game winning streak.
"We've been watching them, and they've been scoring a lot of runs," Davis said. "We were like, 'We've got to score first. We've got to jump on this team right away, and execute pitch by pitch.'"
That's exactly how it played out for the Crusaders (7-0, 5-0), who scored the first five runs and coasted to an 8-2 win behind Davis, who scattered seven hits and struck out 10 to keep the explosive Mavericks (6-2, 3-1) in check.
"Going in, I was feeling a little bit nervous," Davis said. "It was a little bit more competition than we've faced in the last couple weeks. It definitely tested me a little bit mentally. It got me to push myself to execute. I'm feeling really good about the win."
Davis has started every game this season for Jesuit. In 43 2/3 innings, she has given up 35 hits, struck out 56 and has an ERA of 2.40.
"She's been pitching well," Jesuit coach Jim Speciale said. "There are a couple pitches she's getting away with because she's keeping it low. From her freshman year to her junior year, she's done an outstanding job."
Jesuit scored eight runs on 10 hits against Mountainside freshman Izzy Enright. Senior Ellie McClaskey went 3 for 4 with a home run and three RBIs, freshman Mary Cunningham ripped a two-run homer and Davis and junior Georgia Corey each had two hits and an RBI.
It was the first home run of the season for McClaskey, who is batting .545 with a team-high 12 RBIs.
"I just want to get a good last season, where I know we all just tried our hardest, just to see how far we can make it," said McClaskey, who has played on varsity since her freshman year. "We lost a lot of good players, but we also gained a lot of good new players. I just want to test the full potential of this team."
Speciale likes what he has seen from McClaskey, one of two seniors in the starting lineup, the other being third baseman Madi Mayhew, who has signed with Hardin-Simmons University.
"Ellie's been playing like a senior that goes, 'We're not playing for a state championship or a Metro League championship, I just want to go out and have fun,'" Speciale said. "She's playing relaxed. She's had some back problems, but she's fought through it."
After making the second round of the 6A playoffs in its first varsity season in 2019, Mountainside was eager to take another step in 2020 behind college-bound seniors Kacie Schmidt (Oregon Tech) and Cassidy Kachnik (Academy of Art). The canceled season was a major setback for the Mavericks.
"It was a really big year because we had such a good group of seniors," coach Jacy Jukkala said. "It was like, back to ground zero."
With only one senior on the roster this season – starting right fielder Kristin Isenhart – Mountainside has started to regain some traction. The Mavericks dropped their opener to Tigard 9-2 but found a groove during the six-game winning streak.
Junior third baseman Addison Kachnik is leading a dynamic offense. She entered Wednesday's game hitting .536 with seven home runs and 22 RBIs and went 2 for 4 with a double and an RBI.
"Through my career I've had some pretty darn good D-I hitters, and she's up there with them," Jukkala said. "Ninety-percent of the time she doesn't get cheated on an at-bat. That's what I appreciate about her the most. She goes up there looking for something to hit."
Kachnik also is developing into a leader.
"The girls really look up to her because they know what a great player she is," Jukkala said. "She learned from her sister, and now she can bring that."
Mountainside also is getting plenty of offense from sophomore shortstop Ashley Goodale (.696, 17 runs, nine stolen bases) and junior catcher Lizzy Bradford (.500, four doubles, 14 RBIs).
Junior center fielder Megan Landes had the Mavericks' biggest hit Wednesday, belting a solo homer to left field to lead off the fourth inning.
Barlow surging
Two unbeaten 6A teams will collide Friday when Jesuit plays host to Barlow.
The Bruins ran their record to 8-0 on Wednesday with a 7-2 win over Mt. Hood Conference rival Central Catholic (6-2) at Delta Park. The win put Barlow at 6-0 the conference, one game ahead of the Rams.
Senior Sammie Pemberton hit a two-run homer in the third inning as the Bruins built a 6-0 lead. Senior Olivia Brown went 4 for 4 and senior Natalie Harrop pitched a four-hitter with nine strikeouts and one walk.
Barlow is hitting .521 as a team, led by senior Chloe Hiltsenteger (.731, eight RBIs), Pemberton (.643, five doubles, one triple, one home run, seven RBIs), Brown (.613) and senior Bergan Grant (.467).
"Honestly, it's just girls having productive at-bats," Bruins coach Rob Gehrke said."It's pretty fun to watch. We have some really good athletes. I've got 10 seniors, and they're just tight. They've been together four years."
Harrop is 7-0 with a 1.54 ERA. In 41 innings, she has allowed 40 hits, struck out 49 and walked five. She threw a perfect game against Centennial and has two two-hitters.
"She's not a flamethrower by any stretch of the imagination, but I like to compare her to Greg Maddux," Gehrke said of Harrop, who has committed to Cardinal Stritch University in Wisconsin. "She hits her spots, doesn't make many mistakes."
Other Barlow players heading to college programs are Pemberton (Southern Oregon), Brown (Northwest University in Seattle) and Bailey Haga (Mt. Hood Community College).
Warriors prevail
Reigning 2A/1A champion North Douglas held off Monroe 7-6 in a Special District 3 showdown Tuesday.
The Warriors improved to 6-0 and handed the Dragons (6-1) their first loss of the season.
North Douglas built a 5-0 lead and survived Monroe's comeback bid. Junior Haili Vaughn hit a two-run homer, junior Samantha McDowell had a solo home run and sophomore Asia Ward and sophomore Cydni Dill each went 2 for 3 for the Warriors.
Vaughn earned the win in the circle. She gave up five runs and five hits, struck out 13 and walked before yielding to freshman Bella Black, who came on in the seventh inning to get the save.
Monroe, which entered averaging 17.7 runs per game, ended North Douglas' streak of four consecutive shutouts.
Glide freshman
Freshman Madison Weber has provided a spark for 2A/1A Glide, which has scored a state-leading 150 runs in an 8-1 start.
During a five-game stretch last week, Weber went 16 for 21 with seven doubles. In a 16-7 win over Bonanza, she went 4 for 4 with three doubles.
Glide made the 2A/1A quarterfinals in 2019.
Bucks stop here
Bend freshman Addisen Fisher slammed the door on hot-hitting Pendleton in the first game of a doubleheader Saturday.
Fisher struck out 16 of the first 17 batters she faced and finished with a no-hitter and 17 strikeouts in a 3-0 win. The Buckaroos, who averaged 10.8 runs in winning their first four games, did not have a runner reach second base.
Fisher also had six hits in a three-game stretch from Thursday to Saturday for the Lava Bears (4-1).
Tiger slugger
Sophomore Abby Carsley is on a tear for 6A Newberg, which has opened the season 6-0.
In the team's first five games, Carsley batted .625 with six home runs, 19 RBIs and four stolen bases. She hit a three-run homer and a grand slam in an 11-1 win over Century. The following day, she belted a two-run shot as the Tigers thumped Glencoe 12-1.