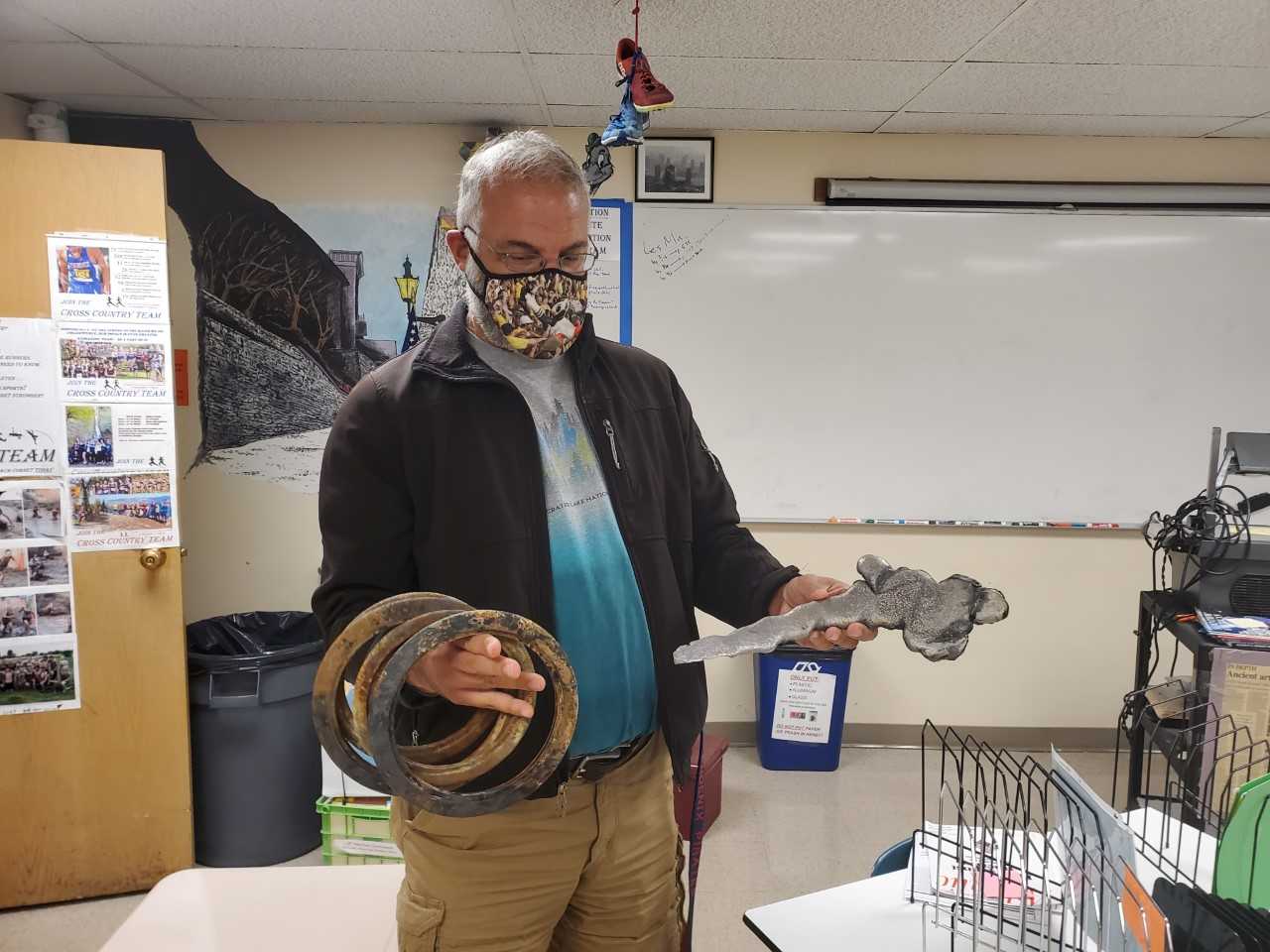 About one month after wildfires devastated their community, students at Phoenix High School are finding a sense of normalcy in their return to athletics and activities.
Phoenix planned to begin OSAA Season 1 activities last month, but on the day workouts were scheduled to start, wildfires broke out that destroyed about 2,500 residential structures in the Phoenix-Talent School District. Roughly 30 percent of the students, and 25 staff members, lost their homes.
Phoenix delayed the start of comprehensive distance learning for two weeks and pushed back the opening of Season 1 workouts to Oct. 5.
"Almost all of our programs are practicing on a regular basis, and we're also to the point where we're also starting activities," athletic director Dave Ehrhardt said. "Kids want to be engaged. All of our numbers have been solid."
Phoenix girls soccer and softball coach Stephanie Vandenbusch said the return to activity has been "huge" not only for those directly affected by the fires, but for "everyone together." She said 10 soccer players and two softball players lost their homes.
"A lot of girls are feeling almost guilty in a sense that they still have everything, but their friends and teammates have lost everything," Vandenbusch said. "It's been great seeing everyone coming together and supporting one another."
Phoenix has been overwhelmed by the outpouring of support from all over the state, from about $1 million donated to a fire support fund – half of which has been handed out to families in the district – to a wide array of contributions to the high school's athletic programs.
"We've had so many generous offers for people to replace things for kids," Ehrhardt said. "It's just been amazing what people have done. People have been so generous."
One of the first to reach out was North Valley athletic director Tim Sam. Through Sam and Ehrhardt, North Valley coaches connected with their counterparts at Phoenix, offering gift cards and letters of support.
"Before it was over, I think it was 10 different sports or activities that reached out," Ehrhardt said.
Grants Pass band members delivered individual gift bags for the Phoenix band. South Umpqua did a supply drive, as did Sweet Home, located more than 200 miles away.
Hidden Valley's girls soccer team sent $!,500 in gift cards and Crater's girls soccer program donated $1,000. Phoenix alumni in Portland set up a fund at a local soccer store to provide each girls soccer player with a $200 credit.
Former Roseburg softball coach Tony Campos, who coaches the Northwest Bullets club program, donated new equipment, driving down from Portland to drop it off.
"It's just been overwhelming," Vandenbusch said. "People want to help and have followed through."
Ehrhardt said the school is still taking inventory on equipment that was lost in the fires.
"We bought brand new track uniforms last spring, about $10,000 worth," he said. "A lot of those went out, and because of COVID couldn't get returned, and then kids lost them in the fires."
In the rush to evacuate, athletes had to leave valuable gear behind.
"Some of my friends had three minutes and some of them had several hours, so the needs are varying, specifically with athletic stuff," Phoenix senior Josie Bolstad, a three-sport athlete, told the Medford Mail-Tribune. "One of my friends was able to grab a softball bat while another, I don't know if she was able to grab anything at that point."
Ehrhardt said track assistant Eric Richey, who coaches the throws, was able to recover some of the implements he took home, but two of the shots melted in the fire.
"Right now they're two blobs of lead," Ehrhardt said. "They estimated it had to be at least 2,000 degrees for that to happen."
Vandenbusch has been running workouts for soccer twice a week and softball once a week. She said the practices have been especially comforting to players whose living situations were turned upside-down.
"It's meant everything to them right now," she said. "It just gives them something to look forward to, something that doesn't remind them every day of what happened. It makes them happy and gives them some kind of normalcy."
Despite having students scattered after the fires – some are as far away as Utah and Southern California, others are in places such as Eagle Point, Grants Pass and Roseburg – Phoenix has had an 80-percent attendance rate since starting distance learning, according to Ehrhardt.
Phoenix is among the districts to receive a special waiver from the state for in-person learning and is hopeful to move forward with a hybrid model in the near future.
"That's something we're looking forward to, and something we truly need," Ehrhardt said.
The Almeda fire roared to within one block of the high school and a few blocks from an elementary school and the district office. Firefighters set lines around the high school to protect it.
Considering Phoenix is scheduled to move into a new $55 million high school building on the same property in January, the losses could have been much worse.
"It's bad as it is, but if that had happened, it would've been catastrophic," Ehrhardt said.