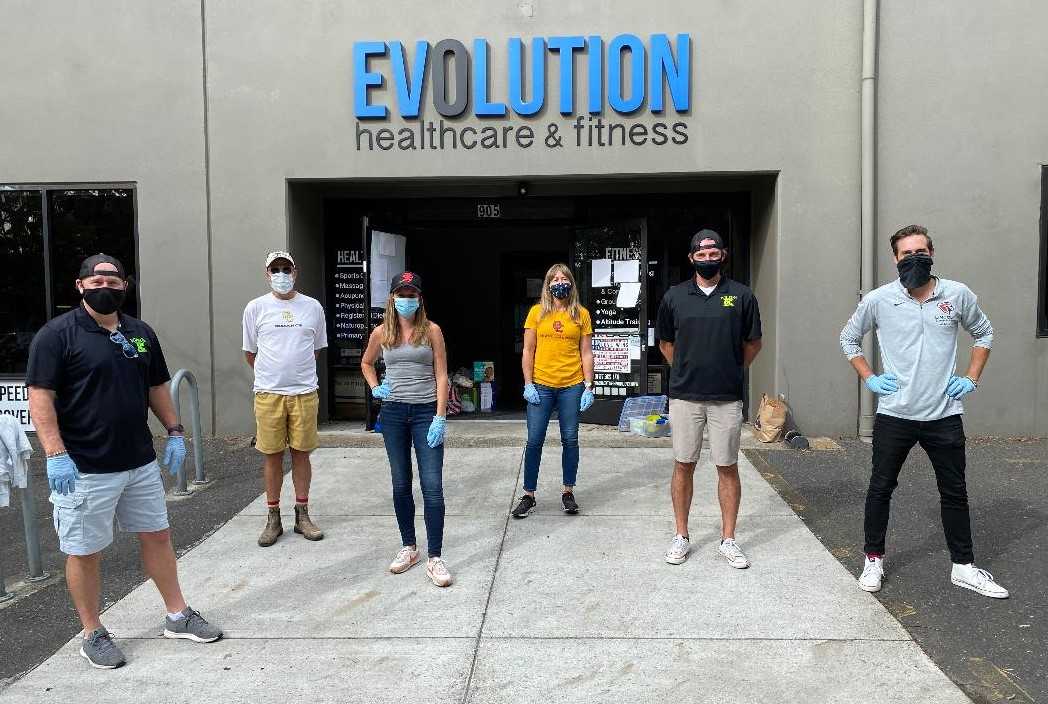 It's been a while since high school cross country and track teams have been able to pull together in a combined effort.
So when the teams at Wilson, Central Catholic and Lincoln got a chance to do so last weekend, they rallied in a big way.
The programs collaborated Saturday for a donation drive to aid wildfire evacuees. They brought supplies to a southeast Portland fitness center, where they were hauled off to distribution centers throughout the area.
"It was a steady stream for over an hour," Wilson cross country and track coach Thor Esbensen said. "It was a community, family affair. It looked like a mountain of stuff. It was pretty cool."
The outreach gave the athletes a much-needed sense of purpose, according to Esbensen.
"One of the biggest things they're missing about not being on a team this fall is feeling like they're giving to a greater cause," Esbensen said. "So many of the kids, when they're competing, they've got to believe that they're doing it for something greater than themselves. That's for the team. I think there's a little bit of longing to contribute to something bigger."
Robyn McGillis, Central Catholic's girls cross country and girls track coach, said the three schools had been looking for "creative ways to engage" the athletes through the fall season. That included not just virtual matchups, but charitable work.
"We were on the search for something to do, and this was kind of obvious," McGillis said. "It kind of presented itself with everything going on."
The cause also hit close to home. The Breitenbush cabin of Lincoln assistant coach Marie Markham's in-laws was destroyed in the wildfires. And fire came within about one mile of the home of Esbensen's parents, who live near McIver Park in Estacada, forcing them to evacuate.
Finn and Dana Esbensen packed up the night of Sept. 15 – along with their four horses, four dogs and cat – and found refuge on a friend's property in Battle Ground, Wash., in the wee morning hours of Sept. 16.
"I didn't even realize how bad things were getting up there," Thor Esbensen said. "I called my folks and they said they were loading up the horses. It was a little bit of a wild ride. It's a little unnerving to have your 70-year-old parents camping at a ranch in Washington during apocalyptic fires and a pandemic."
What started as an effort by the cross country and track coaches – led by Esbensen, Central Catholic's McGillis and Dave Frank and Lincoln's Eric Dettman and Markham -- expanded through their respective high school communities through phone messages, emails and internet posts.
"At first, it was just us sending it to our teams, and then we were like, 'Why don't we go a little bit bigger?'" Esbensen said.
After meeting with her team on Zoom, McGillis posted a newsletter on Instagram detailing the type of items that were needed. The response was impressive as donors, including Wilson principal Filip Hristic, brought supplies such as toilet paper, pillows, bedding, sleeping bags and flashlights to Evolution Healthcare & Fitness in southeast Portland.
"It was just things you might not think about when you're packing up in a hurry," Esbensen said. "You're thinking pets and photo albums, and the next thing you know, you're in a parking lot wishing you had grabbed a pillow and a blanket."
Rather than raising money, McGillis said the coaches were looking for a tangible way for the athletes to contribute so they could feel more a part of the effort. She said she was "overwhelmed" by the items that were donated.
"I thought it was great," McGillis said. "When we were collecting items, Dave Frank just kept repeating, 'This is amazing,'"
Esbensen said the outreach brought positivity in a difficult time.
"There's a lot that's going on that maybe we feel like we can't do much about, and some things you can," Esbensen said. "This was something actionable, in the moment."
It also gave him a chance to finally see some of his athletes outside of a computer screen.
"For some of those kids, it was the first time I've seen them since March 13," Esbensen said. "It was grabbing a bag of toilet paper and a pillow from them, and then saying, 'Hey, it's really great to see you face to face.'
"We don't know when we're going to get back together, but we're going to get back together. That's where we're putting our belief right now."