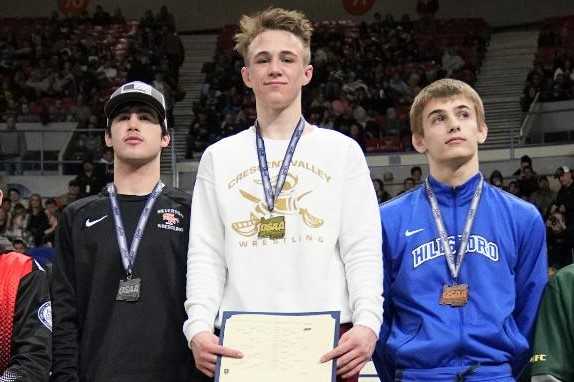 Since the state tournament turned out the lights Feb. 29, wrestling has gone virtually dark in Oregon in the shadow of COVID-19.
There is at least one mat, though, that is seeing plenty of high-level competition.
Crescent Valley coach Chad Lamer cleared out the garage at his house and put down a mat so his state champion sons – Legend, Chance and Daschle – can train against one another.
"I guess we're kind of lucky," Chad said. "Luckily they're about the same size, so that works out good."
Legend, a four-time state champion, wrestles in college at Cal Poly. Chance, a three-time champion, and Daschle, who won a title as a freshman last year, are doing their best to stay ready as the Raiders hope to chase a 5A three-peat.
"It makes a huge difference," Chance said of training with his brothers, "because I have one that I can beat, and one to get my butt whooped by. Legend takes me down a lot. I'm lucky to score on him."
Still, it's no substitute for the wide range of tournaments that wrestlers usually see in the offseason. Without that competition, now more than ever, wrestlers are relying on their self-discipline to stay sharp.
"I feel like during this quarantine, I've really found like a new level of motivation to get better," said Chance, who has won titles at 106, 113 and 126 pounds. "I've been working harder than I ever have been, like with conditioning and strength training. I'm just trying to get in peak shape."
Chad said the lack of competition "has got to affect us."
"I don't know percentage-wise, how much less time the kids are putting on the mat, but it's got to translate to kids not improving and getting better," Chad said. "The state overall, it's definitely going to hurt wrestling. They're not even able to do their other sports. Just athletically, and strength and conditioning-wise, it all makes an impact."
In the OSAA's revised plan for 2020-21, wrestling practice begins Dec. 28. Given the nature of the sport, though, there are many hurdles to clear before wrestlers are permitted to mix it up again.
And then there's the matter of the state tournament. The OSAA plan allows for a "culminating week" at the end of the seven-week regular season, but it remains unclear if championship tournaments will be staged.
The way that plays out will have a profound effect on Crescent Valley, which is loaded with wrestlers who are on course to be four-time state champions. Other than Chance and Daschle Lamer, there are juniors Gabe Whisenhunt and James Rowley and sophomores DJ Gillett and Hayden Walters.
"All those guys want to have that opportunity to be a four-timer," Chad said. "It's really important that we get a season in."
Crescent Valley had not competed since the state tournament before a dozen of them participated with their Mat Sense club team in the Midwest Iron Man Duals in Beresford, S.D., July 17-21. Chance went 5-0 in the tournament.
"It definitely was important for me because I had the toughest kids in the nation at that tournament," said Chance, who has not committed to a college but said his top four are Oregon State, Cal Poly, Michigan and Nebraska. "It was definitely good to get some wins over those guys, get some more recognition for college coaches."
Chad said of Chance's performance: "Normally he'd be doing Fargo and Junior World Team Trials, and some big tournaments, so for him to be able to get some matches in, it was awesome."
Before the duals, Chance and Daschle also got a chance to train with their childhood club in South Dakota, where they lived before moving to Oregon seven years ago. They attended three "lockdown" camps.
"It was about three practices a day, so it definitely helped me get into the fit of things before the duals," Chance said.
Possible upcoming tournaments for Crescent Valley include the Super 32 Challenge Oct. 24-25 in Greensboro, N/C., and USA Wrestling Preseason Nationals Oct. 31-Nov. 1 in Des Moines, Iowa.
Chad said the Super 32 Challenge is "really important to get to if you want to try to make a name for yourself to go to college. We're hoping those tournaments can happen. That's what we've got on our radar right now."