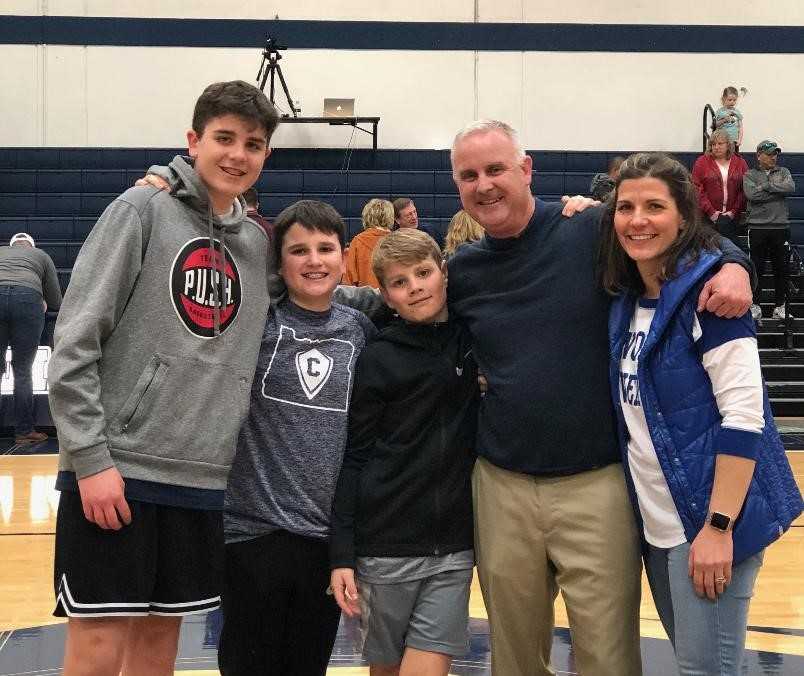 Sean Kelly fully expected his Concordia University women's basketball team to bounce back in a big way from a rough 2019-20 season.
"It was going to be a fun year," the coach said. "We were going to have a lot of success in the future."
But Kelly and the Cavaliers were dealt a devastating blow in February when they learned that the NCAA Division II school in northeast Portland was closing its doors for good.
"It was brutal on everybody," Kelly said.
Now, after coaching women's college basketball for 21 seasons – the last six as the head coach at Concordia – Kelly is ready to start a new chapter. He has been hired as the boys coach at 5A La Salle Prep, succeeding Sean Christensen, who coached the Falcons for the last four seasons.
It is the first time Kelly will coach high school boys since assisting at Incline (Nev.), his alma mater, in the mid-1990s. He assisted Dr. Jim Sollars with the University of Portland women's team for 15 seasons before taking over as the coach at Concordia, where he went 66-103 in six seasons.
"I never thought of going back to coaching on the boys side," Kelly said. "But the school has always appealed to us. It just lent as a perfect opportunity for me to keep coaching and stay involved in an institution that we have a lot of respect for."
It also gives him a chance to potentially coach his sons in high school. He has trained Aidan, Kiernan and Teagan – entering eighth, seventh and fifth grades, respectively – in basketball, but with his role at Concordia he did not anticipate coaching them in high school.
"It's funny, I never even thought of it at all," Kelly said. "I contemplated a lot, and I'm like, 'This could be a lot of fun.' I love to coach, and I love to work individually with players and build teams. It's a challenge, a little bit like Concordia going Division II."
Kelly became acquainted with La Salle Prep in recruiting players from the school's powerhouse girls basketball team. He also got an inside look at the school a few years ago when the family attended Falcon Night, an event in which CYO football players attend a La Salle Prep game.
"We really hit it off with a lot of the families in the stands," Kelly said. "It was like, 'We might see ourselves here.'"
After graduating from Incline, located in the Lake Tahoe area, Kelly played in college at Pacific Lutheran. The 5-foot-8 Kelly was the starting point guard for two seasons and shot 42 percent from three-point range during his career.
He had no plans to coach, and was headed to New York to become a stockbroker, when his father fell ill and he returned to Nevada. He became an assistant at Incline, where his brother Tim was on the team. When Tim went on to play at Pacific Lutheran, Sean went along, assisting in the program for three seasons.
Tim played professionally in Australia and is now the boys coach at Incline.
Sean left Pacific Lutheran in 1999 to coach at Portland under Sollars, whose 28-year run as coach ended in 2014.
"Coach Sollars was a great influence," he said. "More than anything, he taught me just the lifestyle of being a coach, and how you have to prioritize yourself and your family."
He took over at Concordia in 2014. During his tenure, the team's best season was 2018-19, when the Cavaliers went 16-13 and made the quarterfinals of the Great Northwest Athletic Conference tournament. The team struggled to a 6-22 record last season, finding out that the school was closing late in the season.
"That was a tough week," Kelly said. "We had six games left and we won two of them, and I was amazed at that, that the girls kept it together and stayed strong for each other."
Kelly said he had got calls from Division I women's coaches about joining their staff, but after learning about the opening at La Salle Prep, he couldn't pass it up.
"It just really appealed to me and my family and our values and what we stand for," he said. "It's a place where kids want to go to school and families want to send their kids there."
Kelly, his wife Marianne and their sons live near Normandale Park in northeast Portland. Kelly said he is hopeful that his sons, who have attended St. Rose School in northeast Portland, will join him at La Salle Prep. They play basketball, baseball and golf.
La Salle Prep went 64-41 in the last four seasons under Christensen, including 13-12 last season. Kelly is getting to know his players in limited workouts this summer.
"I hope we get to play this year because I love our seniors," he said. "We have some really talented seniors. And we have a lot of really good sophomores who have a shot to play."