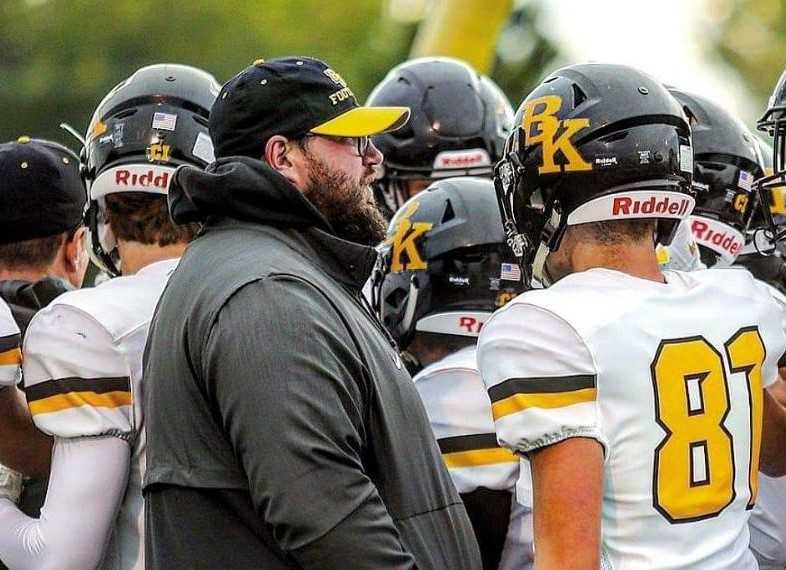 The 2019 season was tumultuous for Newport football.
Coach Rod Losier resigned three weeks into the season, and the Cubs – coming off a 6-3 record in 2018, their most wins in seven years – had two interim coaches, slumped to 2-6 and missed the 4A playoffs.
Now the Cubs are trying to pick up the pieces and move forward, and they are doing it with a first-time high school head coach in Dan Schaffeld.
"I want to switch that record around," Schaffeld said. "I want the community to buy in. I'm sure after last season, the whirlwind of all the stuff they went through, the community is looking at this program and saying, 'How can we buy into it?' I'm not worried about what happened last season, I'm more worried about what we're going to do this season."
The 6-foot-4, 295-pound Schaffeld grew up in Boise, where he was a standout lineman for Idaho power Bishop Kelly. He graduated in 2008 and played in college at Montana-Western, an NAIA program.
He coached at middle schools in Montana for two years before returning to Boise and joining the staff at Bishop Kelly, where he was an assistant line coach the last three seasons.
He is hoping to bring to Newport the same winning culture developed at Bishop Kelly under longtime coach Tim Brennan. The team has won five state championships in the past two decades.
Schaffeld said that the culture and Brennan's coaching principles have "rubbed off big-time" on him.
"I want to take that and be able to transfer it here," Schaffeld said. "They have a huge tradition of winning. If we didn't go to the state championship, we considered it a down year. Bishop Kelly has no rival, except for everybody. Everybody always plays their best game against them."
Schaffeld plans to scrap Newport's spread offense and install the same power-I running game that has been so successful at Bishop Kelly.
"I want to be able to just be a hard-nosed, ground football team, and build tough kids out of it," Schaffeld said. "I've seen it be successful at Bishop Kelly for all those years. I think no matter who you've got, you can put the kids in the right positions to be successful out of that offense."
Because of the shutdown, Schaffeld has had little chance to evaluate his players, other than video from last season. He is especially eager to start working with his linemen.
"I've been itching," said Schaffeld, who has been working virtually as a teacher at Yaquina View Elementary School and moved to Newport last week. "I've been watching film for the last two months ever since I got hired. I usually get a little frustrated at watching the linemen, but I think that's just part of being a coach."
What stands out to him when watching the Cubs on video?
"I've seen some speed," Schaffeld said. "I've seen some kids just be all-out athletes. With a little bit more discipline and accountability, I think this group potentially has a chance to be unstoppable. I've just been hearing great things about athletes in the school, all the grades. We've got talent, we've just got to put them in the right position to be successful."
Schaffeld's fiance, Megan, and nine-month-old daughter, Bonnie, have yet to join him from Boise. Schaffeld is getting settled in the community but has yet to meet his players and build a coaching staff. He plans to be the offensive coordinator and is considering candidates for defensive coordinator.
Schaffeld and a coaching colleague from Montana, Justin Walker, both applied for the Newport position. Walker landed a teaching job at 3A Taft and will be part of the coaching staff at the Lincoln City school.
Schaffeld said he is hoping to face Taft in a scrimmage or jamboree.
"He's an Xs and Os genius," he said of Walker, "but I think culture always beats strategy, in my eyes.
"It really just comes down to culture. We want to raise these kids to be productive members of society, teaching them about discipline and accountability and mental toughness."