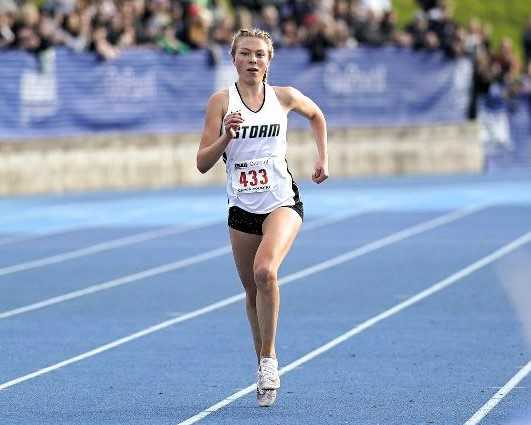 A year ago, after switching from 5A to 6A, the odds were stacked against Summit's girls extending their state track dynasty.
Still, the Storm made a strong bid for a 13th consecutive state championship, leading the 6A meet nearly the entire way before settling for fifth place, five points behind champion South Eugene.
This year, with a loaded senior class, Summit was aiming to reclaim its perch, only to be foiled by the coronavirus pandemic.
"That's the hardest part. They all knew they were in a position to win it this year," Summit coach Dave Turnbull said. "Granted we went from 5A to 6A last year, but they still were the team that lost that streak of championships, 12 in a row, and that's a hard pill to swallow."
Turnbull said the Storm had at least a dozen girls who were ready to score points at the state meet, which would have been this weekend. The team entered 2019 with a different mindset.
"Last year we didn't set a goal of winning state because we lost so many seniors, and the team didn't want that pressure on them, and I listen to my captains," Turnbull said. "But this year we were verbal. We were going to go out and try to win both boys and girls, because we have a great senior squad."
The national-caliber cross country team – which has won 12 consecutive state championships, including two since moving up to 6A – provided a nucleus for the girls team.
Senior Fiona Max, the two-time 6A cross country champion, was shooting for a third title in the 3,000 and her first in the 1,500. She was runner-up in the 1,500 the last two years, coming within .14 seconds of last year's champion, Madison Elmore of South Eugene.
"I can't tell you that she was hyper-focused on the 1,500, but knowing Fiona, I'll guarantee she was thinking about that 1,500," Turnbull said of Max, who holds school records in the 1,500 and 3,000 as well as in cross country. "We strategized what she was going to do this year so she could do the double at state and be fresh enough to do it. Regardless of if she won them both or not, she was going to score a bundle of points."
The Storm also expected points from Max's twin sister, Isabel, who was third in the 800 at state last year, and sophomores Teaghan Knox (fourth in 1,500) and Magdalene Williams (sixth in 800).
The Max sisters, who have signed with Princeton, have been foundational to Summit's success in track and cross country throughout their careers.
"They're such exceptional people," Dave Turnbull said. "They always talk about their teammates first. They will always talk about their competitors first. They have a maturity that most high school kids don't."
The field crew featured juniors Kohana Nakato (second in javelin) and Kitt Rupar (12th in discus) and seniors Asha Turnbull (fourth in triple jump) and Leah Richards, a transfer from Bend who was fifth in the triple jump and 11th in the long jump last year.
Asha Turnbull and Richards, who will be college teammates at Oregon State, would have formed a devastating combination in the triple jump this season. Richards, who won the 5A triple jump as a sophomore, has a personal best of 37-5 ½. Turnbull owns Summit's school record at 37-11 ½ and was ready to challenge 40 feet this season, according to Dave Turnbull, her father.
With the shutdown, the Storm not only missed out on a chance at a state championship, but also on the program's traditional bonding activities, such as sleepovers in gyms on long road trips.
The team plans to salvage one of its traditions Thursday when Turnbull plays host to senior night at his home. As coaches stand on a deck overlooking the 10-acre spread, Turnbull will speak about each senior, awarding them with Summit Track and Field blankets and batons.
"The way we run things as a family, I can't do a virtual thing for seniors. I just can't do it," Turnbull said. "It's just an opportunity to see them face-to-face and thank them."