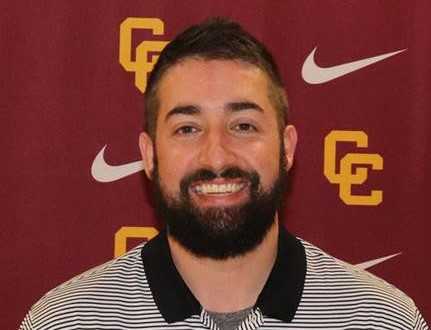 As a ballboy for Oregon City girls basketball in the 1990s, David Duong got a behind-the-scenes look at one of the most dominant high school programs in the nation.
Through his aunt – Stephanie Coughlin (Etherly), who played and coached at Oregon City – he saw how a basketball team can excite and inspire a school and community.
Now, as a first-time head coach, Duong is looking to create something similar for the Lakeridge boys team.
"I remember growing up and just the buzz and the excitement about what was going on in our community," said Duong, who grew up in Oregon City and graduated from Gladstone in 2004. "Hopefully, we can build a little buzz at Lakeridge and get this thing going in the right direction."
Duong has assisted at Molalla, Gladstone, Clackamas and most recently Central Catholic since starting his coaching career 10 years ago. He succeeds Fred Gold, who went 37-80 in five seasons as the Pacers' coach.
"The No. 1 thing that appeals to me is just the community feel you get there," Duong said. "It's a 6A school that has a strong community feel to it. Sometimes you don't get that. It kind of takes me back to my time at some of those smaller schools."
Since winning 16 games in 2016-17, Lakeridge has hit a rough patch, going 14-56 in the last three years. The Pacers finished 5-18 last season, 0-12 in the Three Rivers League.
"We've got to get that excitement back, make sure the kids are having fun, and I think we can get back there," Duong said. "There's definitely the kids and athleticism you need to have a chance to compete at that level."
Duong got started at 4A Molalla, where he spent two seasons as the freshman coach under Ryan King. He assisted at 4A Gladstone for one season before a four-year stint under King at Clackamas, where the Cavaliers made three 6A tournament appearances, finishing as runners-up in 2017.
He spent the last two seasons assisting David Blue at Central Catholic, an experience that he said made a profound impact on him.
"Coach Blue and his staff have created such a great environment," Duong said. "It's one of the things that makes it tough leaving, those relationships you build."
Duong plans to install a high-octane offense at Lakeridge, borrowing concepts from David Abderhalden, his former coach at Chemeketa Community College. When Duong stepped away from coaching for one season in 2017-18, he attended practices at Chemeketa, a team known for triple-digit scoring under Abderhalden.
"He's a great offensive mind," Duong said.
Duong said the Pacers' tempo will be similar to that of the teams at Clackamas during his time there.
"Stylistically we'll be a little bit different from what they were trying to do last year," Duong said. "Really trying to push the pace and be aggressive on both ends. The Three Rivers League is a very defensive-minded league. It'll be a great challenge for us.
"It's a fun brand of basketball to play and enjoyable for all the fans and students and parents to come out and watch. We're not going to play with the rear-view mirror. We're going to move forward."
Duong has yet to fill out his coaching staff. He said he has reached out to King, who went 98-37 in five seasons at Clackamas (2012-17), "to see if I can get him to help out a little bit."
Clark Sheehan, a 6-foot-3 junior forward, is the only starter eligible to return next season. The program is deep, though, and will be boosted by a strong incoming freshman class.
Duong said he is encouraged after watching video of the team from last season.
"I like what I see in terms of athleticism and guys getting after it," he said. "They're eager to get going. I'm excited that they're all champing at the bit, as am I."