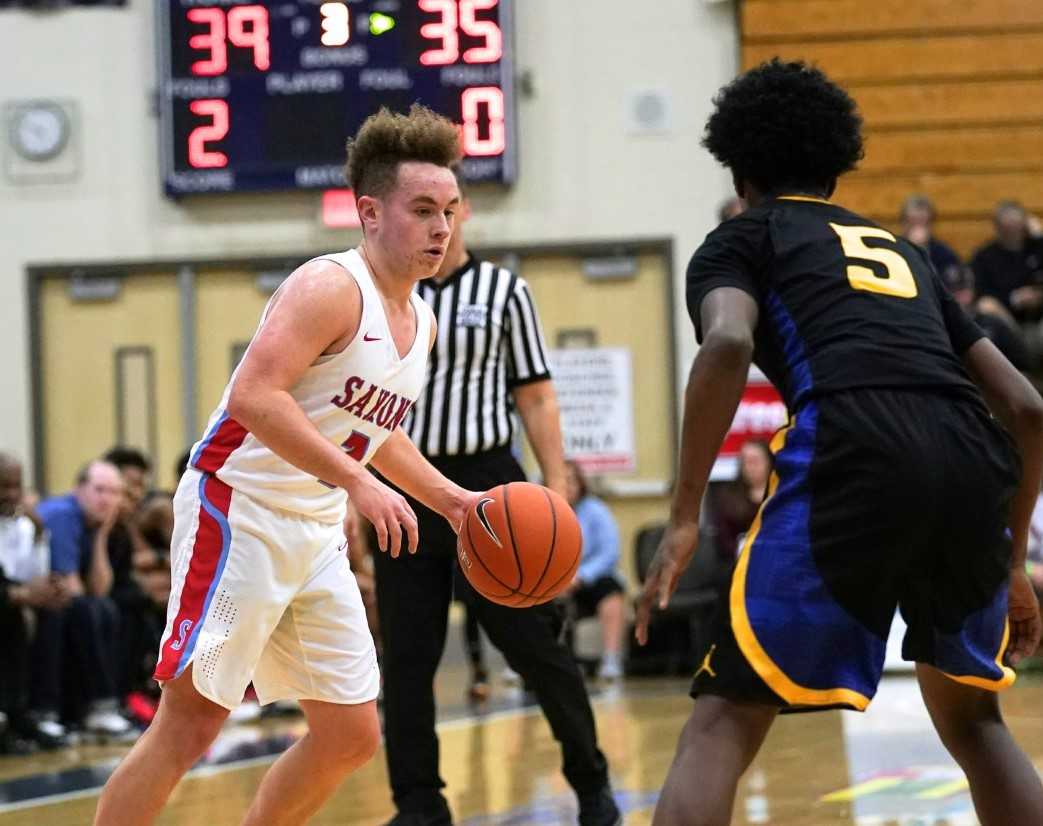 As the only team from outside the Portland area entered in the OSAA/OnPoint Community Credit Union 6A boys basketball tournament this week, South Salem is bit of a wild card.
The second-seeded Saxons have not played any of the other seven teams. And with three transfers in the starting lineup, guided by a first-year coach, they are mysterious bunch.
They would like to keep a low profile, for now.
"I'm not terribly excited about coming in as the No. 2 seed," said South Salem coach Travis Brown, whose team faces No. 7 Lake Oswego in a quarterfinal at 8:15 p.m. Thursday. "I would prefer to be the Cinderella story."
The Saxons are no strangers to the tournament. They made the semifinals three times in the past six seasons, including last year, when they lost to Jefferson in the final four. But with one starter back from that team, they seemed like a longshot to be a serious player this season.
South Salem retooled on the fly, though, building around veteran senior guard Trey Galbraith. The collection of new pieces has gelled nicely for the Mountain Valley Conference champion Saxons, who enter with a 23-3 record and a 16-game winning streak.
"It's been really challenging putting all the new pieces together, changing the offensive philosophy," Brown said. "I told the boys at one point, because I kept introducing plays, 'I'm going to take some plays and throw them at the wall and see what sticks with you guys.'
"Most of them didn't really know each other. Some of them had played together over the years in AAU, things like that. They've crossed each other's paths."
The 5-foot-9 Galbraith – who averaged 16 points last season playing alongside Jaden Nielsen-Skinner, now at Portland State – is the team's catalyst. He has the ability to break down a defense and to shoot from deep, going 10 of 13 from three-point range in a 39-point performance against McNary this season.
"The kid can shoot the heck out of the ball," Brown said. "He's got the attitude where nobody's really going to mess with him. He knows what he's doing, what he's talking about."
Galbraith (16.8 points) is sharing the scoring load with Cole Hardy (17.2 points), a 6-5 senior guard who was a three-year starter at 3A power Salem Academy, and Nick Zuro (16.0 points), a 6-7 junior forward who moved back to Salem from Ohio, where he was a starter for a small-school team.
The Saxons also start 6-2 senior guard Emorej Lynk – a transfer from 2A Kennedy, where he led the Trojans to the state football title as a running back as a junior – and senior guard Kieran Pruett. Senior guard Isaac Gabriel is the first player off the bench.
"If you take any one of these six guys off my team, they could start for any team we're going to play in this tournament," Brown said.
Zuro and Hardy give the team size and have the skill to play on the perimeter. Zuro is shooting 47 percent from three-point range. Hardy, a post at Salem Academy, moved to guard and has proven to be an effective midrange shooter.
Lynk, who tore his ACL, MCL and meniscus in the state championship football game as a junior, missed the football season but is gradually regaining his athleticism throughout the basketball season.
"The last few weeks I've noticed his jumping, his explosion," Brown said. "He's getting well above the rim now. His speed has picked up."
South Salem's only loss to an Oregon team came against Tigard, a 65-57 defeat on Jan. 10 that was payback for the Saxons' 62-48 win over the Tigers on Dec. 20. But South Salem's schedule offers very little to measure against the state's top teams.
"It's just really in summer ball when we played most of these guys," Brown said. "It's kind of hard for us down here. We don't get the opportunity to play those guys very often."
This week, the Saxons get their chance.
6A boys quarterfinals, Thursday, Chiles Center
No. 9 West Linn (17-9) vs. No. 1 Jesuit (22-4): The teams have combined for nine state championships since 2009, with Jesuit winning five (2009-12, 2019) and West Linn four (2013-16). They split two nonleague games this season: Jesuit won 68-61 at home Dec 20; West Linn won 56-45 at the Les Schwab Invitational on Dec. 28. Jesuit is a contender again despite graduating four starters from last year's title team. The Crusaders have only two in-state losses, to West Linn and Westview. Jesuit senior guard Matt Levis (10.3 points, 6.0 rebounds, 3.6 assists) is the Metro League player of the year. Juniors James Lang (13.5 points) and Liam Ruttledge (13.3 points) lead the team in scoring, making 49 and 54 three-pointers, respectively. West Linn coach Eric Viuhkola, who stepped down after guiding the team to its fourth consecutive title in 2016, returned to the bench this season. The Lions are led by senior guard Micah Garrett (18.4 points, 53 three-pointers) and freshman point guard Jackson Shelstad (14.7 points, 3.4 assists, 4.0 steals, 51 three-pointers).
No. 5 Central Catholic (19-7 vs. No. 4 Clackamas (21-5): The Cavaliers beat Central Catholic in both Mt. Hood Conference meetings, 71-61 on Jan. 17 at home and 62-55 on Feb. 14 on the road. In the second game, the Rams lost standout senior guard Isaiah Amato (Eastern Washington commit) for the season with an avulsion fracture in his ankle. Clackamas has one of the top juniors on the West Coast in 6-9 forward Ben Gregg, a transfer from 2A Columbia Christian who is averaging 21.9 points, 9.0 rebounds and 2.1 blocks and shooting 39 percent from three-point range. The Cavaliers are in the tournament for the first time since finishing as runners-up in 2017. Central Catholic is led by junior guard Darius Gakwasi (16.0 points, 43 points in two playoff games) and senior guard DeRay Seamster (14.0 points). The Rams lost in the quarterfinals last year.
No. 6 Barlow (20-6) vs. No. 3 Jefferson (23-4): Jefferson won the title in 2017, but lost in the final the final the last two years, falling to Grant 63-62 in 2018 and Jesuit 71-66 in 2019. The Democrats are talented and deep, led by 6-4 sophomore guard Lamar Washington (14.9 points, 4.0 assists), 6-7 junior forward Nate Rawlins-Kibonge (13.0 points, 12.6 rebounds, 4.7 blocks), 6-9 junior forward Kamron Robinson (13.5 points) and 6-7 freshman guard Marquis Cook (13.4 points). Jefferson has not lost to an Oregon team, but has not played any of the other 6A quarterfinalists. Mt. Hood champion Barlow has won 15 in a row since a 20-point loss at Central Catholic. The Bruins have senior sharpshooter Jesse White (24.8 points, 67 three-pointers), who is No. 12 on the state's all-time scoring list (2,123), and 6-4 senior guard Evan Inglesby (20.2 points, 59 three-pointers). Barlow lost to Jefferson in the 2018 semifinals and missed the tournament last year.
No. 7 Lake Oswego (18-8) vs. No. 2 South Salem (23-3): Playing a rugged schedule, the Lakers started the season 6-8 but found their groove to repeat as Three Rivers League champions. Casey Graver (11.5 points, 4.5 rebounds), a 6-4 senior guard, is a first-team all-league selection. Senior wing Jack Chlumak (13.3 points, 5.6 rebounds, 3.0 assists), a transfer from Newberg, was a second-team pick. Junior post Trace Salton (13.7 points, 7.5 rebounds) is a force inside. Both teams were semifinalists last year: Lake Oswego lost to Jesuit 52-40; South Salem fell to Jefferson 77-63. The Saxons graduated four starters, including dynamic guard Jaden Nielsen-Skinner, but rebuilt by adding three transfers to their only returning starter, senior guard Trey Galbraith (16.8 points). Travis Brown, an assistant with the team last season, replaced Tyler Allen as coach.
6A girls quarterfinals, Wednesday, Chiles Center
No. 9 Southridge (19-6) vs. No. 1 Beaverton (22-4): The Metro League rivals meet for the third time this season. The Beavers, who lost to the Skyhawks 46-30 in the semifinals last year, ended Southridge's 53-game Metro winning streak with a 55-44 home win on Feb. 4 and clinched their first outright league title since 2002 by winning at Southridge 57-31 on Feb. 28. Beaverton, a semifinalist the last two seasons, has three first-team Metro picks in senior point guard Mary Kay Naro (9.4 points, 6.2 assists, 5.4 rebounds, 2.9 steals) and senior forwards Laura Erikstrup (15.0 points, 6.1 rebounds) and Sydney Erikstrup (11.6 points, 4.5 rebounds, 36 three-pointers). Naro has signed with Boise State; Laura Erikstrup (6-2) and Sydney Erikstrup (6-1) have signed with San Diego and Arizona State, respectively. All four of Beaverton's losses came against out-of-state teams. The Beavers have never won a title. Southridge won titles in 2017 and 2018 but fell to Benson 66-42 in last year's final. The Skyhawks suffered a blow when Stanford-bound Cameron Brink transferred to Mountainside, but senior point guard McKelle Meek, a fourth-year starter, has raised her game. Meek, who will play for her father (Michael) at the University of Portland next season, is averaging 23.1 points per game.
No. 12 Mountainside (18-9) vs. No. 4 Liberty (23-3): Both teams are making their first tournament appearances, Liberty in its 17th season and Mountainside in its second season. Liberty went unbeaten in the Pacific Conference to win its first outright league title. Falcons junior guards Taylin Smith (15.2 points, 3.5 steals) and Livia Knapp (11.0 points) are third-year starters and senior post Clara Robbins (8.5 points, 6.8 rebounds) is a fourth-year starter. Senior guard Bella Hamel (10.0 points, 8.1 rebounds) transferred from Arizona. Mountainside features one of the top seniors in the nation in 6-5 forward Cameron Brink, who transferred from Southridge, where she led the Skyhawks to the last three state finals, winning in 2017 and 2018. The Stanford signee is averaging 20.1 points, 13.4 rebounds, 2.6 steals and 2.6 blocks, shooting 54 percent from the field. The Mavericks start Brink and four sophomores, including Lindsey Wilson (10.0 points) and Halle Hageman (8.9 points, 4.4 rebounds, 4.1 assists, 36 three-pointers).
No. 14 McMinnville (18-8) vs. No. 6 South Salem (22-4): McMinnville is the surprise team in the field, stunning third-seeded West Linn 57-53 in the round of 16. The Grizzlies are in the quarterfinals for the first time in school history. They reached the state tournament site on six previous occasions but were eliminated in the round of 16 each time, the last time in 1999. McMinnville is coached by Sean Coste, who guided Beaverton to second place in 2002. Kylee Arzner (15.4 points, 7.3 rebounds, 2.2 assists, 1.6 steals), a 5-10 junior forward, was a Pacific Conference first-team selection. South Salem is in the tournament for the first time since Evina Westbrook-led teams won titles in 2015 and 2016. The Mountain Valley Conference champion Saxons have the two-time conference player of the year in junior guard Hilary James (16.5 points, 4.2 rebounds, 6.1 assists, 3.1 steals). They have another first-team pick in 6-0 senior post Victoria Stafford (14.0 points, 6.5 rebounds).
No. 7 Sheldon (22-5) vs. No. 2 South Medford (24-3): South Medford beat Sheldon in both Southwest Conference games, 72-58 at home Feb. 7 and 70-60 on the road Feb. 28. South Medford is 0-4 in the quarterfinals since making three consecutive finals appearances, winning the title in 2012 and finishing as runner-up the next two years. The Panthers have the conference co-players of the year in Eastern Washington-bound senior guard Bella Pedrojetti (14.0 points, 44 percent from three-point range) and junior forward Kaili Chamberlin (13.4 points, 4.6 rebounds). Junior guard Toni Coleman (9.4 points, 3.1 steals) led the conference in steals for the third year in a row. Sheldon, which lost in the semifinals to Benson last year, has two fourth-year starters in guard Aly Mirabile (12.1 points, 3.7 rebounds, 5.1 assists, 2.4 steals) and forward Makayla Scurlock (9.4 points). Senior Reilly Kelty (9.7 points, 9.0 rebounds, 2.4 blocks), a 6-3 post who transferred from 4A Cottage Grove, has signed with Portland State.