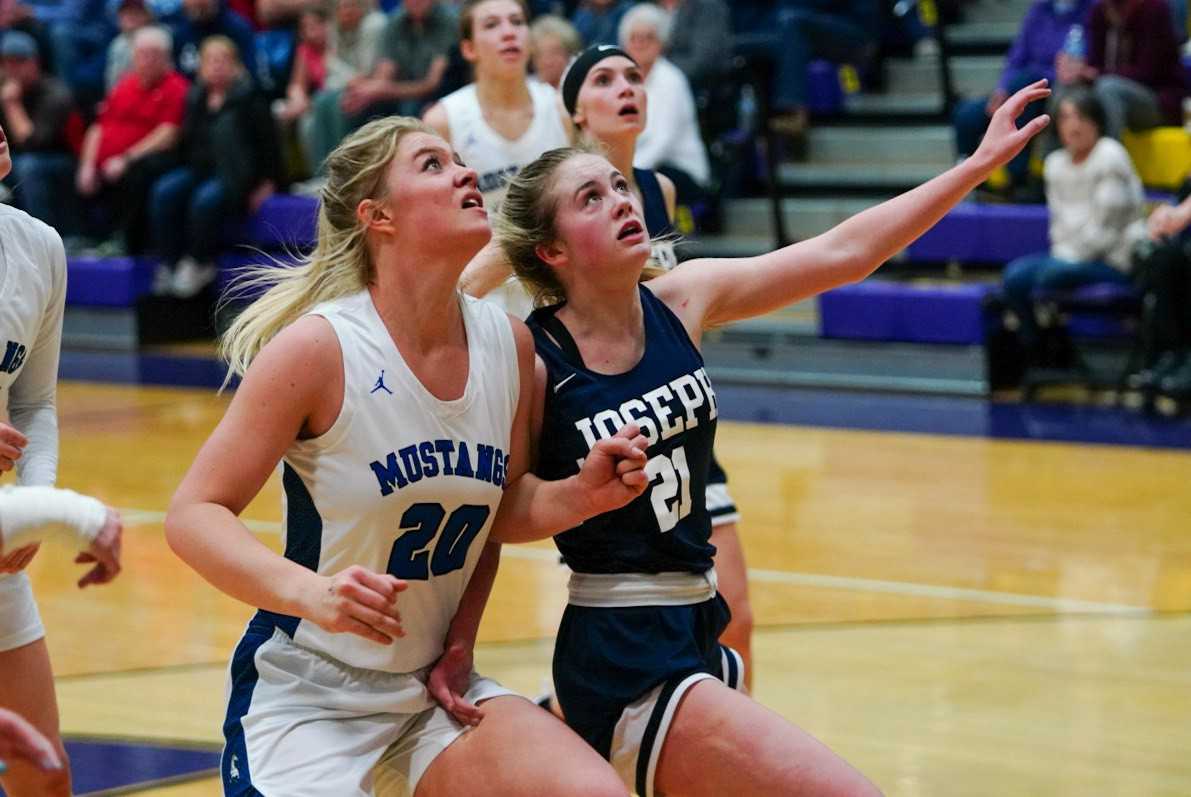 BAKER CITY – Top-seeded and unbeaten Crane overcame a less-than-stellar performance to beat No. 5 Joseph 48-36 in the semifinals of the OSAA/OnPoint Community Credit Union 1A girls basketball tournament Friday at Baker High School.
The Mustangs shot 29 percent (20 of 69) but forced 22 turnovers and dominated the backboards to advance to Saturday's final, where they will go for their first title since 2004 when they face reigning champion St. Paul. Crane defeated the Buckaroos 64-49 on Jan. 25, ending their 49-game winning streak.
"We did not shoot the ball well tonight at all," Crane coach Stub Travis said. "I thought we played hard, but offensively we did not play like we have the past weeks. I was not worried about the game, but I was wondering when we were going to start scoring a basket."
Sophomore guard Kelsie Siegner shot 6 of 21 from the field and finished with a team-high 13 points and nine rebounds for the Mustangs (28-0). Junior post Riley Davis had seven points and 18 rebounds, 14 of them on the offensive end, to lead Crane's 48-31 advantage on the boards.
Crane missed all 13 of its three-point attempts.
"Every team has a bad game in the tournament," Travis said. "We can say we had that game and put it behind us."
Crane led 21-18 at half, but Joseph pulled ahead 23-21 on a jumper by junior Sabrina Albee. Albee hit a three-pointer late in the third quarter to tie 26-26. The Mustangs responded with the next six points to lead 32-26, and held off the Eagles (21-7).
Joseph, which lost to Crane 54-30 on Jan. 2 at Pendleton, took solace in pushing the Mustangs.
"The kids played hard today," Joseph coach Lance Homan said. "We had a chance there in the start of the fourth quarter, but just could not get it done. Crane is a well-coached and tough team."
Albee led Joseph with 20 points, shooting 8 of 24 from the field.
Friday's other semifinal:
No. 2 St. Paul 42, No. 3 Perrydale 29: The Buckaroos (28-1) pulled away in the fourth quarter to move to the brink of a repeat title.
Annabelle Davidson scored 14 points and Karlee Southerland added 11 points for St. Paul. Senior standouts Erin Counts and Isabelle Wyss struggled, finishing with four and six points, respectively.
St. Paul led 15-12 at half and 23-21 after three quarters. The Buckaroos went on an 11-0 run to start the fourth quarter, opening a 34-21 lead with 4:51 left on a jumper by Davidson.
Elana Porter scored 10 points to lead Perrydale (25-5). The Pirates finished 0-4 this season against St. Paul, their Casco League rival.
-- John Braese contributed to this report