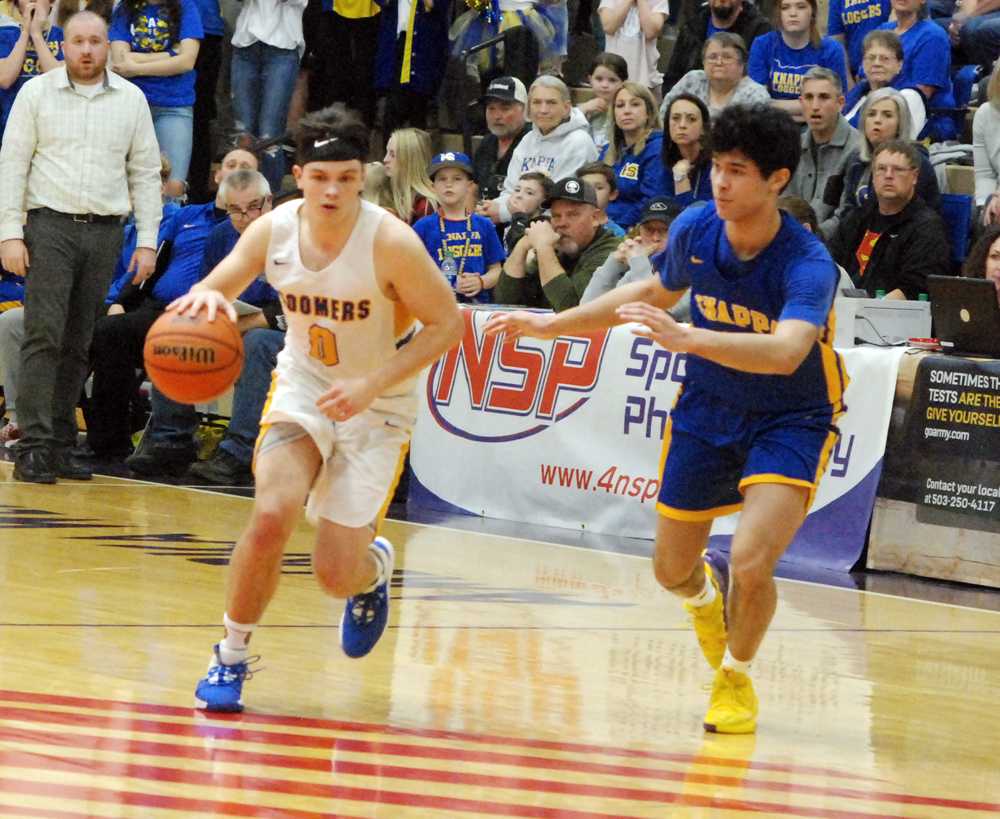 PENDLETON: When Toledo and Knappa played on January 3, Knappa jumped to an 18-point third quarter lead and fought off a furious Toledo rally to win by a bucket at the buzzer. After that game, Boomer coach Eddie Townsend had a message for his team.
"I told them, 'You don't win championships in January,'" he recalled. "I said, 'We're going to meet them in the semifinals and, when we do, that's when we're going to bring the pain.' And that's what we did!"
Aided by 11 three-point field goals and opportunistic offense during a key stretch of the second quarter, Toledo turned the tables on Knappa by dominating from the second quarter onward in the 69-46 win. The Boomers are in the boys basketball final for the third time in school history. No Toledo team has won a state title in any sport in the 61-year history of the school.
The game was decided, for all intents and purposes, during a key stretch that encompassed the last five minutes of the first half. That's when rugged Knappa defenders Eli Takalo and Joe Ramvick both exited the game with three fouls. When Takalo left, Knappa led by three points, 28-25, in what had been a competitive, highly-entertaining half. Things rapidly fell apart for Knappa, which was outpointed 16-2 the rest of the half. Toledo scored from long distance and by pressuring Knappa into turnovers that the Boomers turned into fast break layups.
"They're five deep," Townsend explained. "I knew if we could get a couple of their guys with three fouls and put them on the bench we would go on a run. That's what it was. They put their guys on the bench and that's what changed the game."
"We had to go small and we had defensive breakdowns," Knappa guard Devin Hoover said. "We needed to get back on defense and we didn't. It was tough."
Toledo kept the pressure on to start the second half. Point guard Conner Marchant, who had 16 points at halftime, added seven more to his ledger. He scored as many points by himself in the quarter as Knappa did and assisted nicely on Gunner Rothenberger's lone field goal. Jaxson Rozewski scored four in the period and Mason McAlpine drained one of his six three-pointers as the Boomers took a 20-point lead to the fourth quarter. A four-point play by McAlpine in the first minute of the fourth slammed the door on any Knappa hopes of a miraculous rally. The Loggers never got closer than 22 points the rest of the way.
Hoover had 14 points and five boards to lead Knappa. Mason Westerholm added 10. Kanai Phillips and Takalo teamed for 16 more. Hoover said that Knappa coach Paul Isom told his players to flush that game from their memory banks.
"He said, 'I know it's tough but tomorrow we're going to finish third or fifth and it is going to come down not to skill but who's going to put out the effort,'" Hoover explained. "We're going to put out the effort because we want third."
McAlpine, who averages 21 points per game, had 18 points for Toledo, including 5-of-8 from deep, to redeem himself from a subpar quarterfinal, where he scored only two points.
"He's probably a top three shooter in the state," said Townsend.
Marchant finished with 28 points, nine rebounds and four assists. The senior has 2,509 career points and stands just six points away from moving into second place all-time in Oregon small-school career scoring for boys.
"It's honestly par for him," said Townsend. "He averages 30 a game. That's what we see all the time against every defense that's been thrown at us."
In the other boys 2A semifinal:
No. 2 Western Christian 65, No. 6 Columbia Christian 49: Western Christian will go for the repeat after throttling Columbia Christian in a rematch of last year's final. High efficiency offense was the difference in the ball game. The Pioneers shot 50 percent for the game to just 33 percent for Columbia and had nine times as many assists.
Alex Nicoli was the leading scorer for the victors with 23 and added seven rebounds. Ethan Hallgren had a huge game in the post with 16 points but the story in the game was senior lead guard Payton Richardson. Not only did the Seattle Pacific recruit score 14 points, he recorded a near triple-double with eight rebounds and eight brilliant assists against just one turnover.
The beginning of the end came for Columbia Christian with 2:22 left in the first quarter and the Knights down 11-6. That's when Mo Hartwich, Columbia's 7-0 junior center and rim protector, picked up his third foul and had to sit the rest of the half. Western Christian outscored Columbia Christian 23-15 the rest of the half, getting easy buckets in the interior time and again.
Hartwich showed his value in the second half as he had 11 points, seven rebounds and five blocks after the break but the Knights could not rally around him. They were only 3-for-9 from distance and had just two assisted baskets the entire game.
Western Christian, on the other hand, had seven players record assists and was credited with 18 total. Most led to easy layups. The Pioneers shared the ball and then they shared some more.
"These guys did a good job," said coach Gary Hull. "We are a team. We're more than just a collection of individuals. I'm very proud of them."
Hartwich finished with 13 points and nine boards for Columbia. Isiah Mariscal had a double double with 14 points and 10 rebounds. Freddie Jackson finished with 13 points and two steals.
In the 2A girls semifinals:
No. 1 Kennedy 51, No. 5 Bandon 33: Kennedy got seven first-quarter points from Ellie Cantu, eight in the second quarter from Sophia Carley and made 21 of 23 free throws for the game in the wire-to-wire win over a Tiger team that entered the semifinal contest on a 23-game winning streak. Kennedy, which will be seeking its third state title over the past five years tomorrow evening, took care of the ball better (12 turnovers to 19 for Bandon) and used the size of the 6-1 Carley to score inside with efficiency against Bandon, which had no player on the floor taller than 5-9.
"We've been harping all year on free throws win games and defense wins games and we feel like they did that," said Kennedy coach Kerry Hall.
It didn't help Bandon that foul trouble plagued two of its best players, guard Traylyn Arana and post Kennedy Turner. The Tigers also were off the mark from long distance, converting on just one of nine shots from beyond the three-point line.
The game started slowly for both teams with only one shot combined in the first two minutes of the contest. Kennedy used five free throws from Cantu and her layup off of a nice Carley feed to lead 11-5 after one. The Trojans extended the lead throughout the second quarter, as Carley, who was held scoreless in the first, converted from in close four times in the second. A terrific driving lay-in from Hailey Arritola late in the half gave Kennedy the 26-12 lead heading to the break.
The third quarter displayed the strengths of both teams. Bandon has two terrific and athletic guards in Arana and Brazilian foreign exchange student Eduarda Reolon. Both made their presence felt for the Tigers. Kennedy countered with nice work from wings Elise Suing and Grace Schaecher, the constant inside presence of Carley and all of those made free throws, denying Bandon the chance to cut significantly into the lead. The fourth quarter was more of the same and particularly showcased Arana's overall prowess until the senior point guard was sidelined by fouls late in the game. She finished with 13 points and three steals and was the Player of the Game for Bandon.
Carley had 18 points, nine rebounds and seven blocks to lead Kennedy, but everyone played well for the Trojans. Cantu shined with 14 points and nine rebounds while Suing, Arritola and Reese Hall all had their moments.
No. 6 Monroe 45, No. 2 Union 27: Union came into the semifinals on a 15-game winning streak but a scoring drought that spanned most of the second and third quarters doomed the second-seeded Bobcats. Union led 13-11 early in the second quarter but scored only two points over the ensuing 13 minutes. By the time the drought ended, Monroe was ahead by an insurmountable 24 points, needing only to run out the clock to victory. Union won the fourth quarter, 11-5, but it was far too little and far too late as Monroe advanced to its third state championship game in four years.
The first half started out as an entertaining affair between taller Monroe and swifter Union and was characterized by runs from both teams. Two Chloe May feeds to Ashley Sutton for close in baskets helped Monroe take a 7-0 lead.
"She's a great passer," Sutton said. "I was just really focused and excited to get back here. Definitely anything I can do to help my team."
Union rallied back behind a ball hawking defense and the scoring of sophomore point guard Callie Glenn. The Bobcats scored eight straight to take the lead and still led, 10-9, at the end of the quarter.
Sutton, who scored all of Monroe's first-quarter points, scored again early in the second to help the Dragons regain the lead. Union went back ahead on a nifty feed inside from Audrey Wells to Kylie Marriott and led 13-11 before Monroe's decisive 13-0 run to close the half. Sutton had four points during the streak and finished with 15 for the half, but the Monroe catalyst was point guard Mirtha Lopez, who scored nine, including the team's lone three pointer. May provided the offensive spark in the third quarter for Monroe, which led by 24 heading to the fourth.
Union scored the first seven points of the final period, but never seriously threatened. The Bobcats shot less than 12 percent from the field for the game and hit only 11 of 21 free throw attempts. Glenn had 13 and Marriott scored eight to lead Union. Sutton had a game-high 17 points, one short of a career-high for Monroe, which also got 22 points and 16 rebounds from the tandem of Lopez and May.
"We were expecting a tough game no doubt," said Sutton. "They're very fast and physical but we got it done at the end."