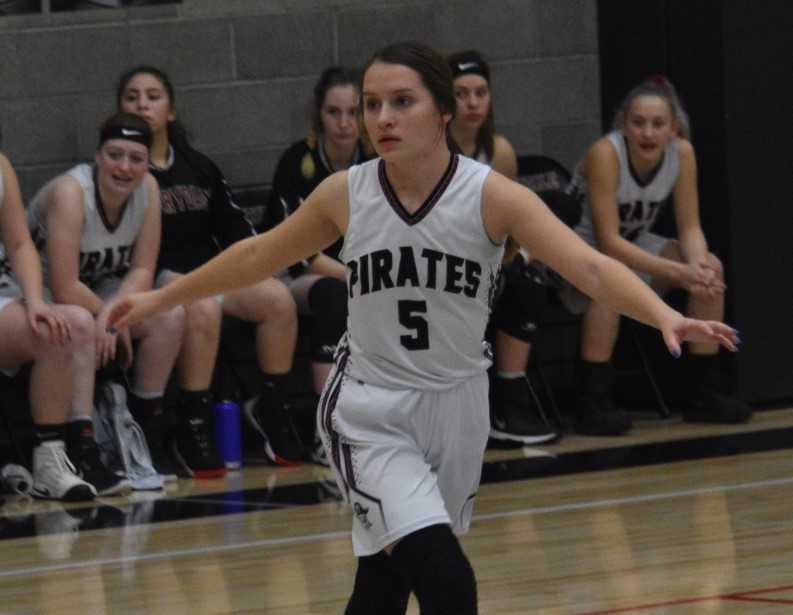 A look at Tuesday's 1A first-round games in the OSAA / OnPoint Community Credit Union 1A Girls Basketball State Championship:
Perrydale 49, Southwest Christian 32: Sydney Lawrence had 16 points in the first half as the host Pirates, who were No. 3 in the final OSAAtoday coaches poll, opened up a 28-18 lead at the break and extended their advantage the rest of the way. Kenzie Lawrence added 10 for Perrydale (23-4), whose press bothered the Wildcats. Emily Turner and Rachel Haas teamed for 23 points in the loss for Southwest Christian, which ended its season at 21-5.
Country Christian 69, South Wasco County 52: South Wasco County used the three-point shot to jump on the favored Cougars early. But Country Christian recovered from a 14-3 deficit with some long distance shooting of its own to take an eight-point lead at the half and turned up the defense in the second half to pull away for the home win. "I'm glad we settled in and took care of business in the second half," said Country Christian coach Russ Halverson.
Freshman Annie Bafford had a career-high 26 points, including five triples; to pace the victorious Cougars. Lizzy Grandle and Madison Halverson also reached double figures with 19 and 10 points, respectively. Jade McCoy and Kylie Iverson combined for 27 points in the loss for South Wasco County.
Echo 49, Elgin 36: Tylene Skillman scored 24 points, 18 after halftime, to lead the Cougars past the Huskies. Faith McCarty added 16 for Echo, which improved to 19-8 on the season. "Echo and Elgin were well matched, but a few adjustments to our press and half court defense this week really made all the difference in our game," said Echo coach Heather Madison. "We try not to give our opponents faces by focusing on what they do necessarily. We just try to be disciplined and improve on what we do both offensively and defensively through each game."
Powder Valley 47, Jordan Valley 31: Autumn Davis hit six first-half three pointers as the Badgers took a 30-11 halftime lead and never looked back. Davis finished with a game-high 22 points. Keanna Bingham added 13 and Belle Blair contributed 10 boards and four steals in the win. Sophomores Tayler Eiguren and Cassity Gluch had 12 and 11 points, respectively in the loss for Jordan Valley.
Prairie City 42, Chiloquin 40: Host Prairie City trailed 25-16 at the half and still trailed with less than a minute to play before Abbey Pfefferkorn scored to put the Panthers up by a point. Bolstered by an enthusiastic student section, Prairie City made a huge defensive stand late to preserve the win. Betty Ann Wilson led Prairie City in scoring and also excelled on the defensive end for the Panthers, who improved to 18-7.
Days Creek 42, Paisley 26: Shandiin Newton scored 16 points and Joleen Crume added 12 points for the Wolves (14-11), who trailed 21-19 at halftime but outscored Paisley 23-5 in the second half. Paisley's Mia Milasinovic scored 14 of her game-high 19 points in the first half.
Elkton 61, Eddyville Charter 28: The Elks (20-7) raced to a 45-6 lead at half and cruised to the win. Margaret Boyle had 14 points, five rebounds and five steals and Kieryn Carnes added 12 points for Elkton, which shot 58 percent.
Livingstone Adventist Acad. 60, Triangle Lake 34: Despite playing on the road, Livingstone Adventist won every quarter to win comfortably. The Lions led by nine after one, by 16 at the half and by 21 heading into the fourth quarter. Aspen Forshee had 17 points, nine rebounds and six assists to lead the way. Madelyn Fish added 14 points, six rebounds, five steals and three assists. Martha Calderon had eight steals and Emily Velazquez contributed eight points, nine boards, five steals and four assists.