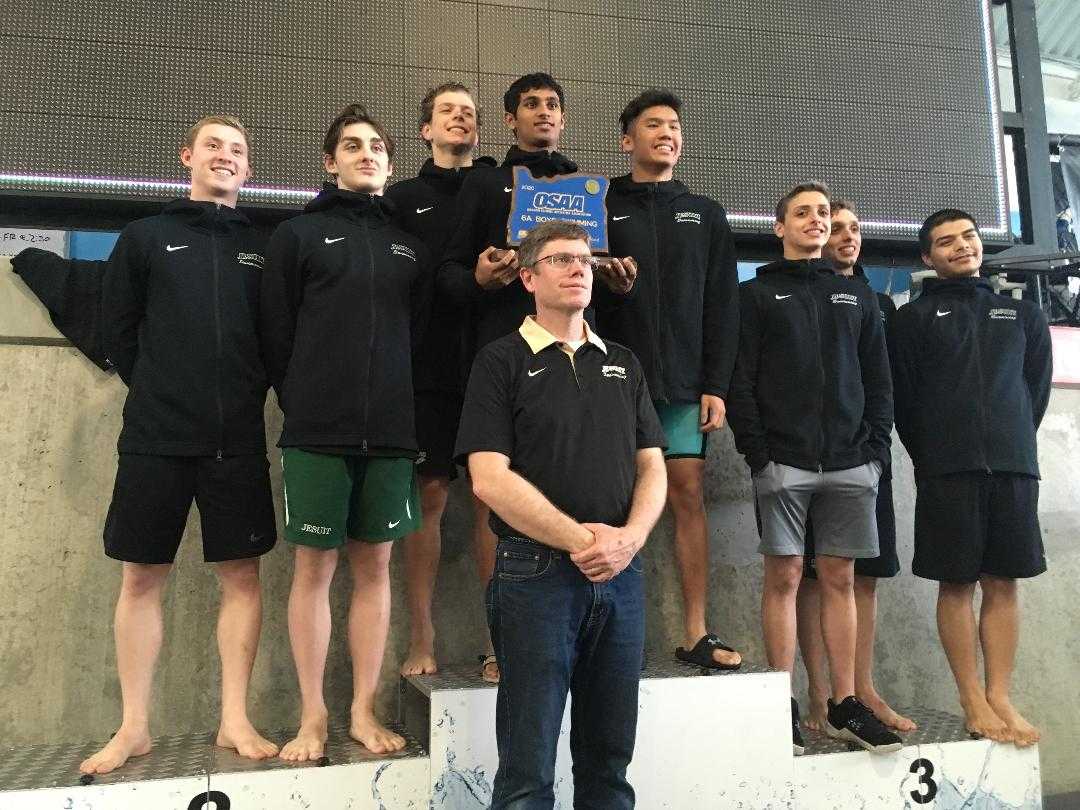 BEAVERTON – Jesuit extended its statewide dominance in boys swimming Saturday, winning the OSAA/OnPoint Community Credit Union 6A championships for the sixth consecutive year.
And the way things look, the Crusaders' reign could go on for a while.
Jesuit won six events and had three runner-up finishes in the meet at Tualatin Hills Recreation Center, and except for a senior who swam a leg on a relay, the Crusaders did that with swimmers who will be eligible to return in 2021 and beyond.
"The team is doing really well," sophomore Nick Simons, champion of the 100-yard butterfly and 100 backstroke, said in a massive understatement. "It's really important to not just get the first-place swims, but also get as many high placements as we can."
Jesuit did just that, with 12 entries placing in the top six. By the time the smoke cleared, Jesuit had amassed 124 points to cruise past Lakeridge (68), West Linn (44) and Sunset (41).
The Crusaders were all business, according to coach Bryan Butcher.
"They know exactly what they're supposed to do," Butcher said.
Jesuit set the tone by recording an OSAA meet record in the first event, the 200 medley relay. Simons, junior Marco Nosack, freshman Diego Nosack and sophomore Matthias Kreutzer finished in 1:33.42 to eclipse the old record of 1:33.54, owned by Sunset since 2013.
The Crusaders bookended that title with a win in the final event, the 400 freestyle relay, with contributions from Marco Nosack, Simons, Kreutzer and senior Chetan Chilkunda. It marks the sixth year in a row that Jesuit has won both the 200 medley and 400 freestyle relays.
Simons and Diego Nosack finished 1-2 in the 100 butterfly. Simons cut two-tenths of a second off his personal best in the race.
"It really helps to have Diego next to me. He really pushed me the whole way," Simons said. "That was really, really clutch for the team. It was really just a lot of fun today. You've got to pull through for your team. The atmosphere is great."
Simons added a win in the 100 backstroke, repeating his title from last year. Marco Nosack won the 100 breaststroke for the second consecutive year, and Kreutzer picked up a title in the 50 freestyle.
Central Catholic senior Kevin Keil was the meet's only other double winner. With personal-best swims, Keil claimed the 200 individual medley for the second year in a row and took the 500 freestyle.
Keil said he was shooting for the state record in the 200 IM, but narrowly missed. His time of 1:48.06 shaved nearly two seconds off his previous best but fell short of the record of 1:48.01, set by Beaverton's Van Mathias in 2018.
"It's my friend's record, so it's too bad I didn't beat it," said Keil, who has signed with Penn.
Sherwood senior Jacob Folsom won the 200 freestyle and was going for a title in the 100 freestyle, where he was seeded first, but Cleveland senior Cody Soo beat him by .05 seconds.
McMinnville won the 200 freestyle relay.
5A
With a cast of four swimmers, Churchill captured its first state championship, scoring 53 points to outpace West Albany (39.5), Crescent Valley (30) and North Bend (28.5) in the 5A meet.
Churchill sophomore Charley Page-Jones repeated titles in the 50 freestyle and 100 butterfly and teamed with seniors Brennan Whipp and Finn Conaway and junior Davis Wingard to seal the title with a victory in the 400 freestyle relay.
"We thought we'd have a chance," Page-Jones said. "I really like having the team come with me. It's fun."
The Lancers credited Conaway with drawing up a winning lineup.
"He loves numbers, and he loves to look at the meet ahead of time," Churchill coach Megan Murphy said. "He's a really valuable asset to our team."
Said Conaway: "I've been foreseeing this for like a year. I've been writing lineups and stuff for over a year now."
Page-Jones recorded a personal-best of 20.98 in the 50 freestyle and dominated the 100 butterfly in 49.36 to beat the top qualifier, Springfield junior Diego Reyes, by nearly two seconds.
"I think I ended up with the best results I could have gotten," Page-Jones said. "A 20 in the 50 free is really more than I could ask for."
Conaway placed second in the 500 freestyle and third in the 200 IM, Wingard was fourth in the 200 freestyle and 100 breaststroke and the Lancers finished second in the 200 medley relay.
Reyes came back later in the meet to successfully defend his title in the 100 breaststroke. Crater sophomore Marcus Reyes-Gentry won the 200 freestyle for the second year in a row.
Other winners were South Albany senior Nathaniel Young (200 IM), Redmond sophomore Ryan Konop (100 freestyle), West Albany senior Dylan Hayes (500 freestyle) and Ashland senior Chris Frownfelter (100 backstroke).
4A/3A/2A/1A
Newport seniors Caden Shanks and Luke Bachart won two state titles apiece as the Cubs dominated en route to their third straight team championship.
Newport, which swept the relays for a second straight year, finished with 75 points. Madras was second (30) and St. Mary's third (24).
"I knew we had potential last year when we looked back at what was coming back to the team," ninth-year Newport head coach Angie Sremba said. "We had a lot of guys step it up and take pride and work seriously hard."
Shanks defended his title and set the 4A/3A/2A/1A meet record in the 100 backstroke (51.09), eclipsing a 10-year mark held by Corbett's Isaac Hewitt. He was also first in the 100 freestyle (47.45).
Bachart won the 200 freestyle (1:45.64) and 500 freestyle (4:49.58).
The Cubs picked up big points with victories in the 200 freestyle relay (1:33.42), 200 medley relay (1:44.09) and 400 freestyle relay (3:27.60). They have won the latter two relays three years in a row.
Valley Catholic junior Luca Foord raced to a classification-best time of 58.50 in the 100 breaststroke. The defending champion surpassed a 2011 record set by Junction City's Tony Vickery (58.61).
The other state champions were Catlin Gabel freshman Akira Van de Groenendaal (200 IM, 1:57.78), La Grande freshman Glenn Ricker (100 butterfly, 55.57) and North Valley sophomore Carson Washburn (50 freestyle, 22.64).
-- Dan Jones contributed to this report