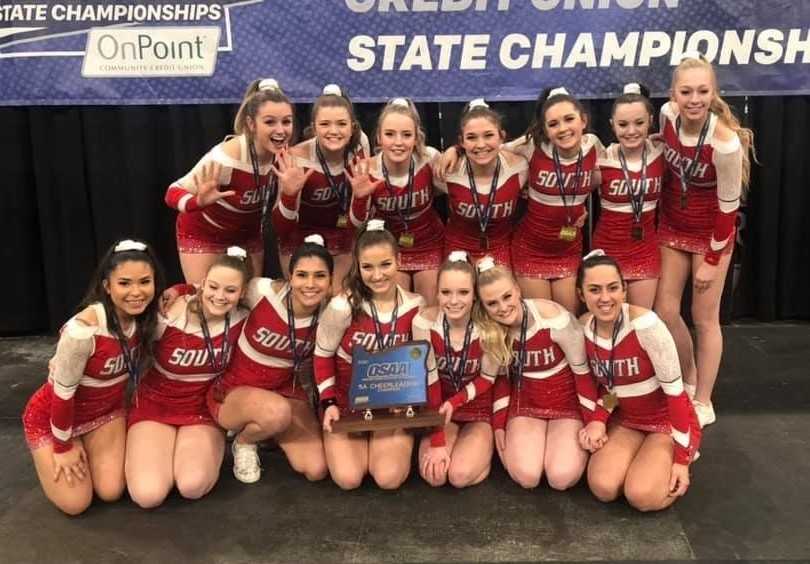 The 2020 OSAA/OnPoint Community Credit Union cheerleading championships did not disappoint this year with fantastic performances and history-making finishes Saturday at Veterans Memorial Coliseum.
In the 1A-3A division, Santiam Christian took home the state title for the second year in a row, narrowly beating out second-place Delphian by 0.1 points. Rainier, with one of its best performances of the season, snagged the third-place trophy, followed by Central Linn and Scio.
The Gladiators from Gladstone performed an energy-packed routine, catapulting them to the state title in the 4A division. Newport had a strong performance and beat out Sweet Home by 0.3 points for second-place. In fourth place was Sisters, followed by Ontario in fifth.
South Albany made history by earning five consecutive state titles, taking the 5A division with a terrific performance. Alyssa Marstall, a senior on the team, said that winning the state title "felt absolutely amazing" and that it "felt like everything we've been working so hard for and the legacy we have been building finally paid off."
Behind South Albany, the Ridgeview Ravens took home second place, followed by Wilsonville in third and Lebanon in fourth.
The 6A division saw a battle between the Newberg Tigers and the David Douglas Scots. After fantastic performances from both teams, the Tigers came out on top with a slim margin of 0.3 points. In third place was Lake Oswego, followed by Aloha in fourth and Barlow in fifth.
The Westview Wildcats won the small coed division, which marked their fourth state title in a row, and the 10th state title overall for coach Melissa Hoekert. Senior Maria Prestidge attributes their success to Hoekert's coaching, along with the dedication of the athletes on the team.
"When we all share a common goal (of winning state), we each have to hold ourselves accountable both in and outside of cheer in order to accomplish it," Prestidge said. "Coachie (Hoekert) has built such a legacy that it's understood coming into this program that you're willing to put that 100 percent dedication into the team because she's proved that it can work."
Second place in the small coed division went to The Dalles, followed by Crescent Valley, Beaverton, and Redmond.
In the large coed division, Tualatin had a strong showing and earned the state title over the McMinnville Grizzlies. In third place was Thurston, followed by Henley and Lakeridge.
The Leslie Maley Creative Choreography Award recipients were Rainier, Gladstone, West Albany, and McMinnville. The Kim Hunter Positivity Award was given to Scout Buckner from Lake Oswego.