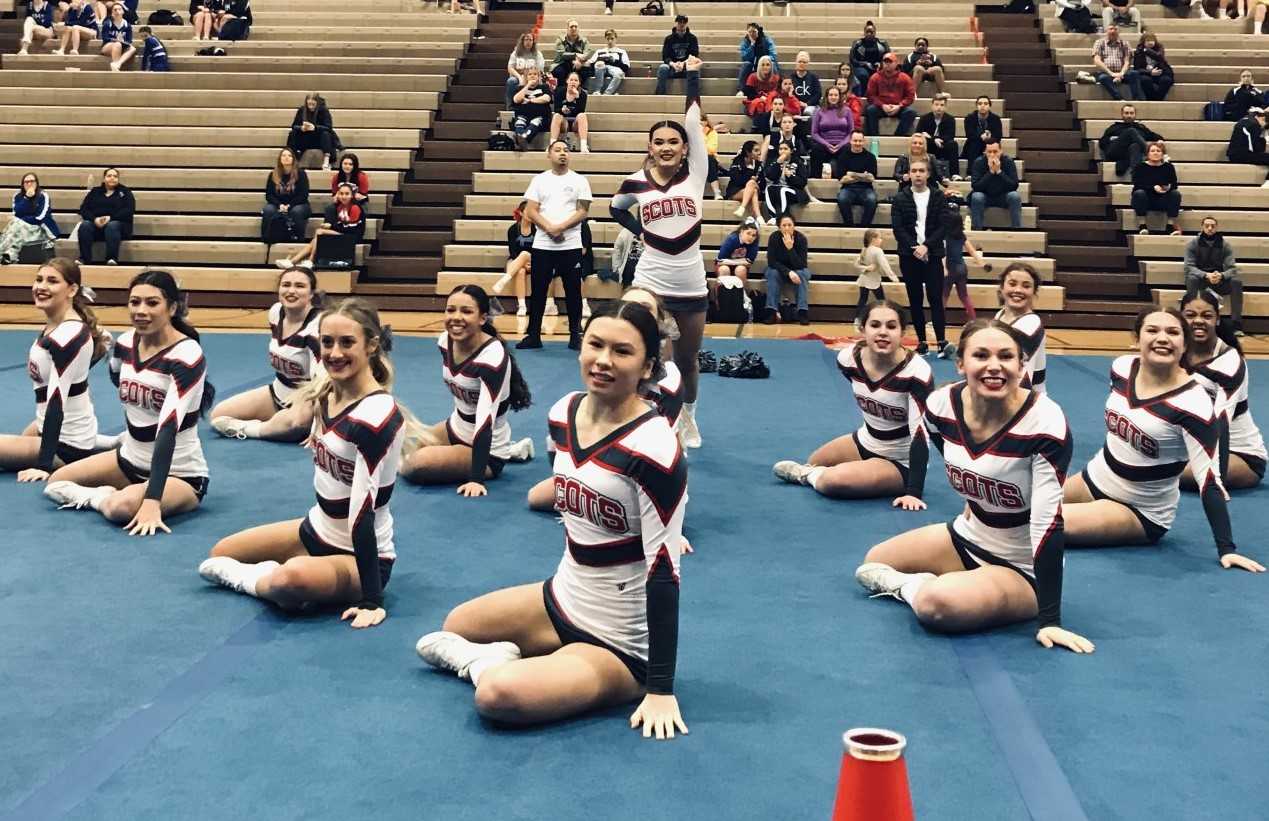 Last weekend, teams from across Oregon competed at the OE Classic competition and the aptly named Tualatin "Last Chance" Competition.
This was the last day of competition before the OSAA cheerleading championship on Saturday at Veterans Memorial Coliseum. The teams from Liberty, Aloha, and West Linn were absent from local competitions as they travelled to Florida for UCA Nationals.
At the "Last Chance" competition in Tualatin, Riverside earned first place in the 1A-3A, beating out Harrisburg, which received second, and Sheridan, which received third.
In Salem, Delphian took home first place over last year's state champion, Santiam Christian. Santiam Christian beat out Central Linn for second place by only 0.8 points.
In 4A, the Gladiators from Gladstone took home first place at the Tualatin competition after an enthusiastic performance. Right behind the Gladiators were the Sisters Outlaws, placing second by only 1.1 points. Newport placed behind Sisters, taking third place in the division.
At the OE Classic, Sweet Home dominated its division, earning first place by over 35 points. Cottage Grove followed behind in second, while Madras placed third.
The South Albany RedHawks took on the Lebanon Warriors in the 5A division at the OE Classic. The RedHawks earned first place and the Warriors took second. In Tualatin, the Ravens from Ridgeview placed first in a division of their own.
With a commanding performance in 6A, the Scots from David Douglas won their division, and the title of Grand Champion, at the Tualatin Last Chance Competition, beating second-place Sherwood by 29.3 points. Sandy earned third place.
In Salem, the Tigers from Newberg earned first place with another strong performance, while Barlow took second, narrowly beating out the Lakers from Lake Oswego by 0.8 points.
At the OE Classic, the Westview Wildcats won first place by a slim margin of 0.7 points over The Dalles Riverhawks in the small coed division. Crescent Valley snagged third place in the division.
In Tualatin, Summit took first place, followed by Southridge in second. North Salem narrowly missed second place, earning only 0.1 points less than Southridge, landing them in third place.
The large coed division at the Tualatin competition was filled with successful performances from all competitors, leading to a tough battle for first. The Pacers from Lakeridge were victorious, beating the second-place McMinnville Grizzlies by just 0.6 points. In third place was Henley, followed by Centennial and Century.
At the OE Classic, the Timberwolves from Tualatin, who were simultaneously hosting a competition at their school and competing in Salem, took home another first-place trophy to add to their collection. On top of that, they also earned the title of Grand Champions of the 5A, 6A, and Coed divisions. In second place were the Colts from Thurston, and the Henley Hornets earned third.