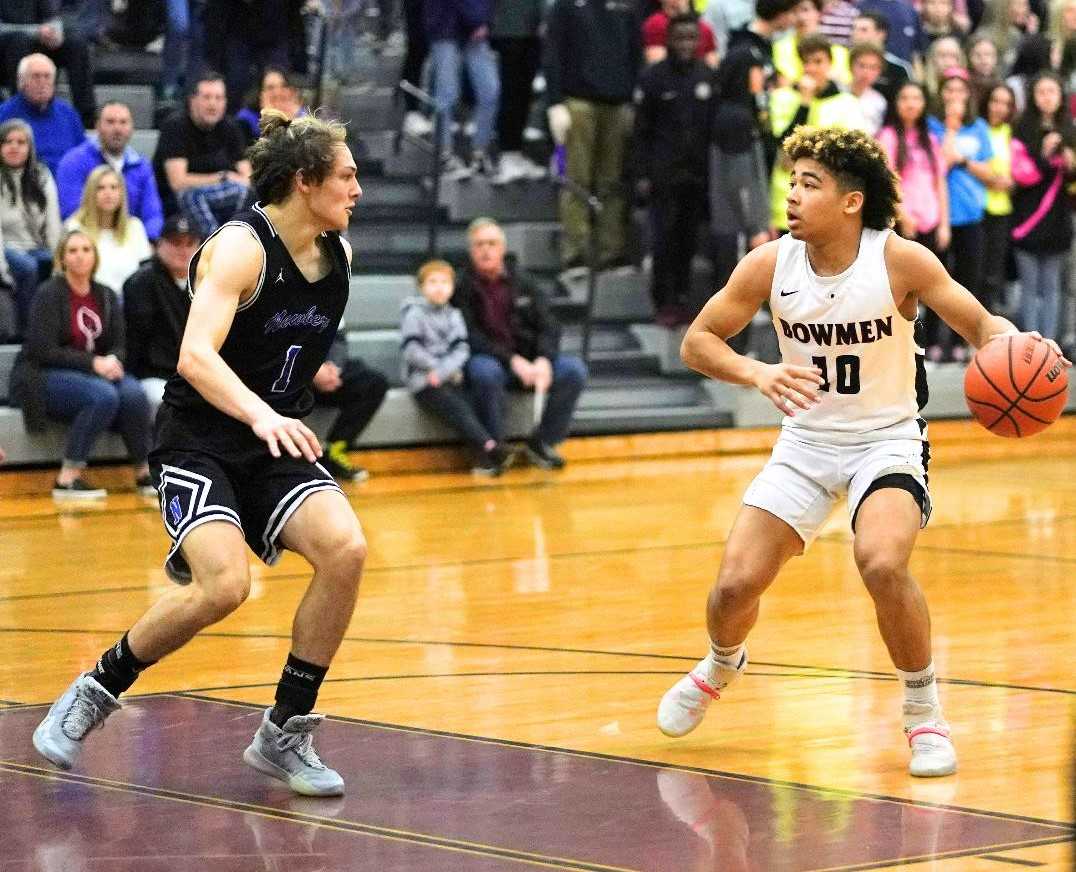 SHERWOOD – Sherwood's finely tuned offense had to shift gears against visiting Newberg in a pivotal 6A Pacific Conference boys basketball game Friday night.
The usually hot-shooting Bowmen, who entered averaging 12 three-pointers and 77.7 points per game in conference play, weren't getting good looks from distance against the Tigers, who stayed glued to them on the perimeter.
So behind senior point guard Jamison Guerra, Sherwood assaulted the basket, racking up points at the rim. Guerra scored a season-high 27 points as reigning conference champion Sherwood won 65-58 to open a two-game lead over the second-place Tigers.
"They really keyed in on our shooters and that opened the lanes for me to get in the paint," said Guerra, a fourth-year starter who has signed with Oregon Tech. "The fact that we have such great shooters speaks volumes about how hard they work, and that gets me open."
Sherwood (13-6, 7-0) went 2 for 4 from three-point range but made 23 baskets near the rim, shooting 60 percent (27 of 45) for the game. The Bowmen came prepared for Newberg's strategy, the same tactic the Tigers used in the last two meetings between the teams, including a 69-66 win last season that was Sherwood's only conference loss.
"They were hopefully going to try to contain the bounce, and we were able to get in the crevices and get to the cup," Bowmen coach Rahim Tufts said.
Sherwood got 12 points each from 6-foot-6 senior post Blake Jensen and junior guard Asher Krauel. But the 5-11 Guerra was the difference, repeatedly rocking his defender off balance to create a driving lane and using his power and creative footwork to finish at the basket.
"Jamison was incredible," Tufts said of Guerra, who is averaging 13.0 points, 6.6 assists and 4.0 rebounds this season. "He plays so low and on balance. He has these little bursts, where guys get feet crossed up. He sees he has an angle, and he has bursts to get by guys."
Newberg coach Mark Brown said Guerra is what makes Sherwood go.
"These guys benefit so much from the way he plays," Brown said. "They shoot the ball better than anyone in the state – I think, as a team – and I think most of that credit goes to Guerra. He's a phenomenal point guard, and a great kid, super respectful. As much as I don't like to lose, I like the fact that he's winning the right way."
Newberg (11-8, 5-2), which lost to Sherwood 65-45 at home Jan. 24, was missing three starters in the rematch. Senior guard Hayden Pyritz is probably lost for the season after breaking his hand Jan. 31 at McMinnville. Senior guard Luke Esmond suffered an undisclosed injury Tuesday against Liberty. And senior guard Jovy Ogles was out for personal reasons.
Still, the Tigers were game. They took a 7-2 lead, and after falling behind 36-25 at half, they fought back to within four points twice in the third quarter and were still within 58-53 with 3:59 left.
Sherwood got baskets by sophomore Baydon Kullowatz and Guerra to lead 62-53 with 2:25 remaining, and Newberg couldn't threaten down the stretch.
"I loved our second half," Brown said. "My guys showed up. We fought, we battled, we scrapped, we never gave up. And that's what's been true of this team all year long, no matter if we've got all our guys or not. We're never out of it. We won that second half."
Junior forward Spencer Lanier and junior guard Corban Muthiah scored 15 and 14 points, respectively, to lead Newberg, which shot 6 for 17 from three-point range.
The Tigers needed to win to pull even with Sherwood in first place. Now, with five conference games left, the Bowmen are in command.
"It puts us in a really good position to win league, but we have goals that are bigger than that," Tufts said. "This game was really valuable for us to have to claw and fight and not beat somebody by 30."
Guerra was less than thrilled with the overall performance.
"We won, we're definitely happy about that, but at times we felt like we were a little lackluster on defense, and our intensity was a little low," Guerra said. "We came out a little sluggish."
The Bowmen are trending in the right direction, though, according to Jensen.
"We've been steadily growing from the beginning of the season," Jensen said. "We started off a little slow, but we've been gaining momentum, especially as we came into league. We just want to keep that, and keep building until we get to playoffs, see if we can go far.
"We've just got to keep our energy up. Sometimes we drop off a little bit. But if we keep that up, good things happen."