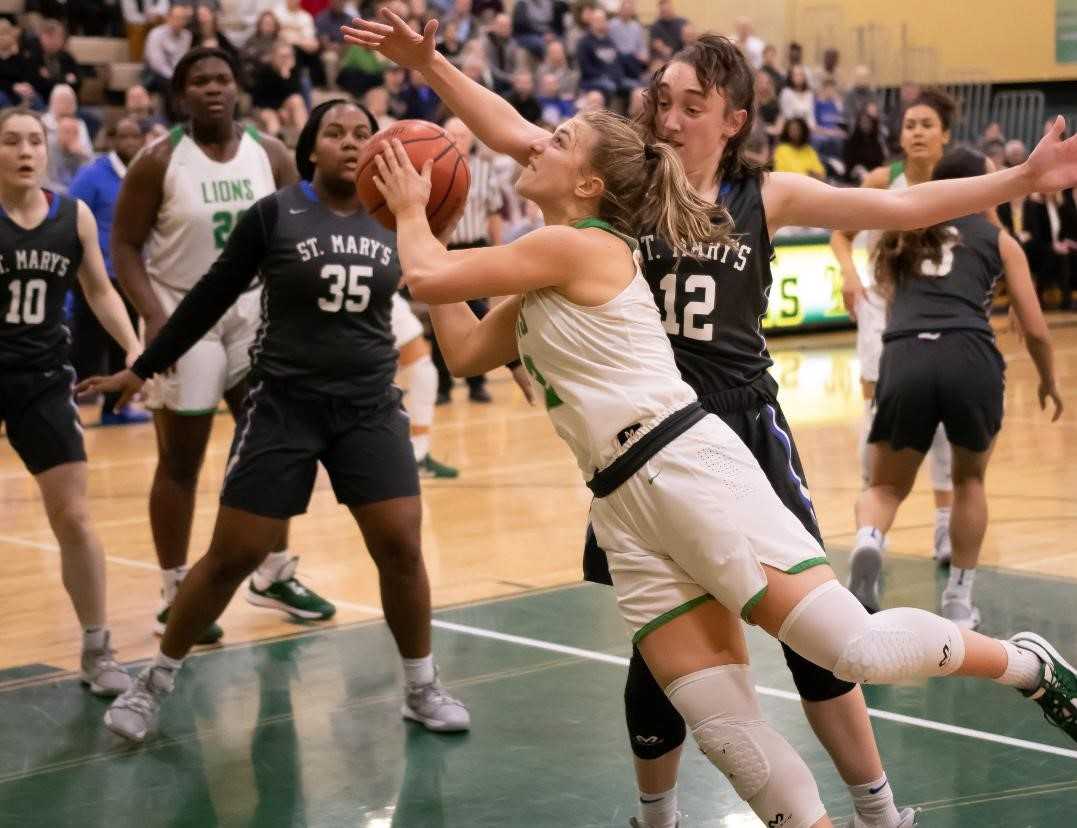 WEST LINN – For three days, West Linn's girls basketball team stewed about a crushing two-point loss to Oregon City.
Friday night, the Lions got it out of their system.
Host West Linn ran Three Rivers League-leading St. Mary's Academy out of the gym, racing to a 16-point lead after one quarter in a 78-36 rout. With the win, the No. 4 Lions (11-5, 5-1) pulled even with the No. 7 Blues (13-4, 5-1) for first place.
"That motivated us a lot to come back and decide to play as a team, because we were lacking that on Tuesday," West Linn junior post Aaronette Vonleh said. "I think it was good for us, because when you lose, you learn what you need to do to win."
The 6-foot-3 Vonleh dominated inside, making 13 of 16 shots and scoring a game-high 29 points. Junior wing Audrey Roden added 18 points for the Lions, who shot a blistering 63.8 percent.
"I think we finally showed everyone, like, that's how we are and that's how we can play," said Lions junior wing Payton Shelstad, who had 10 points. "I just hope it continues for the rest of league and state."
West Linn took a long look in the mirror after losing to Oregon City (12-4, 4-2). In that game, the Pioneers made two free throws with no time left to win 48-46.
"It was devastating," Shelstad said. "We went in a little too confident and ended up playing way down. After that, we really picked it up and collected as a team, and we knew that we had to play together if we really wanted to do this. I think this game really demonstrated our potential and how far we can go."
It was just the kind of performance Lions coach Brooke Cates wanted to see from her talented team.
"We haven't been playing very well," Cates said. "After we lost to Oregon City, it was kind of like, 'It's time to get going. We have to start playing a lot better.' So practices have been intense. They just turned it around. I know they can play like this. It's a matter of playing like this consistently."
West Linn took an 11-2 lead over the Blues, getting its first nine points from Vonleh, who repeatedly used her size and strength to pin her defender and catch entry passes at point-blank range. She scored 17 points in the first half, converting three passes from Shelstad and three from sophomore Olivia McVicker.
"In practice, we were working on that a lot," Shelstad said. "I think tonight she did a really good job of posting up and sealing the person, and their backside help wasn't coming, so it was a very clear pass into her."
Everyone got into the act as the Lions moved the ball crisply. They made their first four three-point attempts, two from Shelstad and two from Roden.
"Tonight we were all just playing for each other," Vonleh said. "Nobody was playing for themselves. And we all just had a lot of energy, so we were able to move the ball around and have better shot selection."
The lead grew to 41-13 on a basket by Vonleh with 2:32 left in the first half.
"When we play together, we are really dangerous," Cates said. "And tonight, for everybody it was team first. Very much a team win."
It was the biggest game of the season for the Blues, who are much improved after finishing 12-13 last season. Coming into the game, they had dropped only two games against Oregon teams, falling 50-40 to No. 1 Beaverton and 46-38 to No. 10 West Salem.
Senior wing Marley Johnson scored 17 points, but the Blues struggled, committing 23 turnovers. Senior guard Anna Eddy, who missed Tuesday's game against Lakeridge with a sore knee, limped off for good after falling late in the first quarter. And standout freshman guard Sofia Bell went scoreless, sitting out the second half.
"God thought we needed some humble pie," St. Mary's Academy coach Dewey Taylor III said. "We didn't show up tonight. There's no excuses. We just didn't come to play. We needed to step up in ways, and unfortunately, we didn't.
"I tip my hat to them. They played great. From the time the game started, they were ready to go, and we didn't meet it. It kind of went downhill from there."