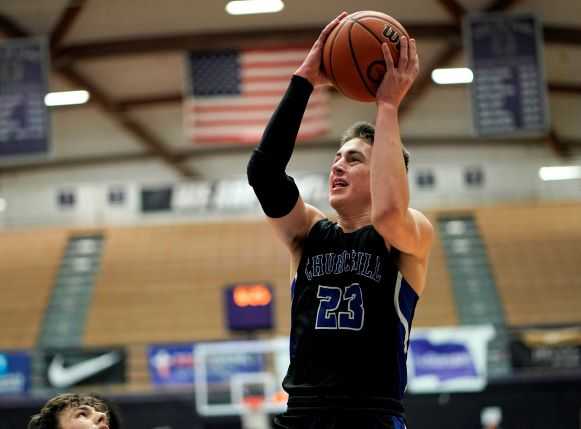 PORTLAND – Before Churchill could turn its attention to Tuesday's Midwestern League boys basketball showdown with Crater, the Lancers first needed to focus on Lake Oswego on Monday afternoon in the MLK Invitational at the Chiles Center.
And as it turned out, after building what seemed to be a comfortable 17-point lead in the third quarter, Churchill had to put in a full 32 minutes to repel the Lakers 52-45.
Senior guard Brian Goracke had 18 points and eight rebounds and sophomore point guard Samaje Morgan had 10 points, four assists and two steals as the Lancers (10-3) downed the Lakers (6-8).
"This was a good warmup for that," Goracke said, looking ahead to the Crater game. "It was a close game at the end. It could've been 20 or more, possibly. I thought we had some good maturity down the stretch, at the very end."
Morgan said the Lancers, ranked No. 1 in the OSAAtoday 5A coaches poll, can take their lessons learned Monday into their first-place matchup against No. 4 Crater. The Comets beat the Lancers 64-53 in a nonleague game Dec. 30 at the Les Schwab Invitational.
"It helps us a lot," Morgan said. "Lake Oswego's a really well coached team, and they made us execute our plays, and made us actually play defense. Against Crater, that will really help us because we lacked that last time."
After falling behind the Lakers 5-0, the Lancers got going behind the 6-foot-6 Goracke. His 12-point first quarter included two baskets off assists from Morgan, two three-pointers and a driving dunk over Lake Oswego senior Casey Graver.
Churchill senior guard Isaiah Wallace, playing in his third game since coming back from knee surgery, came off the bench for eight points as the lead grew to 34-19 at half. The Lancers appeared to be in total command when they held a 41-24 advantage late in the third quarter.
But Lake Oswego, No. 10 in the 6A coaches poll, used an aggressive trapping press to get back into the game. Graver and junior post Trace Salton each scored two haskets in an 11-0 run as the Lakers got to within 41-35 with 5:13 left.
"We just lost focus pretty much," Morgan said. "The first half, we had a bunch of high-tempo plays, the bench was in it, everybody was in it. Second half, they came out with a bunch of energy and we weren't ready for it."
Goracke said that the Lakers "started pressing and got us a little rushed. We've just got to work on that in the future, being able to control ourselves, stay composed."
Morgan scored on a drive and a runner to restore order at 45-35, then converted an assist from senior Evan Pia to give the Lancers a 47-38 edge with 1:32 left.
"Good teams aren't going to lay down and die. Good teams are going to fight," Churchill coach Kelly Bokn said. "We've had a lot of lopsided games. We're fortunate for that and unfortunate for that. We don't get very many opportunities to deal with strenuous situations."
Lake Oswego coach Marshall Cho wondered if the Lakers should have started trapping earlier.
"They were in their comfort zone the entire first half, and actually the entire third quarter," Cho said of the Lancers. "We take pride in terms of the defense we bring. We just didn't bring it today. It's disappointing. It's a lesson learned."
Graver scored 14 of his 17 points in the second half to spark the run. He finished 4 of 7 from three-point range.
"Casey's a winner," Cho said. "Against Barlow, he was responsible for putting us into overtime, and today he put us on his back to give us a chance. We can't waste an effort of a senior playing with a sense of urgency like that. We have to let that energy be infectious."
The 6-5 Salton led Lake Oswego with 19 points. Cho said he is excited to see Salton's steady improvement this season.
"He's still got a lot of room for improvement ahead of him," Cho said. "He's realizing the kind of potential he has and the kind of impact he can have on a game, not just scoring, but rebounding and being active on defense. We're encouraged by the growth he's shown."
Wallace finished with nine points, four rebounds and three assists for the Lancers. Bokn said that Wallace – who shot 3 of 10 from the field, including 2 of 7 on three-pointers – has yet to regain his explosiveness driving to the basket.
"He's learning how to play a different Isaiah Wallace game," Bokn said. "In the past couple years, I'd call hiim a wiggler. He's a guy that kind of wiggled by people and got in the lane a lot. He's coming off major knee surgery. He's kind of learning how to adapt to that."
The presence of Wallace, one of the five returning starters from last year's 5A runner-up, gives Churchill another dimension.
"Isaiah's IQ and voice on the floor is something that no one else is able or willing to duplicate," Bokn said. "He brings such a leadership factor to the team. It's kind of a player-and-a-half out there."