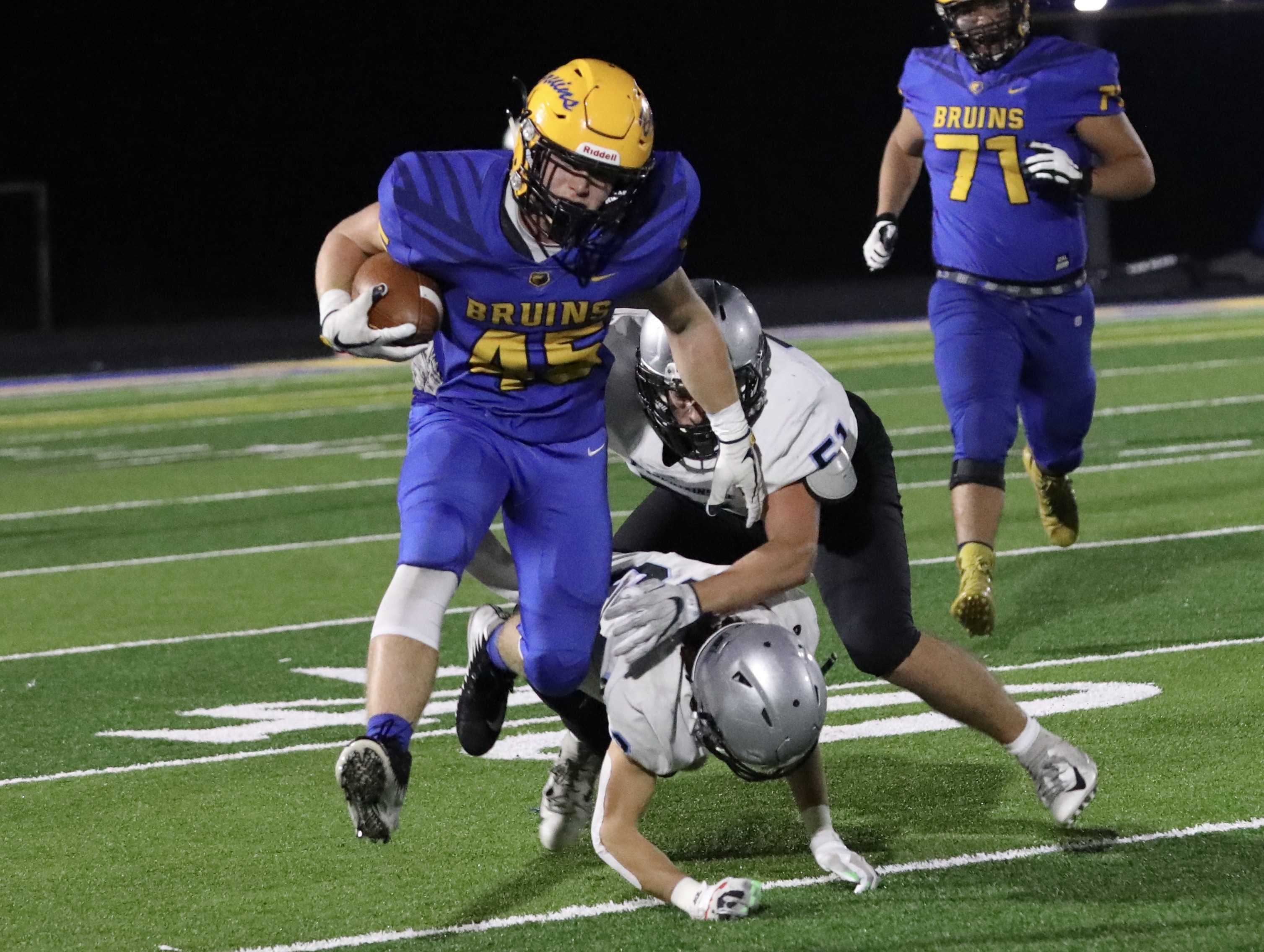 GRESHAM — Jaren Hunter's long memory, Durham Sundberg's need for retribution and Nick Collins' sense of feel combined in a deepening crisis to rescue Barlow from an early off-season Friday night.
But instead of stacking their pads and heading for the weight room for the winter, the Bruins, 10-2, are on their way to the semifinals of the OSAA 6A football championships. They will face Central Catholic next Friday at Hillsboro Stadium.
In order to get there, though, Barlow needed the three seniors to do something dramatic.
They did. They took the host Bruins in two plays — a 58-yard pass play and a 26-yard run — from their own 16-yard line to the touchdown with 4:31 to play that finally got rid of Mountainside 20-16.
It was a case of Cinderella beating Jack the Giant Killer, actually. This particular Friday night had been earmarked for a clash of the titans between No. 1 Tigard and traditional Lane County monster Sheldon.
Then last week Mountainside, 8-4, stunned mighty Tigard in overtime and Barlow shoved the Irish out of the picture in Eugene, and Friday's quarterfinals became a big question mark.
Mountainside nearly had the answer. The upstart Mavericks repelled the Bruins in the red zone four times and built a 16-7 lead into the fourth quarter.
They were still hanging on 16-13 when their junior kicker and best weapon, Tyler Dahlback, bombed a 59-yard punt that rolled dead at the Barlow 16 with 5:25 left in the game.
The Bruins had been chipping at Mountainside, as opposed to throwing haymakers, but the clock screamed that they needed to do something different.
Quarterback Hunter got into shotgun formation, surveyed Mountainside's coverage, and audibled to a post pattern for Sundberg.
"I'd missed him (Sundberg) on the same thing earlier in the game," Hunter said later. "I just didn't throw it to him, and I should have. But I kept that play in my back pocket for when we needed it.
"When I saw them in the same coverage now, I called for the post."
Sundberg ran it perfectly. He streaked down the field 15 yards, faked an out route and turned for the ball. Mountainside's Yule Schrock turned with him as Hunter fired the ball, then gambled for the interception.
He missed. Sundberg grabbed the ball and fled downfield as fast as he could. Maverick safeties finally caught up with him at the Mountainside 26 after 58 frantic yards.
"Jaren got the read and called for the simple post," Sundberg said. "He could have handed it off, but he threw it. I just ran a simple post and threw a fake.
"I'd missed a few of those earlier, but the other guy missed the ball and Jaren threw it perfectly.
"For a second there, I thought I could go all the way, but I got a cramp and they got me."
The energy in the stadium shifted dramatically from a sense of urgency to a bigger sense of opportunity. Before that play, the Bruins were just looking for any way they could to get a touchdown. Now, they smelled opportunity.
"That turned everything around," Barlow coach Terry Summerfield said. "That changed the momentum altogether."
Hunter agreed. "One hundred percent," he said. "We weren't panicking — we're a no-huddle team and had lots of time -- but we had gotten a little down in morale then."
Then, on the next play, it was Collins' turn. At 180, he's not the biggest back around, but he loves the punishment and is utterly dependable in the clutch.
If there was ever a time the Bruins needed both, it was now. Hunter aimed Collins at the left side of the line — where 330-pound Bruin guard Ethan Wallis lives — and gave him the ball.
Collins disappeared into a pile of bodies at the line of scrimmage, then burst out the other side and streaked into the end zone with 4:31 left in the game.
"I just hit the pile, but I didn't feel any arms around me," Collins said. "So I just kept going. I spun, and nobody was there. I saw their outside linebacker trailing me, so I cut it up."
Derek Fortanell kicked the extra point, which is normally no big deal, but it gave the Bruins a four-point lead and took Mountainside kicker Dahlback out of the picture.
That mattered. Dahlback has tremendous kicking talent and range. He already had three field goals — including a 41-yarder —and left the impression that he could rock one from the 40-yard line if he had to.
But the Mavericks needed a touchdown instead. An offensive pass interference penalty cost them their next drive, and their last hope was a 94-yard drive with no time outs with 2:28 left.
They generated some sweat on the Bruin sideline when sophomore quarterback Brian Mannion moved the Mavericks to the Barlow 42 with 45 seconds left, but Barlow safety Carter Baggs ended everything with an interception with 20 seconds left.
"We decided to go right at 'em in the second half," Summerfield said. "They tighten up really well and stopped us those four times. But we've got some kids who can make plays. We believe that anything can happen."
Anything did. Cinderella is still dancing.