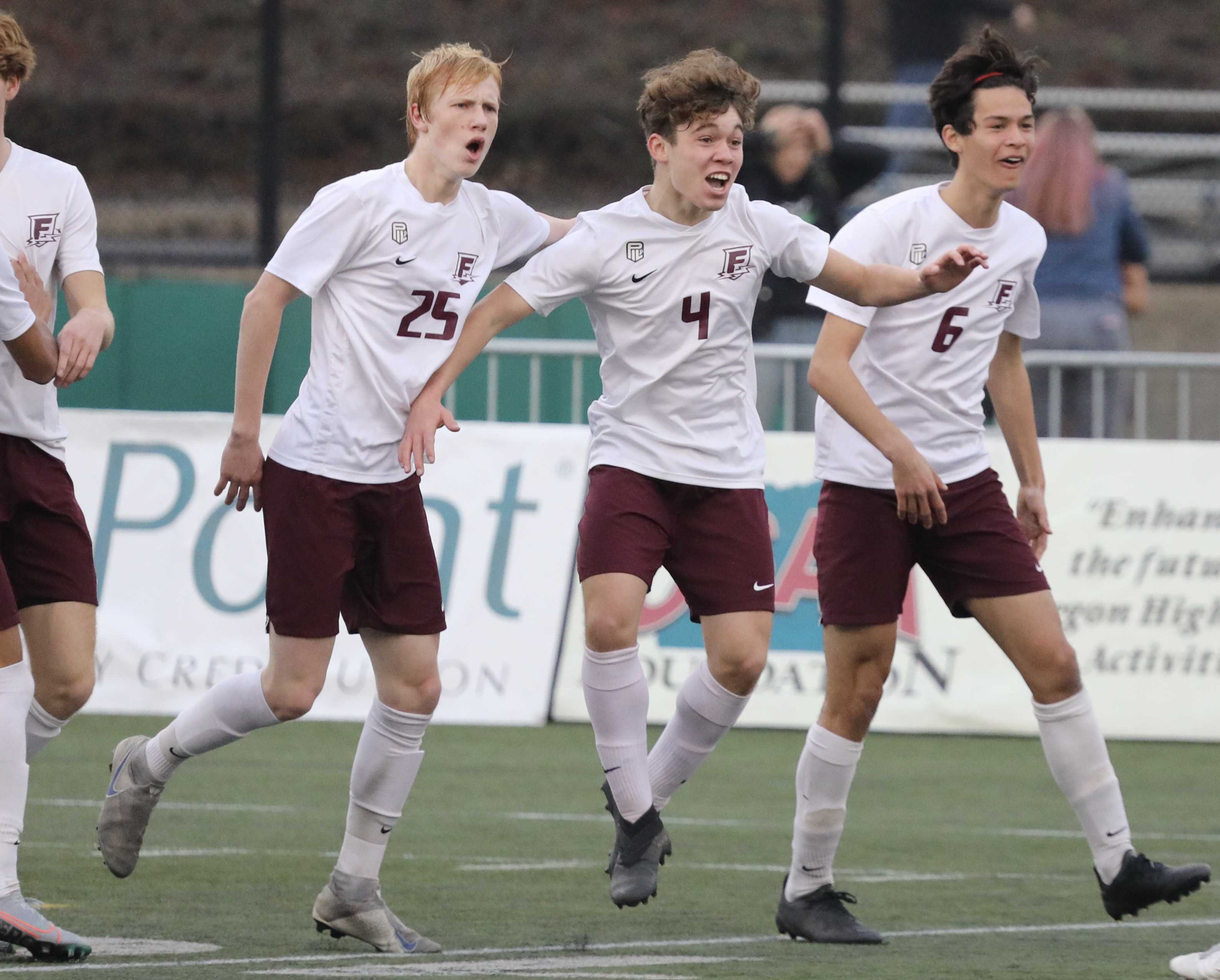 HILLSBORO — To play soccer for the Franklin High School boys team this year, you have to take a whole lot of things on faith alone.
You have to believe that you can step on the field with teams that are maybe a little bigger (Summit) or faster (Cleveland) or more tournament experienced (Lincoln) than you are and not be intimidated. You have to believe that it doesn't matter where the soccer field is, the game is the same.
You have to believe that the people sitting on the bench can be thrown into combat and make magic happen. You have to believe that you can assemble a team from a side of Portland that isn't renowned as a talent factory and win with it.
You have to believe you can win a state championship. With all your heart.
The Lightning made all that happen Saturday evening when junior Andrew Reed banged a header into the net with 6:42 left in the second overtime period for a 2-1 victory over Summit of Bend in the OSAA/On Point Credit Union 6A boys championship at Hillsboro Stadium.
There are no more mountains to climb. The magic wand worked. Franklin boys rule.
"I knew we had a strong team," said Lightning senior forward Finn Rueeger above the cacophony of joy all around him. "At first this was just a fantasy. But now…"
Franklin's 2019 run deserves a short review. The Lightning tied Lincoln for the Portland Interscholastic League regular season championship, but for some reason only wound up seeded 14th by a computer program.
After a home win in the opening playoff round, the Lightning had to win on the road three straight times — against the three league teams seeded above them — to punch their ticket to HIllsboro.
Then in the championship game they had to take on a Summit team that lost the state title only by penalty kicks last year and knocked off No. 1 Jesuit this year.
The game was almost an exact duplicate of Tuesday's semifinal win at Cleveland. Franklin got the jump on the Storm 8:30 into the game when Riley Reisner slammed home a rebound, then nearly held on the rest of the way.
Summit equalized the game with 7:44 left on an indirect free kick from the left corner. Rory McKee chipped a pass into the box, where defender Alex Grignon volleyed it in for a tie.
Stop us if you've heard that one before. That's exactly what the Warriors did on Tuesday.
And Franklin responded the same way. After one 10-minute overtime period, the two weary teams went back out to settle the contest.
While everybody was anticipating penalty kicks, two Lightning bench players struck. It started on the left side of midfield, where Darren Green was working around two Storm defenders.
He saw the other outside midfielder, Jackson Kincaid-Osborn, almost alone on the other side of the field. He lobbed a long, arching pass to him.
Kincaid-Osborn started down the sideline with the ball and only one defender to beat.
"I saw the space," he said. "In practice, we try to get the edge. I wanted to cut it back in, so I ripped it right at the post.
"I knew somebody would be there. I didn't know who, honestly. I just knew somebody would be there."
It was Reed.
"I just wanted a cross," he said. "I knew Jackson could get it in there. Actually, I lost the ball in those lights just as it got to me. I just got my head on it."
Franklin fans went nuts. So did Lightning goalkeeper Gael Salas-Lara, who sprinted to the stands across midfield — a good 70-yard sprint — and leaped into the bleachers.
Fans? No, family.
"My family has been there for me all the time," he said. "I just wanted to share that with them. I knew there would be no more goals from them."
There wasn't, and the Lightning players sprinted to their own stands and celebrated with students who go to the most successful athletic high school in the state of Oregon this fall. Last week the Lightning boys cross country team won the state title in Eugene.
Franklin coach Ty Kovatch actually prepared his team for the possibility of the cross-field pass.
"Before the game we were talking about hitting that diagonal ball," he said, "from one outside mid to the other. Summit sends numbers around the ball. They work really hard, but they shift and leave the back side open.
"We talked about getting that pass more. We didn't do it as much as I wanted, but we did it at the right time."
Kovatch, too, marveled at the circumstances that led to the title.
"It is such a joy," he said, "to be able to preside over these boys getting to experience this joy.
"It's a rare thing in life to be at the pinnacle of your sport or your profession.
"It's so awesome to see these boys be the best in the state. And they earned it.
"They're very coachable. They're very committed. They're motivated to get better. They work hard in training and hold each other accountable."
They're also deeper than they look. They lost their two leading scorers, but still held up against all comers.
"We have guys who are able to step into a role and deliver over and over and over," Kovatch said. It's great to see it in crunch time. We had contributions from 15 or 16 different players during the year."
And since it's getting close to the winter holidays, and since Franklin believes in magic things maybe it shouldn't, maybe it's time to check in with Santa Claus, too.