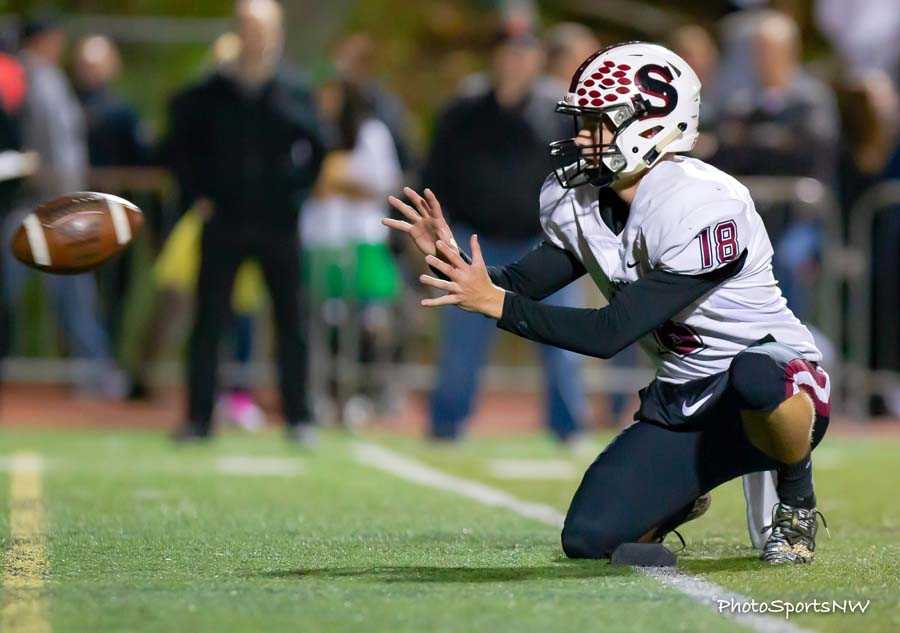 Every Friday night, we'll offer you PATs, a few nuggets from the night that was. Be sure to check out Jerry Ulmer's comprehensive Football Notebook, published Sundays, for an in-depth look at all of Friday's playoff action from across the state.
A Mannion Among Boys
Brian Mannion threw a 25-yard touchdown pass in overtime to Carlos Montero as Mountainside stunned previously-unbeaten Tigard, 34-31, to become the first 16-seed to defeat a top seed since the OSAA went to the current format for 6A schools.
"Filthy" Filkins Leads LO Comeback
Turnover-plagued Lake Oswego trailed 28-14 early in the third quarter before rallying to the 42-31 win. Casey Filkins ran for five touchdowns but his 31-yard TD pass to Joe Hutson in the fourth quarter put the Lakers on top for good. Nathan Garcia scored twice in the loss for West Salem.
Defending Champs Dominate Rematch
Undefeated Thurston spotted Wilsonville a 3-0 lead after one quarter, then used four Wes Kommer scoring runs in the second to grab a 27-3 halftime lead. The Colts never looked back. Kommer finished with 249 yards on the ground and added a fifth TD run, from 53 yards out, in the third quarter. Calvin Royce also went over 100 yards rushing for Thurston, which won a much closer game for the 5A title last year.
La Grande Doesn't Get Mad; It Gets Gladstone
Nathan Reed ran for 186 yards and two touchdowns and La Grande's defense helped Gladstone to 158 yards of total offense in a 14-0 win in 4A.
Jesuit Chooses Liberty
Patrick Henry famously once said, "Give me liberty or give me death." On Friday, Jesuit stayed alive in the 6A playoffs by running to a 70-24 win over the Patriots. Cade Wisher for 285 yards and five touchdowns for the Crusaders, who led 35-6 at halftime. Joey Gatto's 97-yard kickoff return 'impractically' jump started at 28-point third quarter for Jesuit. Hiro Diamond threw two touchdown passes in the loss for Liberty, which finished with 301 yards of total offense.
Lakeridge "Jalen" At Right Time
Lakeridge got four rushing touchdowns from Jalen John and Cooper Justice ran for two more and threw a third as the Pacers won on the road at Aloha, 51-40. Lakeridge led 10-7 after one quarter, 17-10 at the half and 30-10 heading to the fourth quarter. Aloha scored 30 points in the final 12 minutes but the Pacers countered with three touchdowns of their own to keep the Warriors at bay. Regan Wilson caught two of Timothy Dennis Jr.'s three touchdown passes in the loss.
Roth Helps Silverton Strike Gold
Hayden Roth scored three touchdowns and Jordan McCarty scored twice in Silverton's 48-14 rout of Scappoose.
Yes Sir! Knighton Leads Central Catholic to Win
Cade Knighton threw three first-half touchdowns for the Rams, who led 28-12 at halftime over Newberg. Neither team scored in the second half.
Miller's Tale Ends North Medford Story
John Miller was great on offense, defense and special teams for Tualatin, which led North Medford 50-14 before settling for the 50-35 win. Miller blocked a punt, tackled a North Medford runner for a safety and caught a touchdown pass for the Timberwolves, which also got three rushing touchdowns from Kaino Sayre.
***
That's all we have time for tonight…Be sure to check out Jerry's report on Sunday!