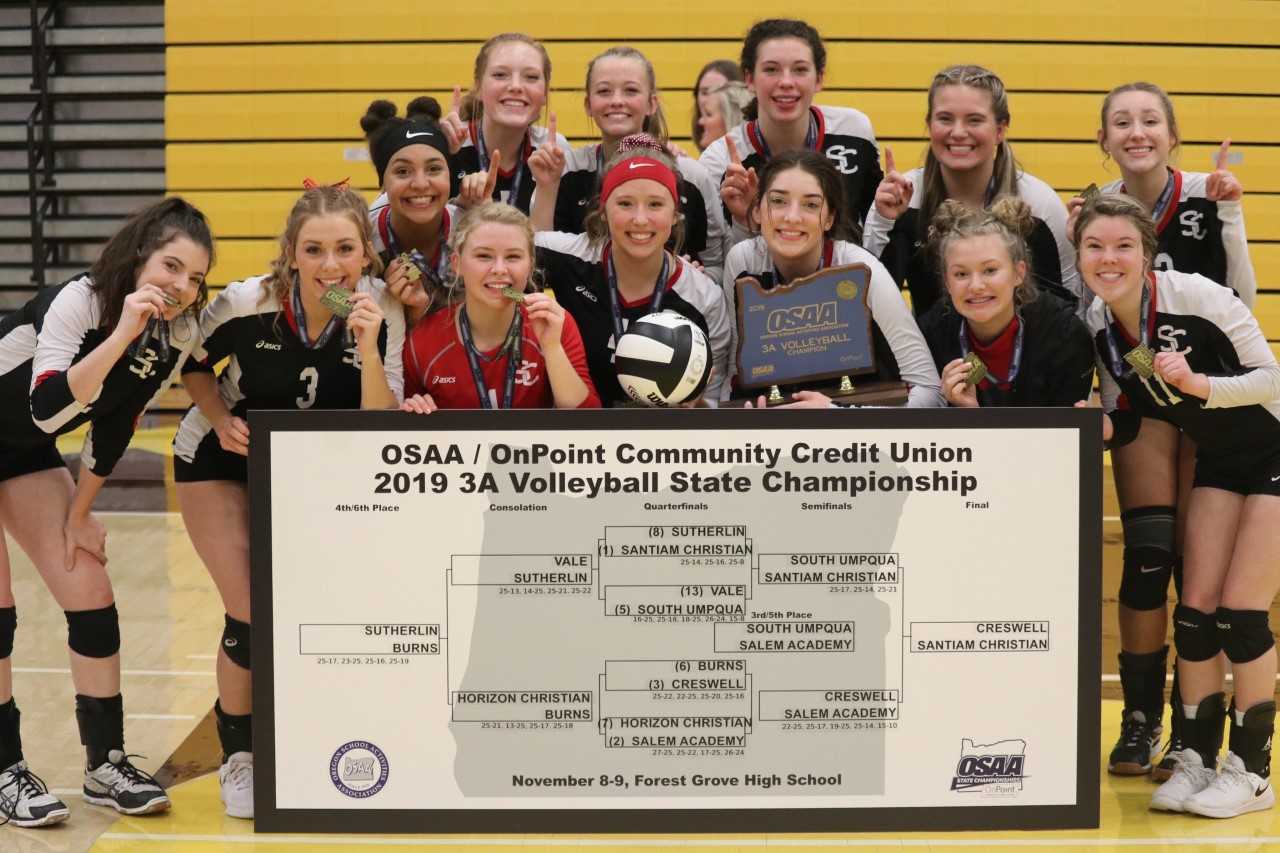 FOREST GROVE – No. 1 seed Santiam Christian finished off a perfect season with a repeat state championship Saturday night in the final of the OSAA/OnPoint Community Credit Union 3A tournament t Forest Grove High School.
The Eagles ran their season record to 26-0 with a 25-23, 25-14, 25-19 win over No. 3 seed Creswell, led by 6-foot junior Emily Bourne, who had 20 kills. It is their ninth title and seventh since 2009.
"Our communication and our team bonding is beyond what I've ever seen in a team before," Bourne said. "I think it went great."
The first set was tied 23-23 when Santiam Christian scored the final two points on a kill by senior outside hitter Kassie Staton and a tip by 5-8 junior Allaire Gilder.
"Only in the first set did we get a little rattled," Santiam Christian coach Kelli Fitzpatrick said. "We came past that and we really dominated."
The Eagles controlled the second and third set as Creswell (21-9) struggled to mount a consistent attack. The Bulldogs, going for their first state title, finished second for the fourth time in six seasons.
"The ball didn't fall our way today," Creswell coach Anna Baltrusch said. "They kept their chins up and played hard."
Santiam Christian led the second set from the start behind the hitting of Staton, who finished the match with 17 kills. Breanna Dapron led a Creswell challenge in the third set, but Staton matched her kill for kill, finally ending the match off a feed by Josie Risinger, who had 33 assists.
Dapron was outstanding in the loss, finishing with 26 kills and eight blocks.
"We could've done better serve-receive, but I feel like we worked together and overall did pretty good," Dapron said.
Santiam Christian will need to reload next season after losing seven seniors.
"They definitely won't be as strong as they are, without a doubt, next year," Baltrusch said of the Eagles. "But they'll still be disrupting."