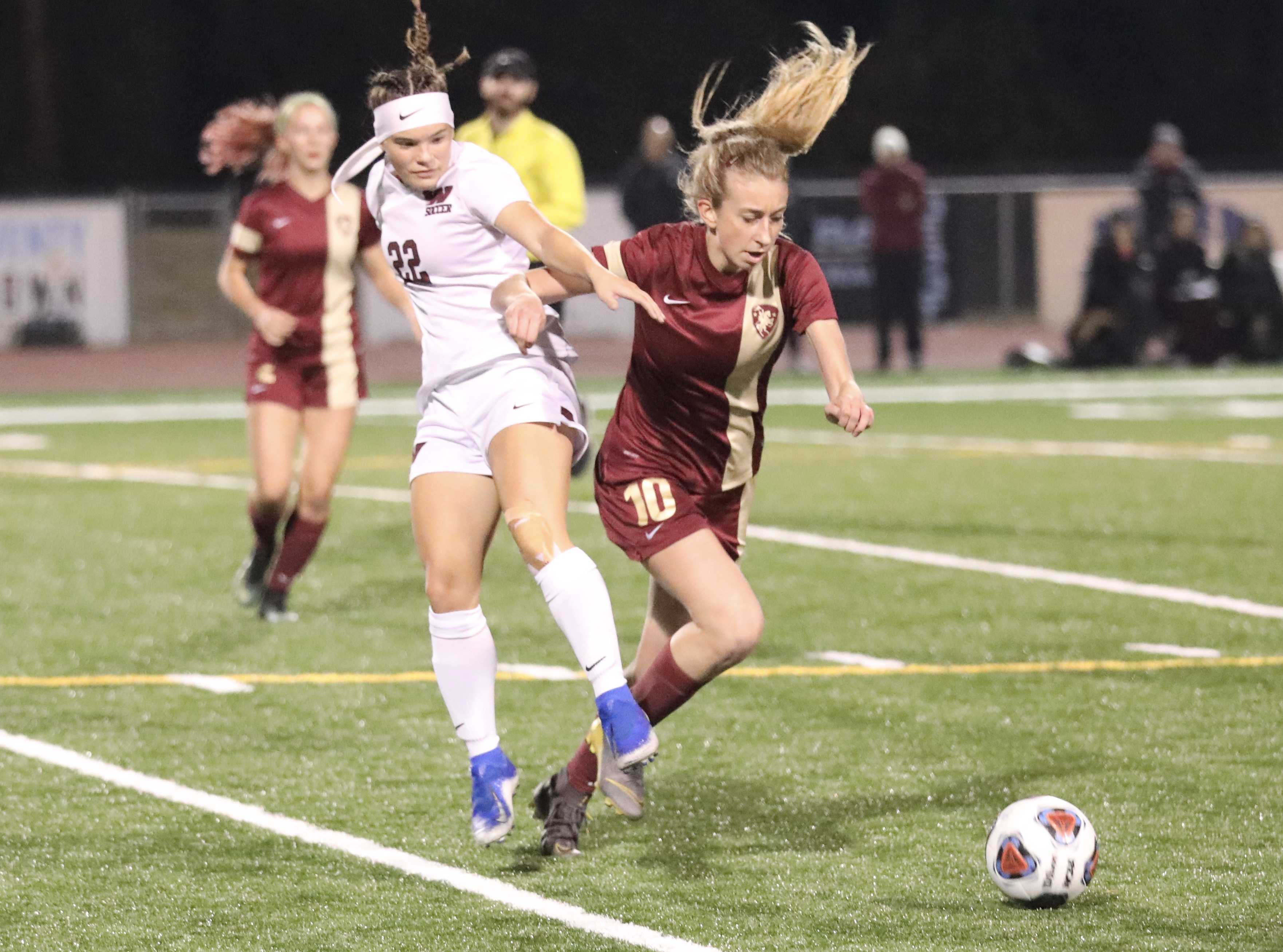 CORVALLIS — The formula for winning a soccer match has been the same since the ball was brown and had laces: First you score a goal, then you stop the other team from scoring. Well, duh.
But the first half of that dynamic is proving to be darn near impossible against the defending 5A state champion Crescent Valley girls. The No. 1 Raiders pretty much take it personally if anybody even thinks of scoring on them.
They did it again Saturday night with a 2-0 victory over feisty Willamette of Eugene in the quarterfinals of the OSAA/On Point Community Credit Union state championship playoffs.
This puts CV in the semifinals on Tuesday on the Raider field against North Eugene, which eliminated Scappoose 2-0, also on Saturday.
The Raiders' effort — and it took an effort — against the Wolverines Saturday was their seventh straight shutout. Nobody has scored against them since Corvallis got a pair of goals back during the American Revolution — Oct. 15.
That's more than 350 consecutive minutes — 10 minutes short of six hours. Yipes.
Overall, Crescent Valley, 13-2-1, has 11 shutouts in 16 games this year, and has given up just nine goals. They've scored 53.
So lately it's just a matter of when the Raiders are going to get the goal it takes to win the game. Against the Wolverines, CV broke through with striker Anna McClave headed a low cross from teammate Meredith Marten into the net with 28:42 left in the second half.
They got the second one 11 minutes later when Kaiya Leamy pounced on a ricochet off Wolverine goalkeeper Natalie Willoughby and blasted it home.
Until those, Willoughby and the very good Willamette defensive line had frustrated the Raiders at every turn. Willoughby stopped a penalty kick in the first half and beat McClave to a dangerous 50-50 ball at the top of the box moments later.
But eventually, the Raiders did what they do with numbing regularity now: Punch one through for the win.
"We have very good people in the back line and a very good goalkeeper," understated Raider coach Blake Leamy. "We rely on those guys and trust them.
"Peyton (Dale, the goalkeeper) is a two-time all-state goalkeeper, so we have the luxury of cheating forward a little on offense. We can take chances that other teams can't who don't have a defense like ours."
Said Dale, who is also a traffic cop back there, maneuvering her defenders to their most effective spots, agreed.
"Both of our center backs, Anna Wilson and Jada Foster, are really good," she said. "Our communications are good and we work pretty well together. It's a pretty tight-knit group."
While Dale and her knitting circle were holding down Fort Raider, the CV offense was probing the quick little Wolverines for openings. They had very few until Marten picked up an unclaimed ball at midfield and drove it down the left sideline past Willamette freshman defender Adriene Willis.
She got just far enough past Willis to fire a cross that sizzled through the goal mouth about three feet off the ground. All McClave, who was right in front of the goal, had to do was bow and bang the ball into the net with her head.
"I really trusted Meredith with that one," McClave said. "I was just trying to get into position. I'd been working at that all game. But when I saw that cross coming, I knew it was going in. All I had to do was hit it with my head."
The Raiders could have taken the rest of the night off right then, but before long they cashed in on a similar opportunity. Freshman winger Nicole Huang claimed the left sideline again, but instead of crossing the ball, she closed in and fired at Willoughby.
The ball bounced off Willoughby's chest right in front of Kaiya Leamy — yeah, the coach's kid — with 17:05 left in the game.
"When the goalie saved it," she said, "the ball came out right in front of me. I was just trying to stay in front of it. I was thinking 'Oh, this is my chance.'"
It was easy, and the Raiders had their win. The Wolverines got a few quality runs into the Crescent Valley box, but Dale or a defender was always there to eliminate the danger.
The Wolverines finished their season with six wins, three losses and a whopping seven ties.