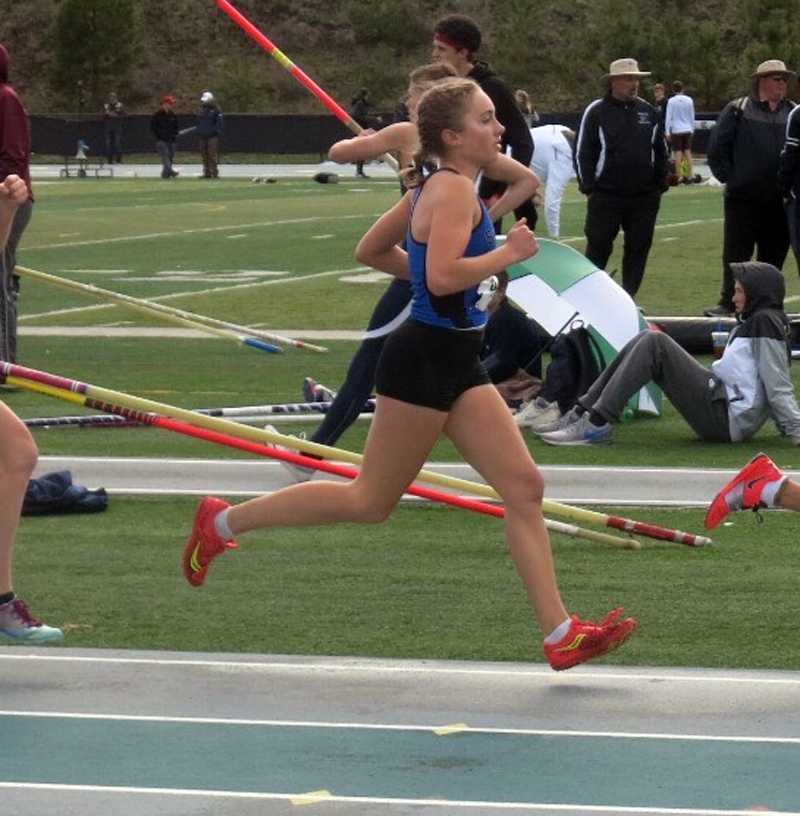 [Editor's note: "Take Five" is a recurring feature designed to offer a quick look at some of Oregon's most interesting high school sports standouts. Today we meet Fiona Lenth, a junior on the St. Mary's Academy cross country and track teams who is reigning district cross country champion and a state qualifier in the 1500 and 3000. We asked Lenth to answer five questions from the 25 we sent to her. Her very entertaining and insightful responses follow …]
OSAAtoday: How did you get your start in cross country?
Fiona Lenth: For nine years I played soccer in the fall instead of running cross country. I played center midfield and pretty much ran around the whole field for the whole game. I could also get a lot of breakaways so that I would be one-on-one with the goalie. The problem was that even though I was always running around, I would lose the ball a lot because my footwork and coordination were a little lacking. When I would be facing the goalie, my shooting leg wasn't very strong. After eighth grade, I realized that there was a fall sport that consisted solely of running around and not a whole lot of coordination and grace. That's how I got started in cross country.
OSAAtoday: What's the most interesting or unusual thing about you?
Lenth: I spent my summer living in the rural Andes Mountains in Ecuador with a host family. Now I can kind of understand an indigenous language. About half the people in the community I was living in spoke Spanish as a second language and would talk to me in both Spanish and the native language, Kichwa. I stayed with this family for about a month and a half, and during that time I gradually was able to pick up on words and phrases, which was really cool.
OSAAtoday: What was your first big success as an athlete and how did it impact you?
Lenth: My first success as an athlete seemed small in the moment but in hindsight it changed my running career. In third grade, during my first track meet, I had to leave early, so in order to do more than one event that day, I ran the 1500m with no experience running more than 400m without stopping. During the race I don't think I could have been less happy, but I still remember the feeling of satisfaction after finishing a race fifteen times longer than the one that I liked as a third grader. Today, almost eight years later, that is my favorite race and, every time I run, I get the same feeling of breathless satisfaction that comes from running a distance race. That race seemed pretty insignificant at the time but when I look back today, I recognize that day, eight years ago as the beginning.
OSAAtoday: What Olympic sport do you think you'd be the worst at and why?
Lenth: I would be horrible at basketball. I'm only 5'2" or 5'3" so guarding and blocking and pretty much everything would be pretty hard for me. I also don't have the best hand-eye coordination, which is why I've stuck to track and cross country for all these years.
OSAAtoday: What's the single funniest thing you've ever seen in cross country?
Lenth: There is this race in Marysville, Washington called the "Twilight Invitational." After the last varsity race there is an 'open race' which consists of people who have finished racing putting on weird outfits and running about a half mile. There were a lot of glow sticks and some people were in dinosaur costumes. I also remember before my race started there was a group of people in a circle dancing to 'Africa' by Toto on the start line. So I'm not sure if that was the funniest thing I've seen in cross country, but that race is definitely the weirdest and a lot of fun.
Read other Take Five articles published in connection with the fall season:
South Umpqua outside hitter Shalyn Gray
Lincoln distance runner Mia Kane
Madras football player Treyvon Easterling
Gladstone soccer player and cross country runner Derek Johnson
Canby soccer standout Ruby Kayser
Exceptional Scappoose athlete Emma Jones
Siuslaw harrier Brendon Jensen
Wilsonville volleyball attacker Lindsey Hartford
Lake Oswego runner Brogan Deem-Ranzetta