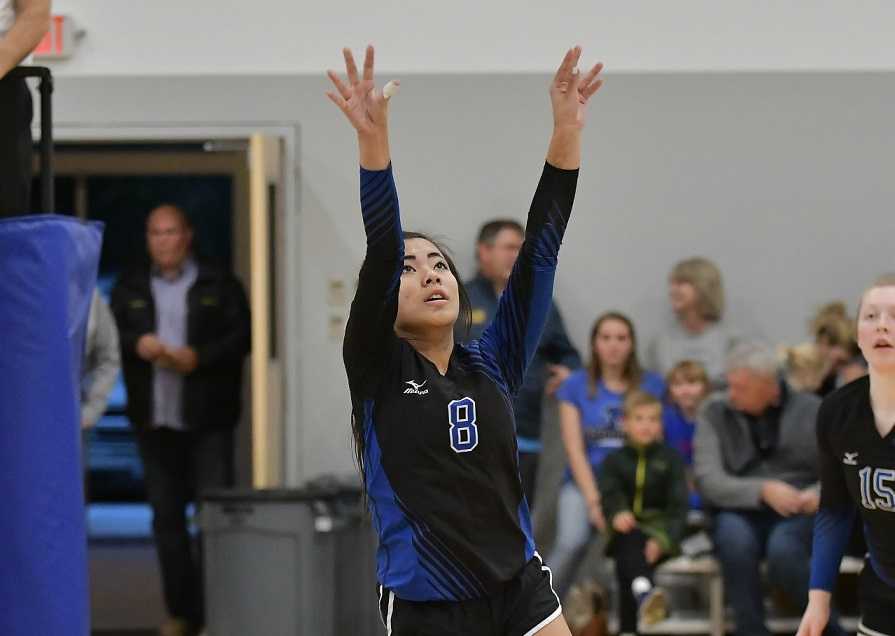 BROOKS -- Willamette Valley Christian christened its new OSAA-regulation gym Tuesday night with a straight-set volleyball win over Falls City in a 1A Casco League match.
The school, which opened in 1967, did not have a gym that met OSAA regulations for size when the rules changed more than 10 years ago. In the interim, the school rented or borrowed gyms at other schools in the area to fulfill its schedule.
It was especially difficult not only for parents and students arranging transportation, but also for coaches, who were forced to hold practices in a gym that didn't reflect what the students would actually be playing in during games.
All that began to change in 2015 with an anonymous donation of $500,000, earmarked to start the project that for so long had only been a dream for Warrior athletes.
Along the way there were numerous contributions to complete the new building, including work by volunteers and local businesses and student fundraisers.
In May 2018, the OSAA donated $10,000 to fund the gym's new regulation basketball hoops, a welcome contribution to a school that has in years past taken several district titles in boys and girls basketball.
"It's been amazing to see a lot of people step up to help," athletic director Aaron Hunter said. "Not only with the grant from OSAA but also from contributions in our community, we have been truly blessed, and it has been a lot of fun, especially to take our first win at home."
The volleyball team held off Falls City 25-14, 25-13, 25-11 to improve to 8-10 overall, 6-6 in league.
The Warriors, led by defensive specialist senior Delaney Barnes, took control of the match in the first set with a series of kills and diving digs that seemed to stun the Mountaineers (5-12, 2-10), who took WVC to four sets in their last meeting.
"We're doing a lot better now than we were originally," Barnes said. "We've worked on our serve-receive a lot and also on our mentality. We want to stay focused on the next play and not the past, not getting down on ourselves and dwelling on mistakes."
The Warriors are in fifth place in the Casco with two games remaining. The top five teams advance to the district playoffs.
"We have been working really hard in practice," junior outside hitter Rebekah Poot said. "No matter what our height, just getting up there and putting balls away. Knowing the footwork and working hard, together as a team we'll be able to go a lot further."